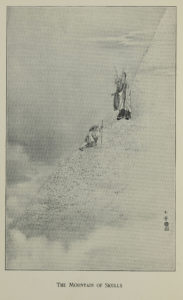 . . . "I cannot," cried the pilgrim, trembling and clinging;—"I dare not look beneath! Before me and about me there is nothing but skulls of men."
"And yet, my son," said the Bodhisattva, laughing softly,—"and yet you do not know of what this mountain is made. . . ."
"A mountain of skulls it is," responded the Bodhisattva. "But know, my son, that all of them ARE YOUR OWN! Each has at some time been the nest of your dreams and delusions and desires. Not every one of them is the skull of any other being. All,—all without exception,—have been yours, in the billions of your former lives."
"Fragment," In Ghostly Japan, 6
***
This image and warning drawn from mythical Japan resonated all too well with the author, who himself had lived many lives.
Lafcadio Hearn (1850-1904), born in western Greece on the island of Lefkada, was the son of an Irish military surgeon and a mother native to the Greek island of Kythira. Raised and educated in Ireland, Britain, and France, Hearn emigrated to the United States when he was nineteen, where he held menial jobs before becoming a translator and journalist.
In 1890, Harper's offered Hearn the opportunity to go to Japan to write about the country's efforts to modernize. Shortly after arriving, Hearn became enthralled with Japan—the atmosphere, the cities and towns, the magical-looking trees, the temples, the people. He recorded his first impressions in series of essays and, after marrying the daughter of a samurai family, Hearn took the Japanese name, Koizumi Yakumo, and immersed himself in the culture of old Japan, looking for the "roots" of his beloved new home.
A newspaper reporter suddenly made professor, Hearn was appointed in 1895 as Chair of English literature at the Imperial University of Tokyo. During the next eight years, Hearn authored four works that reveal his deep understanding of and immersion in Japanese culture, religion, and literature. These works included Exotics and Retrospectives (1898), Shadowings (1900), A Japanese Miscellany (1901), and the book featured here, In Ghostly Japan (1899).