by Alan Krieger, Theology and Philosophy Librarian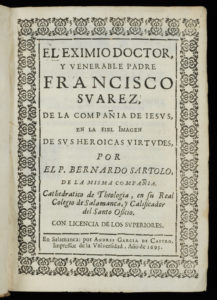 We are happy to announce that Hesburgh Libraries has just acquired a very rare first edition, Bernardo Sartolo's El Eximio Doctor y Venerable Padre Francisco Suarez (Salamanca, 1693), a biography of the highly influential early modern Spanish philosopher and theologian, Francisco Suarez (1548-1617). Suarez was a leader of the "Second Scholastic" period, which revitalized philosophical and theological thought in the sixteenth and seventeenth centuries within the tradition of Thomas Aquinas, Duns Scotus and other medieval scholastics. Bernardo Sartolo (1654-1700) was a well known Spanish Jesuit and author.
A second edition of this title followed in 1731.
While a small number of copies of this edition may be found in libraries in Spain, we have located only two other copies in North American libraries.