by Alan Krieger, Theology and Philosophy Librarian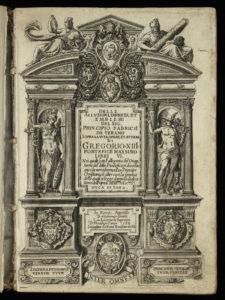 We've just acquired an emblem book that may be of interest to Catholic Reformation researchers, Principio Fabricii's Delle allusioni, imprese, et emblemi del. sig. Principio Fabricii da Teramo sopra la vita,opere, et attioni di Gregorio XIII pontefice massimo libri VI (Rome, 1588). This first edition contains 231 numbered emblems, drawn from the Bible, classical mythology, and other emblem collections, as well as events and buildings from Pope Gregory XIII's papacy.
Gregory XIII (birth name: Ugo Boncompagni) reigned from 1572-1585 and, in addition to his famous calendar revision, energetically continued the implementation of reforms articulated at the Council of Trent (1545-1563). These reforms included the insistence that bishops reside within their sees and the foundation of many new schools for the training of the clergy.
---
This work is licensed under a Creative Commons Attribution 4.0 International License.