Among the harbingers of spring here in RBSC is the introduction of a newly completed digital exhibit of early baseball publications and manuscripts drawn from the holdings of the Joyce Sports Collection. "Words on Play: Baseball Literature before 1900" brings together recreational manuals, guidebooks, histories, biographies, fiction and other forms, including many of the subject area's great rarities. The exhibit was created by RBSC's Americana curator, George Rugg.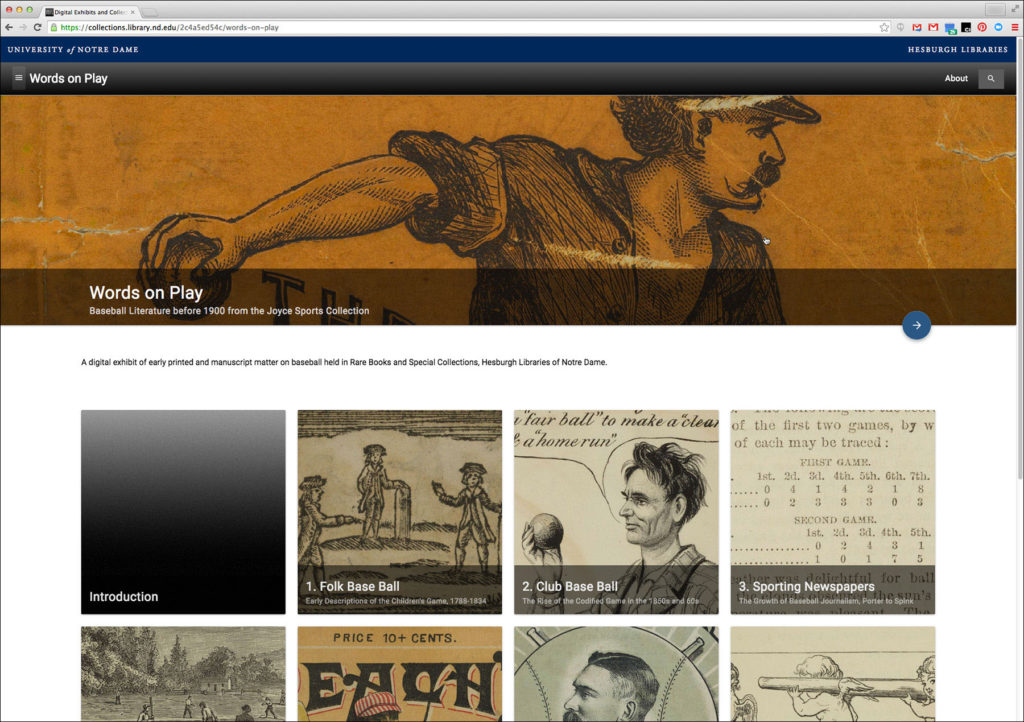 Over the course of the nineteenth century, American baseball evolved from a localized folk game of English origin to a codified sport of broad popular appeal, commonly cited as the "National Pastime." Clubs of young men dedicated to playing the game began to appear in earnest in the New York City area in the second quarter of the century; the rules they established became the basis for the sport as we know it today. In the post-Civil War years baseball became thoroughly commodified: crowds of paying spectators gathered in enclosed "parks" to watch celebrated professionals compete at an elite level. By 1900 baseball had entered the mainstream of American popular culture, and had been imbued with many of the mythologies that would persist in the minds of its celebrants well into the twentieth century: baseball as pastoral ideal, baseball as an exercise in democracy, baseball as secular religion. As a recreational form, then, baseball originated in England, but as a form of sport it is American, for it was in America that the game became standardized, organized and popular—and, one might add, the subject of a literature.
The printed word both recorded baseball's growth and stimulated it. In the first few decades of the nineteenth century the game is mentioned mainly in children's recreational manuals. Baseball's rapid rise after mid-century was accompanied by a growing commentary, mainly in sporting newspapers and paper-bound annual guides, describing, discussing, and otherwise publicizing the game. By the 1880s and 90s coverage of professional baseball in urban daily newspapers had became routine, and many of the familiar genres of baseball book had made their appearance. Baseball journalists—who authored many of the books in this exhibit—never tired of emphasizing their contribution to the game's success, and that contribution was no doubt great. Still, the number of baseball monographs published in the nineteenth century was not large; "Words on Play" brings together copies of most of the key publications of baseball's early history.
Questions and comments may be directed to George Rugg, Americana curator.
---
This work is licensed under a Creative Commons Attribution 4.0 International License.