by Alan Krieger, Theology and Philosophy Librarian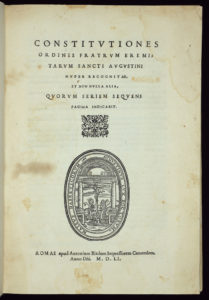 Hesbugh Libraries has just acquired the first edition of the "constitutions" of the Order of St. Augustine (sometimes called the Hermits of St. Augustine), Constitutiones Ordinis Fratrum Eremitarum Sancti Augustini nuper recognitae et non nulla alia (Romae, 1551).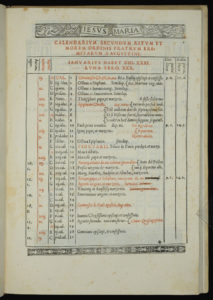 This fine volume contains not only the 53 guidelines comprising the Constitutions, but also the Rule of the Order with the commentary of Hugh of St. Victor (d. 1141). Following the Rule is a liturgical calendar, which has important feast days highlighted in red and enclosed by woodcut border strips.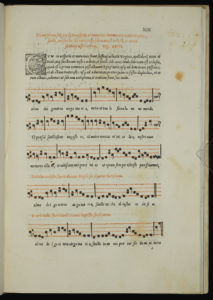 Closing the volume are instructions for celebrating Mass, the Ordinary (5 everyday prayers: Kyrie, Gloria, Credo, Sanctus, Agnus Dei), 36 pages of music, and Onofrio Panvinio's chronicle of the Order.
This volume is bound in 18th-century vellum over boards and is printed in Italic type. It is decorated with historiated initials and black and red woodcut borders.
According to the WorldCat database, there is only one other North American holding of this edition.
---
This work is licensed under a Creative Commons Attribution 4.0 International License.