by Aedín Ní Bhróithe Clements, Irish Studies Librarian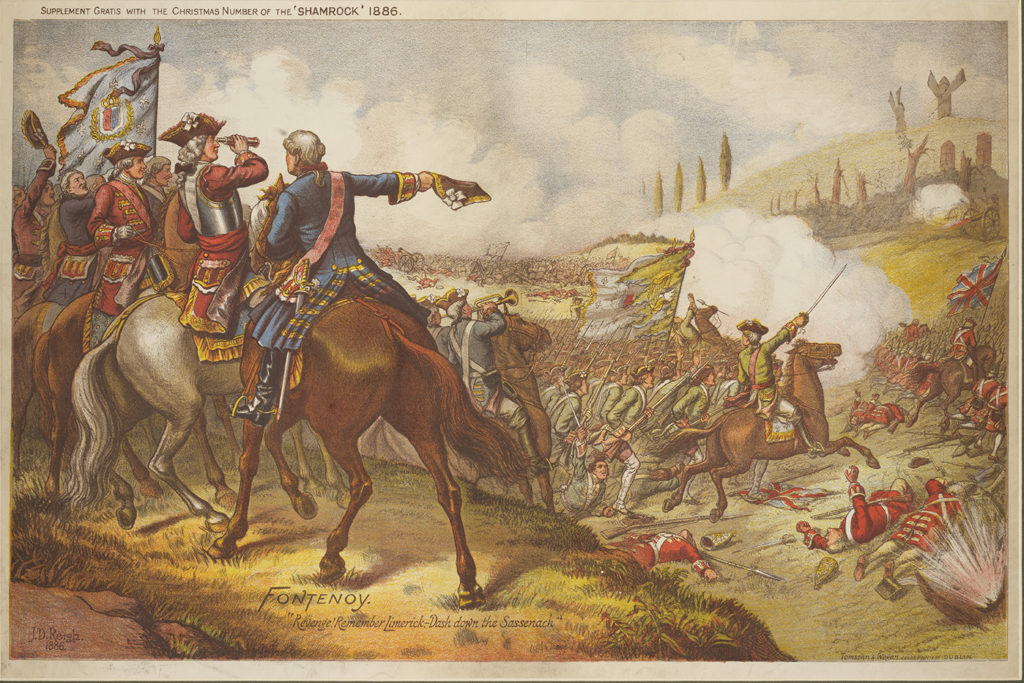 The above illustration depicts the oft-described reversal in the Battle of Fontenoy in 1745, from the French Army's almost inevitable defeat to a decisive win. At a point when the battle between the French and the Allied coalition of English, French and Hanoverian troops was almost over for the French, a line of Irish regiments advanced.
Accounts of the battle claim that the Irish Colonel Lally shouted "Cuimhnidh ar Luimneach agus ar feall na Sasanach!" And that this cry was repeated down the ranks. "Remember Limerick and the treachery of the English" is a reference to the Treaty of Limerick of 1691, broken by the English not long after it was made.
This print, new to our collection, is by Irish artist and cartoonist John Dooley Reigh (1851-1914) who contributed illustrations to periodicals such as The United Irishman, Shamrock, Zoz, and others. As we add this print to our collection, we note that it is not our only illustration celebrating that battle, and indeed, were we to explore our collections, we would find many accounts and references to the Irish Brigade at the Battle of Fontenoy.
We select two examples to display here, an American print and a broadside ballad.
The print shown below, also from the 1880s, was produced by Kurz and Allison of Chicago. In this illustration the military leaders are less prominent than the fighting men, and the tattered green flag with the Irish harp emblem is prominent.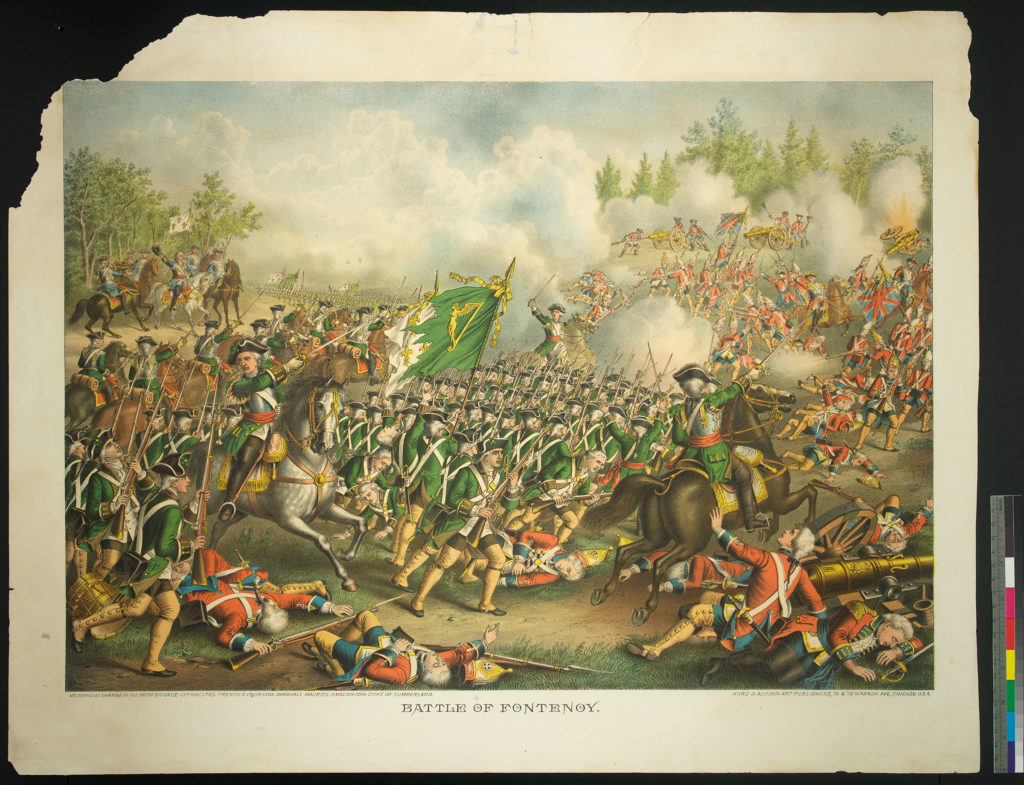 Elsewhere, we have an example of the Battle of Fontenoy as recounted in nineteenth-century Ireland in our the Broadside Ballads collection. "Fontenoy" by Thomas Davis introduces the Irishmen's advance with a summary of the wrongs inflicted by the English:
… How fierce the look these exiles wear, who're wont to be so gay,
The treasured wrongs of fifty years are in their hearts to-day—
The treaty broken, ere the ink wherewith 'twas writ could dry,
Their plundered homes, their ruined shrines, their women's parting cry,
Their priesthood hunted down like wolves, their country overthrown—
Each looks as if revenge for all were staked on him alone
On Fontenoy, on Fontenoy, nor ever yet elsewhere,
Rushed on to fight a nobler band than these proud exiles were. …