by Aedín Ní Bhróithe Clements, Irish Studies Librarian
Ninety years ago, Francis O'Neill made the University of Notre Dame the valuable gift of his remarkable personal library, a library known primarily for its collections on Irish music and Irish history.
Included are some bound volumes of a periodical called The Citizen or Dublin Monthly Magazine of 1841, and its successor Dublin Monthly Magazine, 1842.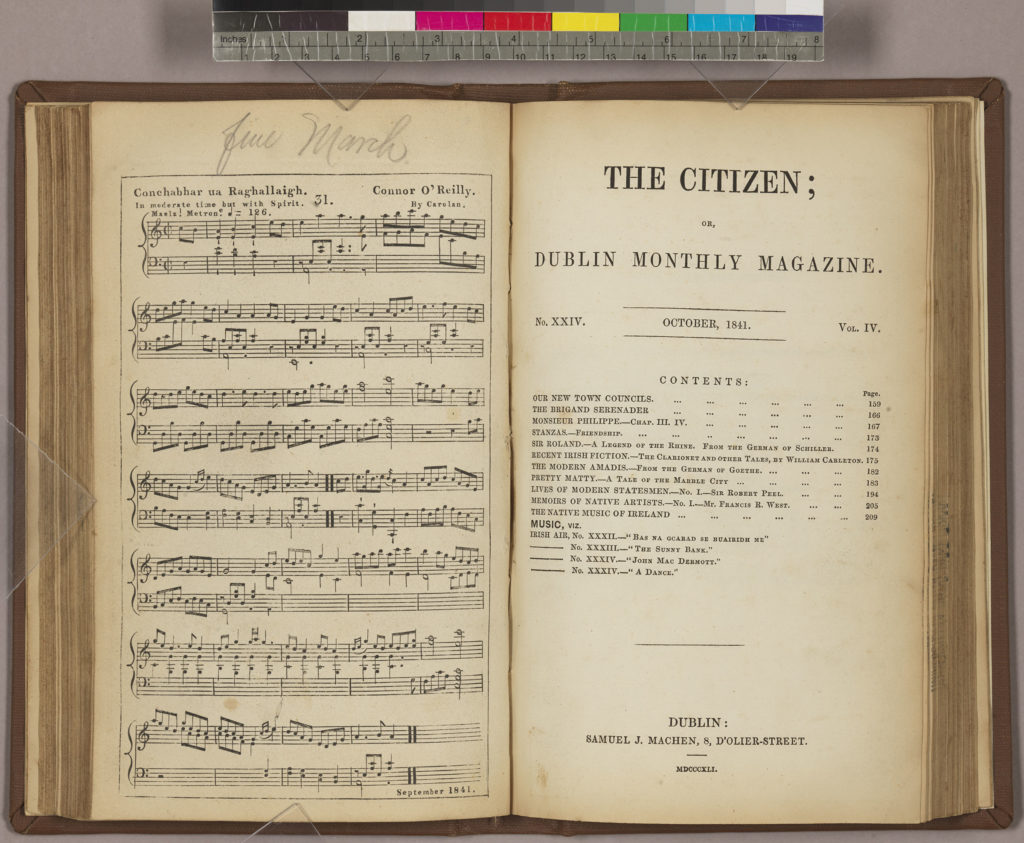 Though the magazine covers literature, history and politics, it is for the music that O'Neill collected these volumes, as borne out by both his pencil annotations on the pages and his listing of these volumes under 'Musical History and Literature' in his inventory of the collection (O'Neill Library Inventory, MSN/MN 0502: Series 2).
The periodical ran, with various name-changes, from 1839 until 1843. When William Elliot Hudson (1796-1853) became editor, his brother, Henry Hudson (1798-1889) contributed a regular section on Irish music. This is the same Henry Hudson, a dentist with a practice on St. Stephen's Green, Dublin, whose manuscripts found their way into various collections including that of Francis O'Neill. We know how O'Neill came by the manuscript from a letter he wrote to Charlotte Milligan Fox in 1911:
When I obtained the MSS. Volume referred to on pages 68 and 249 of "Irish Folk Music" through Nassau Massey, Cork, I was informed that some four or five similar volumes had been purchased for the Boston Library. These latter, it appears, reached Mr. Massey, and were disposed of before the volume I now possess came into his hands.
O'Neill's letter is published in an article by Fox, "Concerning the William Elliott Hudson Collection of Irish Folk Songs" in which she describes her discovery of the five notebooks in the Boston Public Library, and also argues erroneously that the author is William E. Hudson.
Hudson transcribed the songs and melodies at a time of enthusiasm for collecting and preserving traditional music of Ireland. Edward Bunting's published collections, beginning with the melodies he transcribed from the Belfast Harp Festival of 1792, inspired a number of others to engage in similar work.
While the manuscript notebooks are filled with the songs or melodies, his published sections on Irish music include also lengthy introductions to the songs. The February 1941 issue of The Citizen also includes an essay on the printing of Irish music.
In our present number we again present our readers with three Irish airs. In the mechanical departments of the work, we are but experimenting. The neglect of every matter of art in Ireland has hitherto been so great, that we have had to cope with difficulties, which few, possibly , of our readers, are prepared to appreciate. The metals to be graven, — the tools to be employed,– the inks to be used, are all in a state of imperfection. The result is, and it has been the case for years, that those requiring any musical work of nicety to be executed, go, or send to London for it; and thus, even in Bunting's last beautiful work, in the bringing out of which so much notationality has been tastefully displayed, the reader will find the last page deformed with the announcement, "London, engraved by H. T. Skarratt, 5, Eyre-street, Hatton-garden." One hundred and thirteen plates for an irish work, especially national, engraved in London!

The Citizen or Dublin Monthly Magazine XVI, no. III, February 1841. P. 134
Hudson assigned Irish language titles along with English titles to most of his tunes. Examples are "Fuaim na dTonn" / "The Sound of the Waves" and "An Deoruide Tuirseach" / "The Weary Wanderer".
Hudson's series of notebooks of music manuscripts is divided across three libraries: one in the National Library of Ireland, five in the Boston Public Library, and one here in Notre Dame's Special Collections.

Our notebook has been digitized may be viewed online, and digital copies of those at the Boston Public Library are available in the Internet Archive:
Book for Irish Airs, nos. 1-111
Numbers 1-424
Numbers 428-737
Manuscript beginning with 732
Manuscript with a note on Hudson's own compositions
The seventh manuscript is in the National Library of Ireland, with the following catalog description: Traditional Irish airs, collected by Henry Hudson, in the 19th cent. From the O Casside Mss.
Bibliography
Colette Moloney and Deirdre McDonald, 'The Irish Music Manuscripts of Henry Hudson', in Kerry Houston, Maria McHale & Michael Murphy, eds., Documents of Irish Music History in the Long Nineteenth Century. Dublin: Four Courts Press, 2019.
Jimmy O'Brien Moran. 'Henry Philerin Hudson, MRIA: an Irish Macpherson?' Béaloideas, 81 (2013), pp. 150-169.
Phillips Barry, 'Irish Music in the Hudson Manuscripts', Journal of the Irish Folk Song Society, 13 (1913), pp. 9-10.