by Alan Krieger, Theology and Philosophy Librarian
The Hesburgh Libraries has just acquired a rare, early modern compilation of works by four authors from the Dominican Order supporting what was then the still controversial doctrine of the Immaculate Conception, which holds that the Virgin Mary was free of original sin from the moment of her conception. This doctrine was not elevated to the status of dogma until 1854, when Pope Pius IX issued his bull, Ineffabilis Deus.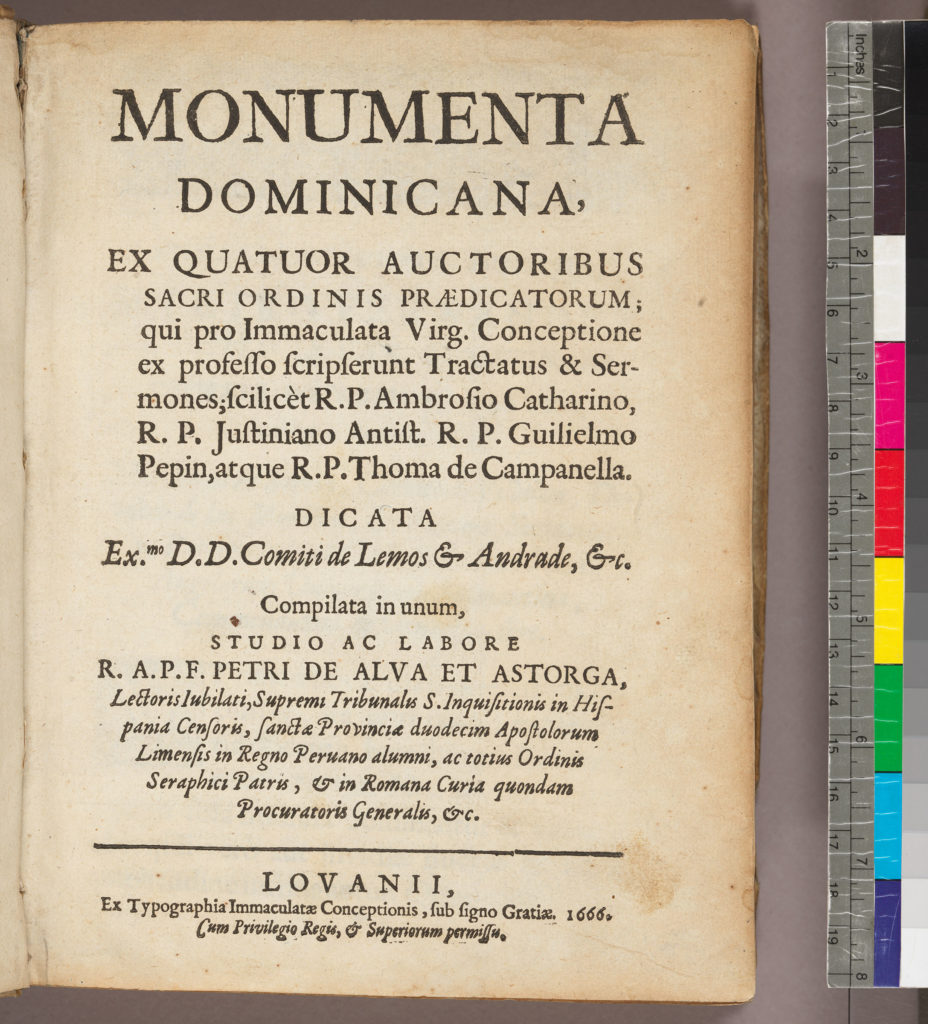 The volume, Monumenta dominicana: ex quatuor auctoribus Sacri Ordinis Praedicatorum qui pro Immaculata Virg. Conceptione ex professo scripserunt (Lovanii, 1666), was compiled by Pedro de Alva y Astorga and features the earliest appearance in print of Tommaso Campanella's De Immaculata Conceptione. Campanella (1568-1639), a philosopher, theologian and poet, was known as a strong supporter of Galileo during the latter's first trial; Campanella's astrological speculations and opposition to the authority of Aristotle led to his prosecution by the Roman Inquisition in 1594. He was confined to a convent until 1597.
Other writers in this compendium include Ambrogio Caterino Politi (1487-1553); Vincenzo Giustiniano Antist (d. 1599), and three sermons by Guillaume Pepin (d. 1533). Interestingly, the Dominicans (including Thomas Aquinas) had mostly opposed the doctrine during the Middle Ages, but by 1431 the Council of Basel declared Mary's Immaculate Conception "a pious opinion" consistent with faith and Scripture and in the 16th century, the Council of Trent—while not making a definitive pronouncement on the subject—exempted her from the universality of original sin.
We have found only one other North American holding of this title.