The University of Notre Dame, Hesburgh Libraries, Special Collections, and the COVID situation
Due to the spread of highly contagious variants of the COVID-19 virus, masks are currently required throughout the Hesburgh Library for all students, faculty, staff, and visitors, regardless of vaccination status. This applies to all Rare Books & Special Collections spaces.
All visitors to campus are required to wear masks inside campus buildings at all times until further notice. Up-to-date information regarding campus policies is provided at covid.nd.edu.
Upcoming Events: January and early February
Please join us for the following event being hosted in Rare Books and Special Collections:
Thursday, January 27 at 4:30pm | Italian Research Seminar: "Scales of Responsibility: The Dark Side of Italo Calvino" by Maria Anna Mariani (University of Chicago). Sponsored by the Center for Italian Studies.
[The event scheduled for February 2 has been postponed, due to weather concerns.]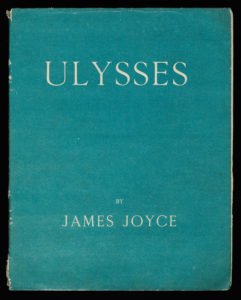 Wednesday, February 2, from 3:30 pm to 5:00 pm | Celebration: 100 Years of James Joyce's Ulysses: An event celebrating the centenary of James Joyce's Ulysses will be hosted in Special Collections, with a display of Ulysses-themed treasures from the vault of the Hesburgh Library and the reading of short excerpts from Ulysses in several languages.
Spring Semester Exhibits
The spring exhibit will feature Medieval Bibles and biblical texts and is in celebration of the 75th anniversary of Notre Dame's Medieval Institute. The exhibit, curated by David T. Gura, Ph.D., will open in January and run through the semester.
The spotlight exhibits for January and February will feature first editions of Joyce's Ulysses and related items, in honor of the centenary of Ulysses publication.
Classes in Special Collections
Throughout the semester, curators teach sessions related to our holdings. If you're interested in bringing your class or group to work with our curators and materials, please contact Special Collections.
Recent Acquisitions
Special Collections acquires new material throughout the year. Watch our blog for announcements about recent acquisitions.