by Aedín Ní Bhróithe Clements, Irish Studies Librarian
The Henry Grattan Pamphlet Collection, purchased by the Hesburgh Libraries some twenty years ago, deserves to be highlighted in a blogpost.
Henry Grattan (1746-1820), was a prominent Irish politician, closely associated with the Irish parliament so that from 1782 until the Act of Union of 1800, it was known as 'Grattan's Parliament.'
The collection of books and pamphlets, bound together in nine volumes, comprise part of his personal library. These nine volumes became separated from the rest of the Grattan Library which was sold at auction in 1888. These volumes were discovered some hundred years later in a country house in Ireland.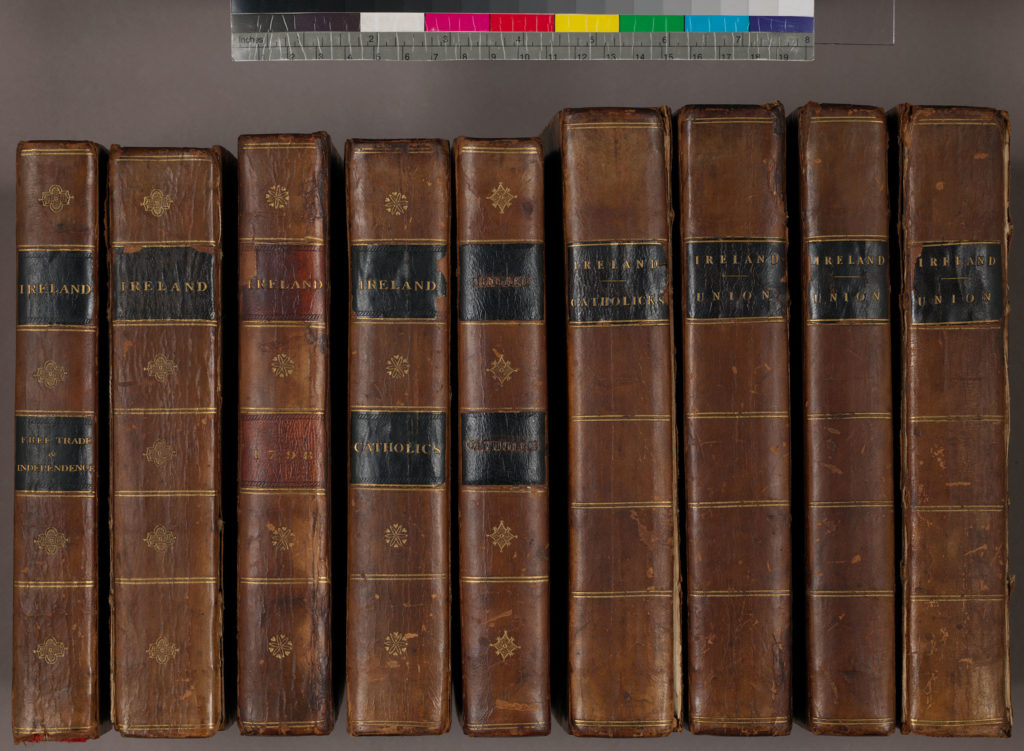 The thematically-arranged volumes are handsomely bound with a title on each spine and a list of contents inside, hand-written in ink by Henry Grattan and another person. Many of the publications also have marginal pencil marks and some have annotations.
The volumes are as follows:
1. Ireland. Free Trade & Independence
2. Ireland.
3. Ireland. 1798
4. Ireland. Catholics
5. Ireland. Catholics
6. Ireland. Catholics
7. Ireland. Union
8. Ireland. Union
9. Ireland. Union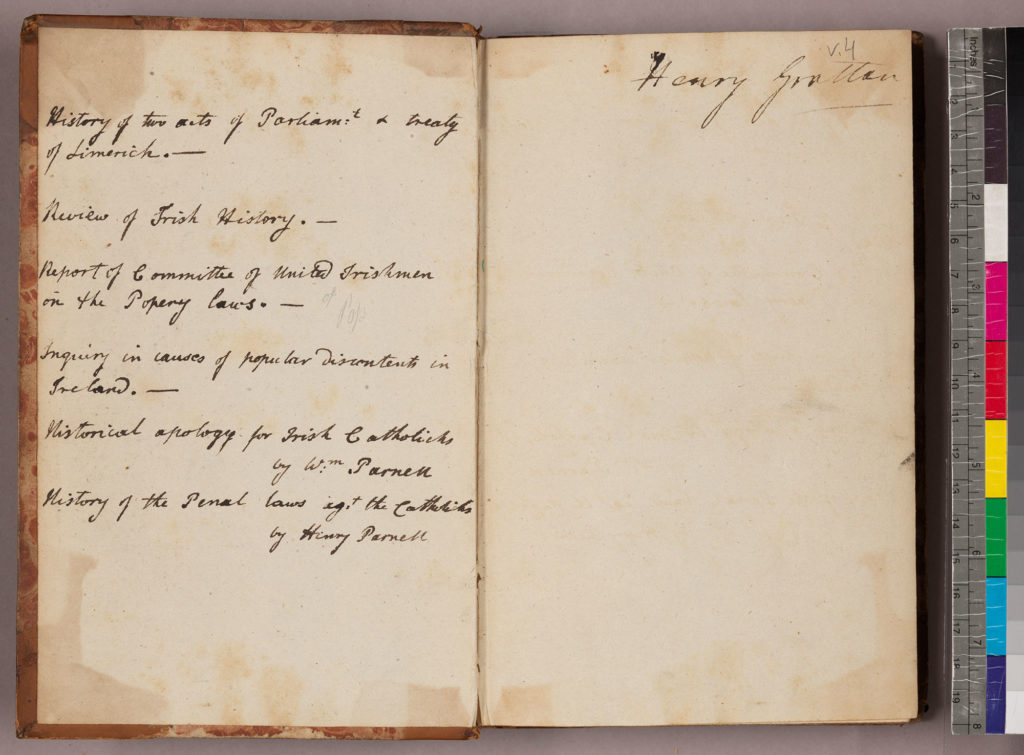 The fourth volume shown here has the usual listing of contents written on the inside cover, and this volume also has Henry Grattan's name inscribed in ink.
Grattan's careful reading of some of the publications may be inferred from pencil marks in the margins. In this example, the penciled annotations appear to have been cut when the pamphlet was trimmed for binding.
While the individual pamphlets are rare in libraries, digitized copies of various editions are available. Therefore, it is the provenance and the selection and grouping together of these publications that makes them so interesting, as part of the working library of an Irish politician.
To see a complete list of the pamphlets and books in these nine volumes, type the following in the ND Catalog: Henry Grattan Pamphlet Collection.