by William Shortall, Visiting Faculty Fellow, Keough-Naughton Institute for Irish Studies
The program of the 1934 Pageant of the Celt is found in very few library collections. Printed programs tend to be quite ephemeral, but when they survive they give a great glimpse into an occasion. Visiting art historian Dr. William Shortall has provided an essay on the Pageant, contextualizing this interesting publication.
When the Irish government was invited to take part in the 1933 Chicago World's Fair, also known as the Century of Progress International Exposition, they were initially reticent. Tariffs and trade barriers meant there was little prospect of any financial gain. Eventually they decided to participate because 'considerations such as those connected with national publicity and prestige might outweigh the more tangible considerations of trading advantage'. Essentially they sought a soft power and cultural diplomatic benefit from their presence at the event and sent a cultural and industrial display that was housed in the monumental Travel and Transport building. When the Fair organizers decided to run the event again in 1934, numerous countries—including the Irish Free State—did not participate and their places were taken by private concessions. However, there were a number of events that the Irish State did participate in during the second manifestation, the most prominent was an open air theatrical pageant representing Irish history, The Pageant of the Celt. Irish Consul General in Chicago, Daniel J. McGrath, was on the executive committee of the production.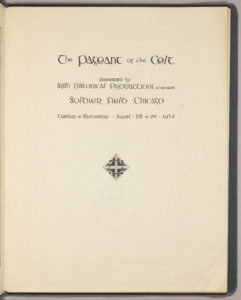 The Pageant took place on the 28th and 29th August, 1934, at Chicago's main sports stadium, Soldier's Field, in front of large 'marvellous' crowds. Although the pageant is credited to Irish-American attorney John V. Ryan, it was most likely co-developed with its narrator Micheál MacLiammóir, to whose work it bears similarities. Some contemporary reports credit it solely to MacLiammóir. The Pageant was produced by Hilton Edwards and covered the period of Irish history from pre-Christian times to the Easter Rising of 1916 and it had almost two thousand participants. The imperfect resolution to the War of Independence with Britain in 1921 and the subsequent Civil War were still fresh in people's memory and, as in the earlier MacLiammóir pageants, were avoided. Almost ninety years later, the upcoming centenary decade faces similar problems on how to commemorate these divisive events.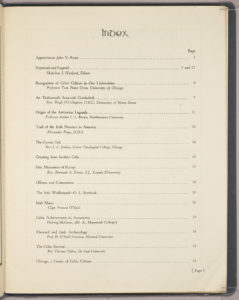 The Program describes the scenes of Irish history presented in pageant, starting from ancient mythical beginnings with the Battle of Tailté; to the emergence of a Catholic Nation and the 'coming of [Saint] Patrick'; followed by 'The Golden Age of Ireland'; a nation defended from Viking invaders by Brian Boru; followed by the country's ultimate subjection by Britain, beginning with the marriage of 'Eva and Strongbow' followed by the 'rise of republicanism' and culminating in 'Easter Week 1916 [when] Phoenix-like, the Irish nation rises from the fires of defeat to wage anew the centuried struggle for liberty'. The Pageant's finale was a mass singing of 'The Soldier's Song, Irish National Anthem'. The elaborate Program published the anthem's lyrics, it also featured 17 chapters relating to Irish cultural endeavours, including Irish music, the Harvard Irish Archaeological mission, and the Celtic Revival; and it contained messages of goodwill to Ireland from other Celtic peoples.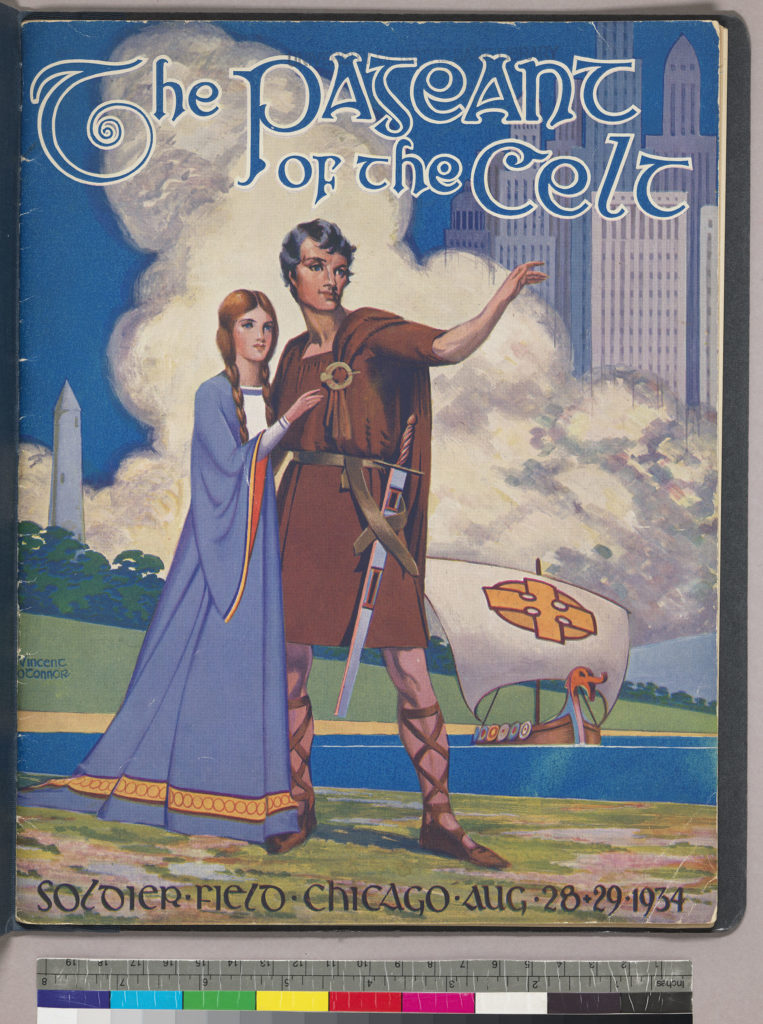 The program itself has a richly decorated cover and small illustrations and decorated capitals throughout by Irish-American artist Vincent Louis O'Connor (c.1884-1974). The cover contrasts Celtic Ireland with modern Chicago. Round towers are juxtapositioned with skyscrapers, separated by clouds, both icons of their time and the spirit of their respective ages. A man and a woman in distinctive ancient Irish dress festooned with a Tara brooch, stand on Ireland's green shore facing the Atlantic. These and Saint Brendan's ship anchored, trademarked with a Celtic cross, signifying the Irish-American connection. This was an Irish pageant suitable for diaspora consumption, with its mix of the mythical and ancient, cultured and catholic, distinctive and unique, oppressed but not beaten, leading to phoenix-like revolution and rebuilding.
The artist O'Connor was born in Kerry and immigrated to Chicago in 1914. An art teacher, he began teaching in Ireland in 1904. In America he taught in the University of Notre Dame from 1915 to 1922 and contributed sketches to the university yearbook as well as an architectural rendering of Notre Dame's proposed 50-year building plan. O'Connor held several exhibitions of his work which frequently featured prominent Irish personalities or landscapes. This Program connects Ireland, America and Notre Dame University and speaks to ongoing difficulties in reconciling Ireland's turbulent past and how the events of 1922 can be commemorated a hundred years later.