We join the Library of Congress, National Archives and Records Administration, National Endowment for the Humanities, National Gallery of Art, National Park Service, Smithsonian Institution and United States Holocaust Memorial Museum in commemorating and encouraging the study, observance and celebration of the vital role of women in American history by celebrating Women's History Month.
Mary Taussig Hall and Social Reform
by Arielle Petrovich, Outreach & Instruction Librarian and Librarian-in-Residence and Rachel Bohlmann, American History Librarian and Curator of North Americana
In commemoration of Women's History Month, RBSC highlights Mary Taussig Hall (1911-2015). Hall was a social worker, and an activist for child welfare, civil rights, and peace, from St. Louis, Missouri. Her career spanned most of the twentieth century and shaped social services policy in Missouri and the nation. As a lifelong advocate for peace, Hall's reach extended internationally: as a member of the Women's International League for Peace and Freedom and the United Nations Association in St. Louis.
Arielle Petrovich (Hesburgh Library's Instruction & Outreach Archivist and Librarian-in-Residence) created a Special Collections spotlight exhibition on Hall for Women's History Month. Because of the Coronavirus that exhibit is currently closed, so we share highlights and photographs from the show here:
Women's Peace Party, St. Louis, secretary's minutes, 1915-1916
In 1915, Progressive social reformer Jane Addams co-founded the Woman's Peace Party (WPP), a pacifist organization established in response to the First World War. Florence Gottschalk Taussig, Mary Taussig's mother, a political activist and a close friend of Addams, chaired the St. Louis chapter of the WPP. Local meetings centered on planning of educational speaking engagements and membership recruitment. (Mary Taussig Hall Papers, MSN/MN 0511, Box 7, Folder 200)
Jane Addams letter to Mary Taussig, 10 May 1933
After graduating from Bryn Mawr College in 1933, Mary Taussig was invited by Jane Addams to work as her private secretary and to volunteer at Hull House in Chicago. Addams had established Hull House to support recently-arrived immigrants to the city. Eventually it offered childcare for working mothers, job training, and other services. Mary eventually returned to St. Louis for a graduate degree in social work at Washington University, where she took up the cause of child labor reform among lead miners in Missouri. (MSN/MN 0511, Box 5, Folder 132)
President Franklin D. Roosevelt sent this holiday telegram to Mary Taussig and her mother to thank them for their support during his reelection campaign that fall. As part of the affluent elite in St. Louis, Taussig and her mother's social peers generally did not support FDR's New Deal economic reforms or vote Democratic. Roosevelt applauded both women for maintaining their party loyalty. (MSN/MN 0511, Box 6, Folder 185)
After World War One the Women's Peace Party became the Women's International League for Peace and Freedom (WILPF). Florence Gottschalk Taussig served on its national board and Mary Taussig Hall eventually chaired a joint committee to commemorate the centennial of Jane Addams' birth in 1960. After World War Two the WILPF's work broadened to include world disarmament, racial integration, civil rights, and international peace. ("Billions of Dollars…for What?" Pamphlet, c. 1955; "Integration" Pamphlet, c. 1958; and "The ABC's of Civil Rights" Pamphlet, undated — all from MSN/MN 0511, Box 7, Folder 210)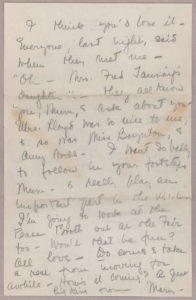 The Mary Taussig Hall Papers also document Taussig Hall's commitments to peace and disarmament in her personal correspondence. In a July 1933 letter to her parents, while she was working at Hull House, Taussig exclaimed, "I want so badly to follow in your footsteps Mum—and really play an important part in the W.I.L. [Women's International League for Peace and Freedom]. I'm going to work at the Peace booth out at the Fair [1933 Chicago World's Fair] too—won't that be fun?"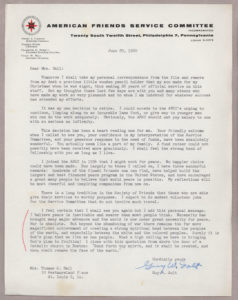 Nearly thirty years later Taussig Hall received a personal note in a letter from Guy W. Solt, a staff member at the American Friends Services Committee in Philadelphia. On 29 June 1960 he wrote, "War is obsolete. But beyond the abandoning of war there remains the far more magnificent achievement of creating a strong spiritual bond between the peoples of the earth, and especially between the white and the colored peoples. Surely it is God's plan that we live as one people. . . . I close with this quotation from above the door of a Catholic church in Boston: 'Send forth thy spirit, and it shall be created, and thou shalt remake the face of the earth.'"
Taussig Hall remained active in peace and civil rights work in St. Louis through the early 2000s. RBSC holds a portion of her papers. The Missouri Historical Society holds most of her papers in the Mary T. Hall Papers, 1888-2003.