by Rachel Bohlmann, American History Librarian
To honor Women's History Month we are highlighting a new acquisition by a cartoonist who turned her sardonic eye on women and men in the WWII workplace.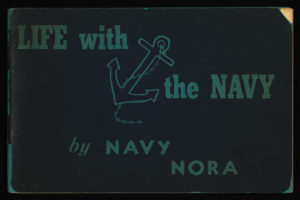 Dorothy Bond drew on her working life in Chicago offices to create sarcastic, witty cartoons, which she turned into nationally syndicated comic strips after WWII. In 1940 Bond, a divorced mother of two, began working as the civilian executive secretary for a Rear Admiral in the United States Navy. The result was this self-published Life with the Navy by Navy Nora, a wry, biting, and affectionate look at office life during wartime. Bond dedicated it to "those unsung heroes and heroines who work in shore establishments for the finest Navy in the world – the United States Navy."

In one cartoon (seen here), Bond mocked male self-importance and tweaked gender expectations by portraying a female secretary's hesitation to interrupt a group of men in conversation. While she delayed, Bond revealed the men's mundane discussion—about clothes (where to buy the cheapest, best-quality overcoats). In the panel opposite Bond caricatured the government's wartime production expectations and the gendered labor market it exploited. While the young woman secretary doubled down, using two typewriters simultaneously, her male superiors merely observed and rationalized her work speed-up.
Bond made a career of capturing, in drawings and words, the absurdities and gender politics in American offices. After publishing two more cartoon books about women and office work, she became a nationally syndicated cartoonist with a daily panel called The Ladies in 1945. From this success Bond created a comic strip that she dedicated to secretaries, Chlorine, Champion of the Working Girl. Her post-war office humor included cartoons like, "Whatever It Is, No!" and "Out Looking for a Man. Back at ___." Bond continued to publish cartoon books on timely post-war topics like Life with the Boss (1947) and Your First or Second Baby? (1956), and later in her career, broke into advertising.
---
This work is licensed under a Creative Commons Attribution 4.0 International License.