Stretch marks. How are they caused? Can they even be treated?
Stretch marks can happen to anyone, of any age, so these questions are important to many. In short, our skin is made up of both collagen and elastin, two elements that support and shape our skin through their natural elasticity. This elasticity, however, does have its limits. And when that breaking point is reached, the collagen and elastin rupture, leaving behind scars many know well – a stretch mark.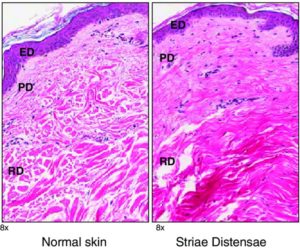 Stretch marks are caused when skin expands or shrinks at a more rapid pace than the collagen and elastin can accommodate, resulting typically in raised scars that can appear rather inflamed at first. Over time, however, these stretch marks may fade, nearly matching one's natural skin tone, and usually fall below the surface of the skin. This results in the feeling of a slight indentation when touching older stretch marks.
Like all scars, stretch marks are permanent. But this does not mean that they cannot be treated. There are many treatments available to diminish the visual effect of a stretch mark; not all of them are effective, and some seem not to work at all.
Collagen's elasticity is controlled by the body's cortisone levels, which are commonly associated with episodes of high stress. Basically, heightened cortisone production may decrease the skin elasticity, suggesting that reducing one's stress may be the most cost-effective and cheap treatment for stretch marks.
Researchers S. Ud-Din, D. McGeorge, and A. Bayat put these post-stretch mark treatments to the test in their paper, focusing on three topical treatment categories – marketed skin creams and oils, over-the-counter home remedies, and prescription medicines and dermatologist procedures.
These topical treatment methods are mainly marketed at increasing collagen production with both hydrating and anti-inflammatory traits. Ultimately, testing yielded mixed results about the efficacy of these treatments. Since participants both massaged their scars and used a topical treatment, the observed improvements to stretch mark appearance could be tied to either of these. Ultimately, however, the researchers did conclude that the age of the scar plays a role in treatment effectiveness, as younger, newer scars were more responsive to treatments.
Beyond these topical treatment methods tested, there are many other dermatological procedures designed to reduce the appearance of stretch marks, including chemical peels, laser therapy, and microdermabrasion. Chemical peels and microdermabrasion focus on removing layers of skin to expose new, non-scarred tissue underneath the stretch mark. And laser therapies are divided into two categories: those that stimulate collagen production and those that promote melanin production (so that the scar tissue matches the natural skin). While these dermatologist procedures can be more effective than the topically applied treatments, they are often expensive and are not guaranteed to be effective. Additionally, dermatologists often combine several procedures, eliminating this treatment for those with cost constraints.
All in all, there are no sure-fire ways to prevent stretch marks, but certain practices do demonstrate that one can prevent stretch marks or at least lessen their appearance fairly cheaply and effectively without any of the products and procedures detailed above. By maintaining a healthy weight, one may avoid the rapid weight loss or gain commonly associated with stretch marks.
For more information, check out these articles on Healthline and AAD.