Rheumatoid arthritis (RA) is a chronic autoimmune disease that, according to the Arthritis Foundation, affects 1.5 million people in the US. Women are 3 times more likely to develop RA and are usually diagnosed between ages 30 and 60, while men are rarely diagnosed before the age of 45.
Unlike osteoarthritis which is caused by wear and tear on joint cartilage over time, RA is caused by an overactive immune system that triggers unnecessary inflammation responses. One effect of this is that the body attacks its own joints causing swelling, stiffness, and chronic joint pain as well as irreversible damage. This limits joint mobility and decreases the quality of life for those impacted by it, especially those diagnosed as children or young adults.
This disease cannot be cured but treatments like medicine or dietary/ lifestyle changes are most effective when diagnosis happens early. When joint damage occurs it is irreversible, meaning the only treatment option is surgery. The joints most commonly affected in the early stages of this disease are finger joints which are usually the first sign of inflammation and will be the focus of this article. The image below shows the progression of finger joint damage in a patient with RA starting with no damage (a) to severe damage (c).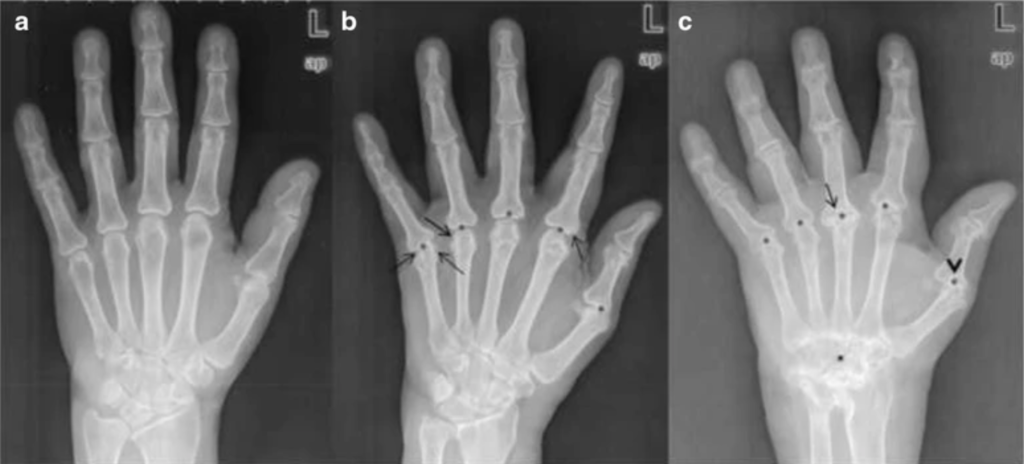 As an RA patient, a typical visit to your doctor would always include a pain/inflammation assessment. With a focus is on early stages of RA, fingers and hands would be the most important areas to look at. Each joint of focus would be felt by your doctor to check for swelling and tenderness, but the most important aspect is the patient's self-assessment of inflammation and pain. It is important for patients to accurately assess their pain and mobility in order to find a medicine or treatment that works effectively. This was the focus of a study that was conducted on 52 RA patients (33 women and 19 men) which used a variety of tests in an attempt to quantify arthritis damage and compare it to the predictions made my patients.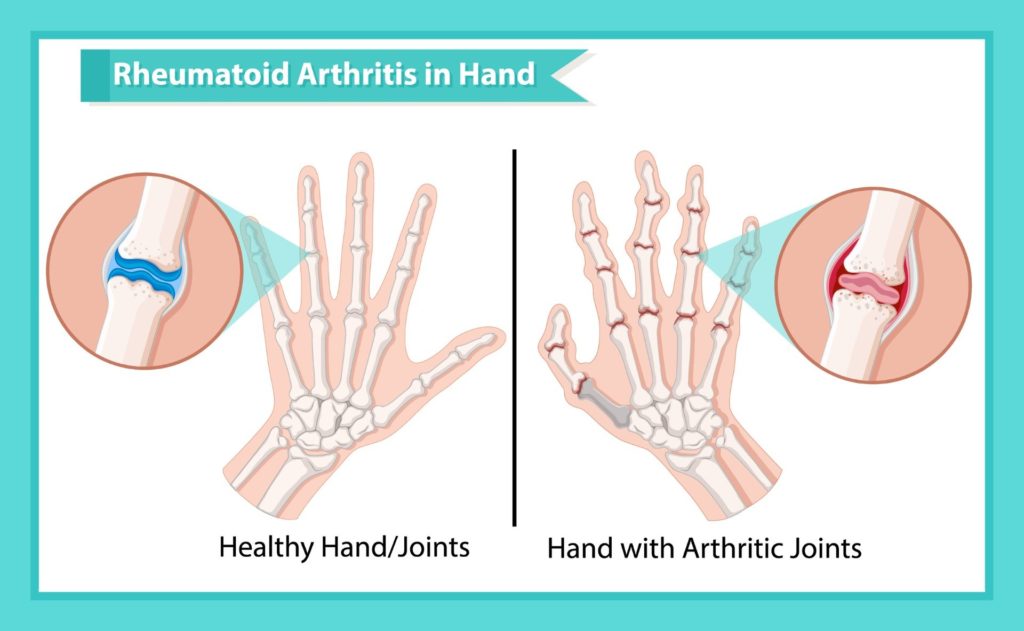 The first test looked at range of motion for fingers flexed (in a fist) and extended (straightened). The next test measured grip strength in different positions like using a pencil, opening a jar or turning a key by using a device that measured the force produced by the hand in each position. Stiffness was measured visually, and pain levels were also recorded, but it should be noted that pain cannot accurately be quantified because pain tolerances vary among patients. The result of this study was that the patients predictions on grip strength and stiffness best correlated to the real results and were therefore the best predictors of hand function. This means that patient reports of strength and stiffness are the most accurate and helpful to be used by doctors when choosing medications or treatment plans.

Because joint damage from RA cannot be reversed, surgery is usually the only option to repair damaged joints, and even surgery will not bring back full mobility. Because RA treatments (both medicines and surgery options) are still very new there isn't widely available or reliable data on the impact of hand surgery. Additionally, with the increasing use of the newer class of biologic drugs there has been a noticeable decrease in damage to the synovial tissue (the specialized tissue between the bones in any given joint) and the need for hand surgery has significantly decreased because of this. Overall, a variety of surgeries are available and there is almost always a tradeoff between mobility, vanity and elimination of pain. It is up to the patient, doctor, and surgeon to decide the best treatment option.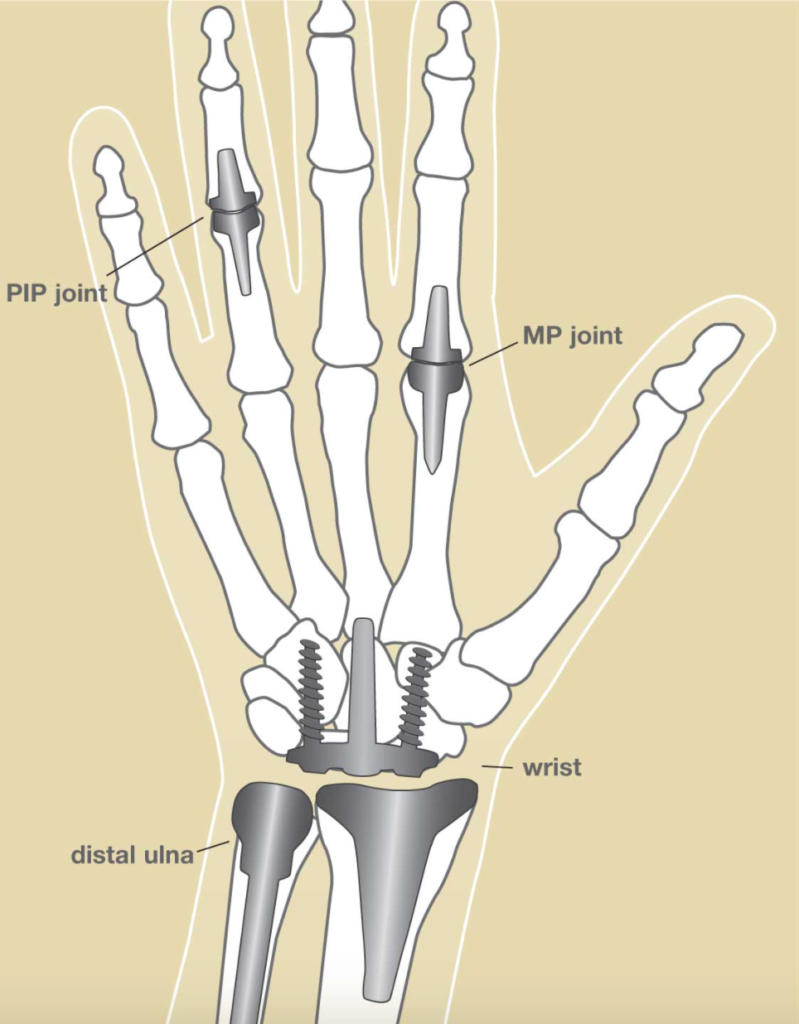 Overall, it is important to listen to your body and look out for early signs of RA to avoid lasting joint damage. This is especially important if you have a family history of RA. Early symptoms include, redness, pain, stiffness and swelling at joints, a lack of muscle strength, decreased range of motion/mobility, and even unexplained fatigue or fever.
References and Further Reading
Featured image cropped from Lina's hands (black & white) by La Chachalaca Fotografía which is licensed under CC BY-NC 2.0.