Have you ever thought about what it would be like to walk on walls? If you've ever watched a Spiderman movie or watched a gecko maneuver around its habitat, you probably have. While geckos don't fight crime, their climbing ability is as fantastic as that of any superhero. Geckos have one of the most unique climbing adaptations of any animal, and scientists are examining the source of this ability to see if human technology could one day achieve something similar.
Geckos are able to cling to almost any surface, no matter how smooth or rough it is. They are also able to detach quickly and easily from these surfaces as they climb. This climbing ability is due to tiny hairs, called setae, on the bottoms of their feet that can only be seen with a microscope. Each hair branches off into even smaller fibers called spatulae. Each gecko has about three million setae, and a billion spatulae! When the gecko places its foot on a surface, these hairs cling to the surface and form intermolecular bonds, called Van der Waals bonds, with the molecules of that surface. These bonds are strong enough to hold the gecko in place, but can be broken easily when the gecko lifts up its foot.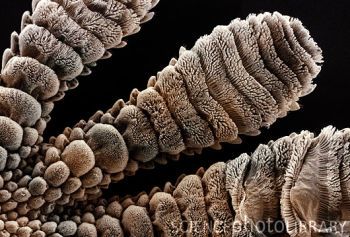 In addition to enabling the gecko to attach itself to surfaces, these hairs on the bottom of the gecko's feet have the ability to clean themselves. If the gecko did not have some sort of ability to clean its feet, dust and dirt would get stuck on the gecko's feet and break the connection between the feet and the surface. However, the hairs on the gecko's feet are shaped so that it is difficult for water to stick to the feet. When the gecko gets water on its foot, the water rolls off of it and takes any particles of dirt with it.
Scientists have long been fascinated by the gecko's ability to stick to surfaces, and many have been working on creating adhesives with fibers similar to the hairs on the bottom of the gecko's feet. These adhesives are dry, like the gecko's feet, and can be attached firmly and removed easily. The possibilities for application of adhesives like this are vast in number, and include everyday fasteners as well as use in electronics, robotics, and even outer space technology. One of the areas being explored by scientists is the use of these adhesives in the medical industry. The manufacture of gecko-hair fibers for bandages could mean farewell to the pain of removing a bandage, as well as the sticky residue left behind on your skin. This type of adhesive could even one day replace stitches after surgery.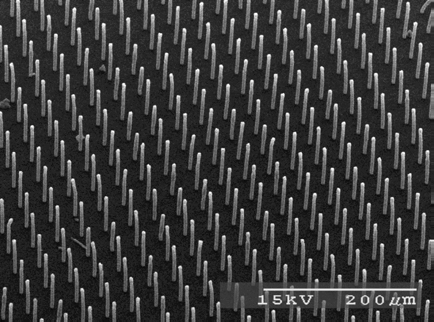 Most people probably don't think about geckos very often apart from what they see in advertisements for car insurance. But for some scientists, these creatures hold the key to a world of possibilities. So next time you're at the pet store, take a look in the lizard tanks and watch the geckos climb. Someday, thanks to those geckos, humans might be able to do the same thing.
Featured image cropped from Madagascan Day Gecko. (Phelsuma madagascariensis madagascariensis) by Bernard Spragg is marked with CC0 1.0.