The discussion of returning to minimalist ways, namely walking or running barefoot, is a question that rises in many circles, from new parents to elite runners.
For example, parents are told to let children learn to walk barefoot, as studies have shown early use of footwear can lead to feet deformities and can alter natural gait, which is especially important when learning to walk. Likewise, many avid and elite runners have shown interest in barefoot running (or minimalist running shoes), as some are convinced that the forefront strike (FFS or also known as NRFS – non rear foot strike), more commonly used during barefoot running, lowers the loading rate on the foot and minimizes injuries from the repeated stress that occurs in the feet during running.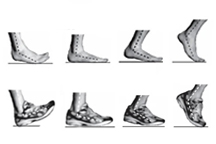 In general, walking or running barefoot yields more frequent steps, a smaller stride length and a slower velocity (most noticeable while running). Barefoot running is thought to reduce some of the injuries many runners are prone to, such as shin splints, stress fractures or plantar fasciitis. Additionally, the stiff fit of modern shoes limits the width and spreading of feet in the natural walking or running motion. However, barefoot running also comes with a cost, with injuries in the achilles region more prevalent.
A study in the Gait & Posture journal examined foot motion in children and found modern commercial footwear does have a large impact on gait, especially in regards to range of motions of different muscles and joints in the foot, likely due to the stiffness of shoes. More flexible shoes, similar to minimalist running shoes, were found to have a smaller impact on foot motion in reference to bare feet, but still had a significant difference in regards to the added support in the arch area.
The common belief that barefoot motion lowers the impact on the body has been questioned by a recent research study from Southern Methodist University. The findings indicated that while running barefoot with a forefront strike, the feet strike the ground at a more pronounced angle which generates a longer contact time, thus decreasing the loading rate and allowing the muscles in the back of the feet and legs (especially the Achilles) to absorb some of the loading stress. When humans adapted to running in shoes, especially shoes with thick cushioning, the landing switched to a rear foot strike that allows the heel cushioning to absorb some of the loading stress, resulting in a fairly equal loading rate for both cases. The heel cushioning, with a flatter angle of contact, also allows for decreased impact time with the ground surface, which is why higher running speeds are achieved with footwear.
While the advice to encourage barefoot walking in young children certainly makes sense as they continue to grow and learn to control their bodies, the choice to use shoes or go barefoot for older children and adults remains an individual preference. There is no significant difference in the stresses the body experiences, but the footwear choice does influence the likelihood of certain, which is important for runners with past injuries to consider.
For more information, check out this extensive technical review of studies on barefoot vs. footwear mechanics or this video from Exercising Health comparing running shoes with minimalistic barefoot shoes.
Featured image under Unsplash License.