Rare Books & Special Collections pleased to announce a new lecture series, The Florence & Richard C. McBrien and Richard C. McBrien, Jr. Special Collections Lecture Series, beginning this fall. All events are open to the public and admission is free.
Please join us for our inaugural lecture of the series on Thursday, November 7 at 5:00pm in Special Collections, featuring Scott Gwara, Professor of English and Comparative Literature at the University of South Carolina. Gwara will deliver a lecture entitled "Professor Ege. With the Knife. In the Library. Solving the Murder of 200 Medieval and Renaissance Manuscripts in Twentieth-Century America".
This lecture is co-sponsored with the Medieval Institute.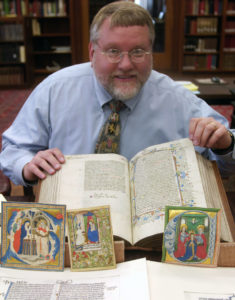 Scott Gwara is Professor of English and Comparative Literature at the University of South Carolina, where he is completing his 25th year of service. At South Carolina, Scott regularly teaches graduate Old English and Beowulf, and undergraduate courses as diverse as King Arthur, Shakespeare, the 21st-Century British bestseller, American Apocalyptic fiction, and medieval manuscripts. He is the author of six books and 50 refereed articles. He is perhaps best known for Otto Ege's Manuscripts, which he calls a "bio-bibliography" on the Cleveland rare book dealer who established the North American market for framed pages of early manuscripts.
Professor Gwara is currently completing a history of medieval and Renaissance manuscripts in North America from the beginnings to ca. 1875. Over the past decade he has established a teaching collection of early manuscripts at his university, and his efforts were recognized in October by a "Fresh Voices in the Humanities" award from the Humanities Council of South Carolina. As part of his effort to publicize the South Carolina collection, and manuscript culture more broadly, he has been filming a series of 20 podcasts for release in 2020.