We join with The Library of Congress, National Archives and Records Administration, National Endowment for the Humanities, National Gallery of Art, National Park Service, Smithsonian Institution and United States Holocaust Memorial Museum in paying tribute to the generations of African Americans who struggled with adversity to achieve full citizenship in American society.
Searching for Claude Monroe Paris, Unheralded African American Basketball Pioneer: Documenting Black History Using Notre Dame's Joyce Sports Research Collection
by Greg Bond, Sports Archivist and Curator, Joyce Sports Research Collection
For several years, I've been on the hunt for Claude Monroe Paris, a largely unheralded African American basketball pioneer from the early twentieth century whose name does not appear in the standard books about the history of African Americans in basketball. A native of Waupaca, Wisconsin, Paris excelled on the court and was one of the few African Americans to compete on high-level integrated basketball teams in the early 1900s. Usually playing at forward or center, he received wide praise for his abilities, and his teams competed in national amateur basketball tournaments in Chicago.
Basketball was in its infancy and—compared to sports like baseball or college football—often received less coverage. So, it has sometimes been difficult to uncover information about early basketball players like Claude Paris. Fortunately, in my new position as the Sports Archivist at Notre Dame's Hesburgh Library, I can use the incomparable resources of the Joyce Sports Research Collection to better document Claude Paris's trailblazing athletic career.
After starring at Waupaca High School, Paris joined the region's top amateur team sponsored by the nearby Stevens Point Athletic Club in 1901. He quickly gained local fame, with one reporter describing him as "a well known colored basket ball player." The state press routinely praised him as a "crack forward," and one sportswriter said simply that Paris "is said by players of experience to have been the best forward in the state."
The Stevens Point Athletics were one of the top teams in Wisconsin, and in 1901, they were invited to Chicago to compete in an eight-team basketball tournament billed as the "National Amateur Championship." Other teams in the field included Kenton, Ohio; Chicago's West Side YMCA; the University of Nebraska, and the Silent Five of Brooklyn, New York, a team composed of deaf players.
Before the tournament, the Chicago Chronicle, wrote that Stevens Point "has this year made a very enviable reputation and has an undisputed right to be classed among the best teams in the country." The Chronicle singled out Paris for "the star playing of the team" and noted that "Paris, who is an unusually small man for the position he fills, is an excellent player and is looked upon as one of the strongest of the team."
Paris played well in Chicago, but the tournament ended without a clear champion as Stevens Point and Kenton, Ohio, both finished with records of 3-1.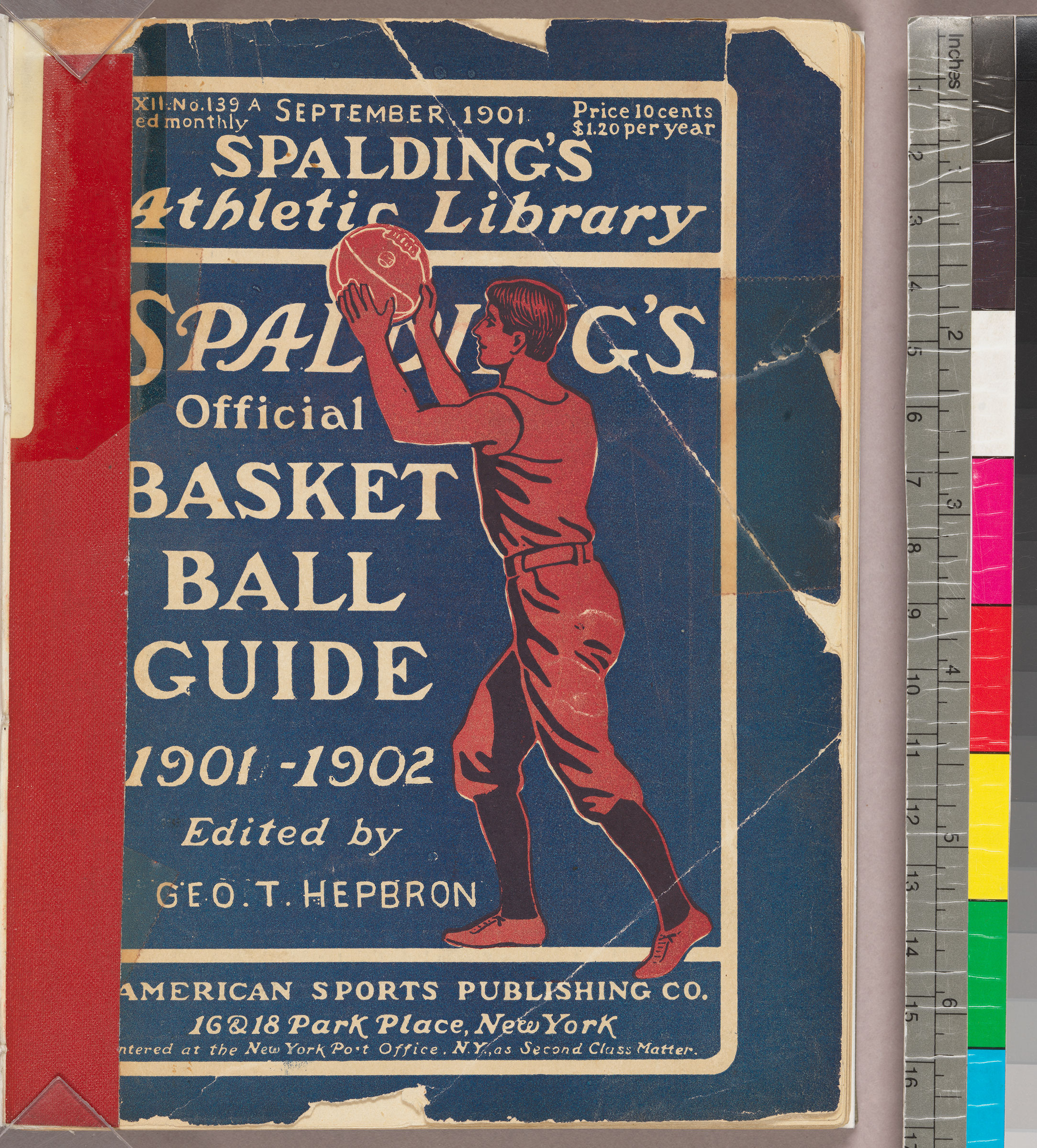 Over the years, I have tracked Claude Paris and the Stevens Point Athletics "championship" team through newspaper stories, but the Joyce Sports Research Collection—namely, its nearly complete run of Spalding's Official Basket Ball Guide—has now let me put a picture to these words. Spalding Guides routinely featured hundreds of team photographs from every level of competition, and these images are a fantastic resource for researchers to study and to document the development of sports.
The Joyce Collection's 1901–02 Spalding's Official Basket Ball Guide includes on page 60 a team photograph of the "Stevens Point A.C. Basket Ball Team." Claude Paris (identified as number 7) sits on the left side of the first row, providing a visual record—seen around the country in the popular Spalding Guide—of this early integrated basketball team and graphically documenting Claude Paris's participation at the highest levels of amateur basketball.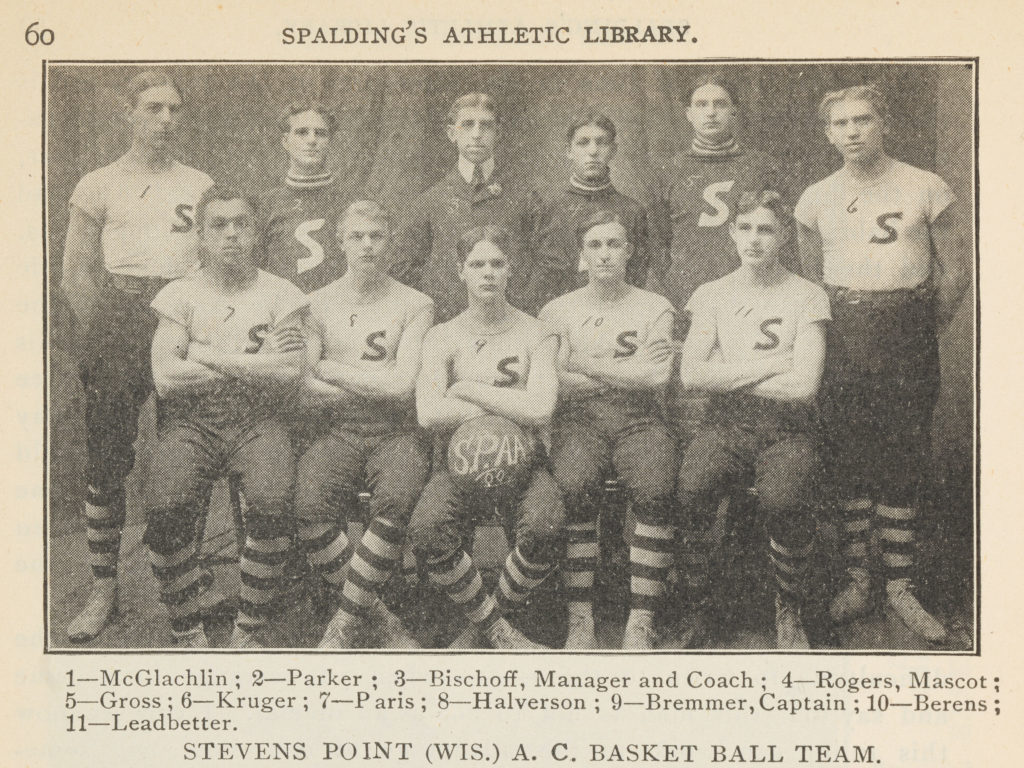 After Stevens Point, Paris attended and continued his basketball career at Lawrence University in Appleton, Wisconsin, for two years. But his career after Lawrence is not well documented. Further investigation in the Joyce Collection, though, has led to more information. I discovered that the 1905­–06 Spalding's Official Basket Ball Guide pictured Claude Paris (identified as number 6) with the 1905 Menasha (Wisconsin) Young Men's Social Club Basketball team—providing additional evidence of Paris's trailblazing career as an African American basketball player on predominantly white teams.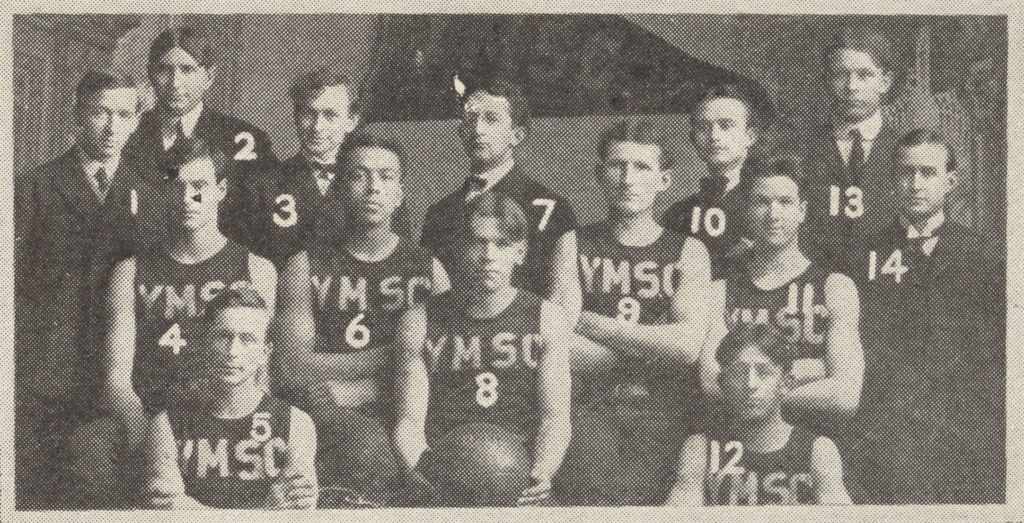 Unfortunately, little information has survived about the specifics of Claude Paris's experiences against white competitors, but visual evidence of his participation on integrated teams is an important addition to our knowledge about the history of African American athletes in this era.
Some contemporary observers also noticed the significance of Claude Paris. In April 1903, the Milwaukee Sentinel published a lengthy article about Paris, then a student at Lawrence. The Sentinel described him as "studious and industrious" and "of quiet manner and engaging personality."
The article also noted that "Paris finds time to devote considerable attention to athletics… [and] he has an excellent record. Before he came to Lawrence he played on the Stevens Point basket ball team which tied the team of Kenton, O., for the national championship in 1901."
The Milwaukee Sentinel ultimately used Claude Paris to make an overtly political point. In an era that witnessed increasing legal segregation and racial violence and growing restrictions on African American rights, the Sentinel held up Paris's example as a direct refutation of the racist philosophy of segregationists exemplified by notorious South Carolina Senator "Pitchfork" Ben Tillman:
"Claude M. Paris of Waupaca… in every detail of his personality and every incident of his career gives the lie to Senator Ben Tillman's dictum that the negro is and must always remain… inferior."
I am grateful that the Joyce Sports Research Collection has helped me to further document and honor the life of Claude Monroe Paris, an unsung African American athletic pioneer.