by Aedín Ní Bhróithe Clements, Irish Studies Librarian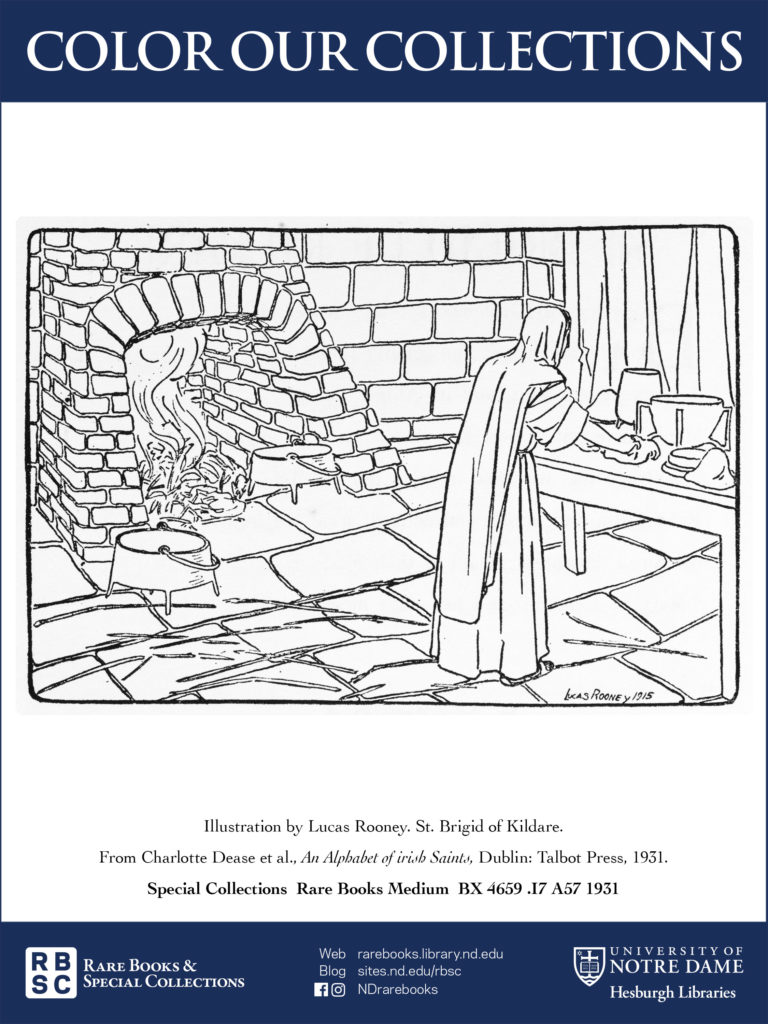 St. Brigid's Day, February 1st, marks the beginning of Spring in the Irish calendar.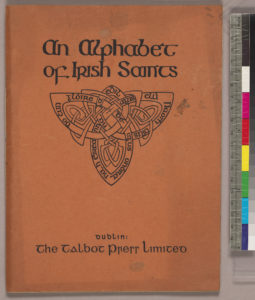 In our exhibition of Irish children's literature some years ago, we showed the first children's alphabet book written completely in Irish that we know of — Na Rudaí Beaga (c. 1920) by Pádraig Ó Bróithe, illustrated by Lucas Rooney. We recently added a bilingual alphabet to our collection. An Alphabet of Irish Saints, illustrated by the same artist, was first published in 1915.
This book has a two-page spread for letters of the 18-letter Irish alphabet, each entry listing a saint and including a verse in English by Charlotte Dease and one in Irish by Tadhg Ó Donnchadha. An illustration, an ornate letter in the Gaelic font, and notes on the saint and associated place and festivals complete each entry.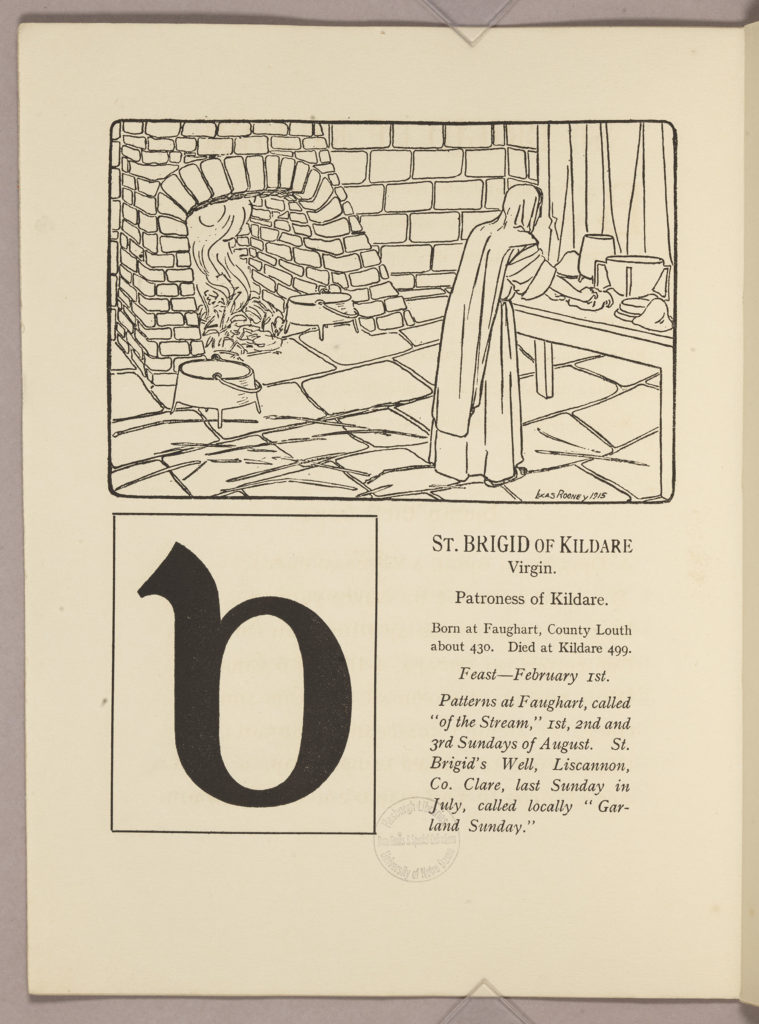 The English verse refers to the story of Brigid receiving a promise that she could have all the land that her shawl, or mantle, could cover, to build her abbey. Her shawl spread to cover a great expanse of land. While this verse suggests a learned woman leader who could also cook, scrub and sew, the Irish verse must have been far less appealing to any young reader. It takes the form of a prayer to St. Brigid, and the prayer asks that the comely young women of Ireland would emulate her in practicing hard work.
Whether or not Brigid was a real person, an abbess in the fifth century, her legends have been part of Irish tradition and custom for centuries. In fact, look closely at the illustration above, and see the rushes strewn on the floor. These were surely added by the artist in reference to the story of the saint weaving a cross of rushes from the floor, and hence the traditional Crois Bhrighde, or Brigid's Crosses, made at this time of year around the island of Ireland through many generations.
---
From February 1-5, 2021, libraries, archives, and other cultural institutions around the world are sharing free coloring sheets and books based on materials in their collections. Visit The New York Academy of Medicine Library's #ColorOurCollections site for more information and to find other color options.