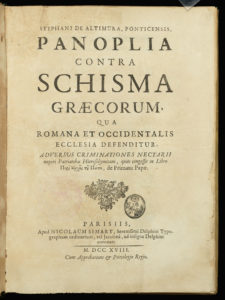 by Alan Krieger, Theology and Philosophy Librarian
The Hesburgh Libraries' Rare Books Collection has recently been enriched by an interesting title, Michel Lequien's Panoplia contra schisma Graecorum (Paris, 1718).
Lequien (1661-1733), a French Dominican theologian writing under the pseudonym "Stephano De Altimura", wrote this defense of papal primacy in order to refute the claims of Nektarios, Greek Orthodox Patriarch of Jerusalem from 1661-1669, in a work first published in Greek in 1682. Nektarios's book was later translated into Latin and printed in London in 1702, then reissued in 1717—we hold these editions in electronic format under the title: Tou pany kyr Nectarii…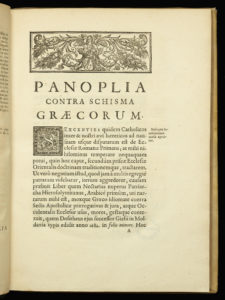 We have discovered only two other North American library holdings of this response by Lequien.