by Rachel Bohlmann, American History Librarian
Vicksburg, Mississippi's most famous Independence Day, July 4, 1863, marked the surrender of its Confederate forces to Union Major General U. S. Grant during the American Civil War. After a 47-day siege of the city, which sat atop a high bluff on the Mississippi River, Grant accepted a negotiated truce from Vicksburg's Confederate Lt. General John C. Pemberton on July 3. He surrendered the next day. This victory marked a turning point in the war. The Confederacy lost control of the Mississippi River as well as access between the eastern Confederacy and the Trans-Mississippi Confederacy of Arkansas, Texas, and Louisiana. At nearly the same moment, Union forces defeated Confederates at Gettysburg, a loss for Robert E. Lee's Army of Northern Virginia that decisively checked Confederate encroachment northward.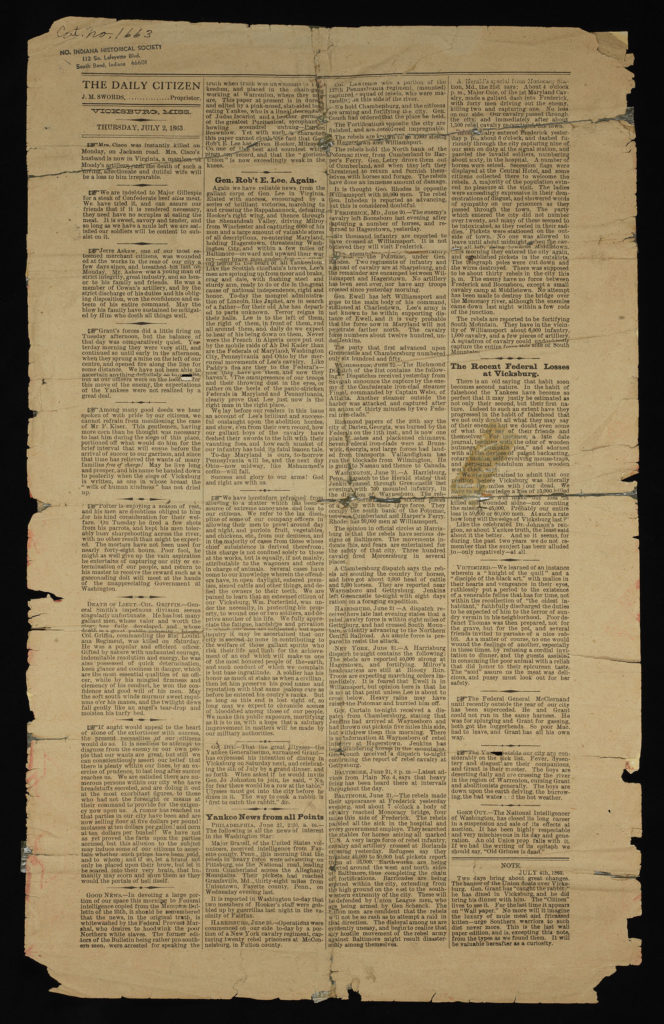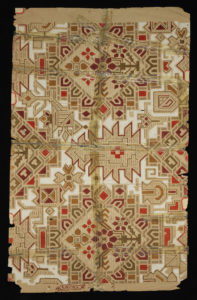 J.M. Swords, publisher of the Vicksburg Daily Citizen, fled the city but left the July 2, 1863 edition partially finished on his press. Occupying Union soldiers completed it with an addendum dated July 4. Paper supplies in the besieged city, however, were long depleted so they printed the newspaper on what they had—wallpaper. Swords had earlier resorted to the same measure, creating so-called "wall-paper editions" on June 16, 18, 20, 27, 30, and July 2.
The last line of the July 4 note proved correct: the paper became a valuable curiosity. More than 30 reproductions have been identified, including this one. The Library of Congress holds two originals and two reproductions and offers guidance on identifying copies. Although of little monetary value, reproductions nevertheless are significant historical documents. They surfaced very soon after the war, probably as souvenirs at soldiers' reunions.
Although many copies of its famous Fourth of July newspaper exist, after its defeat and surrender the city of Vicksburg did not officially celebrate Independence Day until 1945.
---
This work is licensed under a Creative Commons Attribution 4.0 International License.