by Amanda Gray, MLS Candidate, Indiana University Purdue University Indianapolis, and Special Collections Intern, University of Notre Dame
The Spotlight exhibit for June and July, "Take Care of my Ghost, Ghost: The Friendship of Allen Ginsberg and Jack Kerouac," focuses on three items from the Robert Creeley Collection: Take Care of my Ghost, Ghost: Allen Ginsberg & Jack Kerouac; Declaration of Independence For Dr. Timothy Leary: July 4, 1971; and San Francisco Blues.
The Beats formed in the wake of World War II, a literary counter-culture set on exploring in all senses of the word; physical exploration through travel, mental exploration through psychedelic drug usage and sexual awakening, spiritual exploration through Eastern religions. Kerouac coined the name "Beat Generation." In his spoken word album Readings by Jack Kerouac on the Beat Generation, he reads the poem "San Francisco Scene," where he describes a jazz club and all that he sees, "and everything is going to the beat. It's the beat generation, it's be-at, it's the beat to keep, it's the beat of the heart, it's being beat and down in the world and like old time lowdown and like in ancient civilizations the slave boatmen rowing galleys to a beat and servants spinning pottery to a beat."[i] (Listen to it here, the first track of the album.) To drill down on one word in particular, Kerouac calls it "be-at," as in "beatific," or blissfully happy or holy. Kerouac was Catholic, and maintained his Catholic faith while also supplementing it with Buddhism. Benedict Giamo, a University of Notre Dame American Studies professor who retired this year, once told me that Kerouac used Buddhism as a lens through which to view his Catholicism, and it shows in his writings. Kerouac saw what he and the other Beats were doing as holy, enlightened work that expanded human consciousness.
Kerouac and Ginsberg were in the epicenter of this movement, meeting at Columbia University in New York City when Kerouac was 22 and Ginsberg was 17. Around them gathered a host of people, and in subsequent travels across the U.S. (see On the Road, The Dharma Bums, and other works for journal-esque descriptions of their trips), they connected with the San Francisco Renaissance, a group of poets stationed in California with similar ideals. Robert Creeley from the Black Mountain Poets connected here, too, and became lifelong friends with Ginsberg. It's his amazing collection from which these three works come, as well as the works in the pop-up exhibit, scheduled for June 10.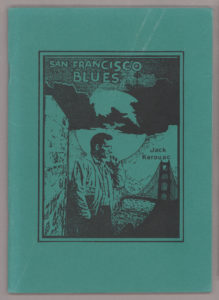 Turning to the objects in the exhibit, the goal was to highlight Kerouac and Ginsberg's friendship while also showing their abilities outside of their "known" styles of writing. Kerouac, known mostly for his prose work, wrote poetry like a jazz musician, and San Francisco Blues is a great example of his abilities. Scraps of San Francisco Blues appear like breadcrumbs throughout other works and publications; bits of it in Heaven & Other Poems, another selection in Palantir, some lines in New Directions. Though he died in 1969, Kerouac's full collection of the 79 choruses in San Francisco Blues were not published together until 1983. The cover shows a composite image of Kerouac, leaning against a brick wall while smoking, the Golden Gate Bridge in the background. Kerouac called the completed work a "beautiful unity," written while pondering the city of San Francisco from his room at the Cameo Hotel in 1954. He wrote about the dilapidated buildings, the people walking on the street, the feelings in his body as he pondered what he was doing with his life. The only limit to his poetry was the size of the page in the notebook in which he scrawled them — "like the form of a set number of bars in a jazz blues chorus," he writes in the introduction  — creating poems that hit the consciousness like the music he listened to.
Kerouac had been writing for several years at the time he wrote these poems, with his first book The Town & the City published in 1950 He wasn't published again until 1957 with On the Road, despite completing several novels and books of poetry. His journals from these years in between, including a few excerpts in Take Care of my Ghost, Ghost, show just how much the rejection he received impacted him as a writer and as a person. Rejection hurt him, but he also found elation once he was published.
Ginsberg, known for Howl and other fantastical, forceful works of poetry, is an electric prose writer with power and precision in every line. His defense of Dr. Timothy Leary is a masterful work of evocative but exact language. Ginsberg rallied the poetic troops with this piece, independently published in response to the arrest, charge, and conviction of Dr. Timothy Leary, who had a small amount of marijuana on his person when arrested in 1970, and who experienced a whole host of legal trouble in the years that followed. Leary had also published on drug usage, something which the federal prosecutors and judges "regarded as a menace," according to Ginsberg.
Ginsberg made this piece a larger argument for freedom of speech, for a writer to write about whatever he or she wants to. It's an engaging piece of prose from a man who's most known for his manic approach and imagery in poetry. It's rational, well-argued and had little to no impact on Leary's legal troubles. Though his name is not listed on the piece as author, Ginsberg's fingerprints are all over it. The evocative language, the subtle shift to near-poetry in the final lines, the intelligence carried in every line — it's as apparently Ginsberg as Howl is. A flair for the dramatic, the group sent a contingent of poets to deliver it to the Swiss government on Bastille Day.
The two writers were constant influences on each other (for example, Ginsberg credits Kerouac for the title of Howl in the dedication page of the poem), but they were so much more than that. Take Care of my Ghost, Ghost shows scraps of communication from Ginsberg to Kerouac, as well as some excerpts from Kerouac's journals. A humble item at first glance, the collection of correspondence between the two writers is printed simply; 34 sheets of 8.5×11 paper, three simple staples down the side. Within its pages, though, it shows a friendship fostered both in person and at a distance; while bumbling around Greenwich Village or from San Francisco; with friends, lovers, or within a mental institution.
Within their friendship they found a place to confide; their letters to each other reveal a rawness that only comes with the comfort of time. Scraps of poetry made their way into the letters, too; Ginsberg wrote to Kerouac on Oct. 6, 1959: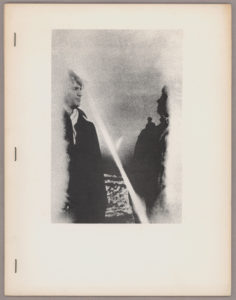 Leave the bones behind
They're only bones
Leave the mind behind
It's only thoughts
Leave the man behind
He cannot live
Save the soul!
According to one rare books seller, this was a "piracy edition" and was suppressed by Kerouac's estate.[ii] In the back of the book, a page states that it was "published for friends in an edition of 200 copies." A more extensive collection of their letters is part of our General Collection and able to be loaned.
Kerouac and Ginsberg were friends — sometimes with benefits, if Ginsberg's Gay Sunshine Interview is any indication.[iii] They were companions. They were partners-in-crime. After Kerouac's death in 1969 at the age of 47, Ginsberg mourned him, along with Neal Cassady, another Beat who died early in life.  In The Visions of the Great Rememberer, Ginsberg writes, "So I survived Neal and Jack — what for, all my temerity? This empty paradise? Nostalgia world?"[iv]
[i] Kerouac, J. 1960. "The San Francisco Scene." Readings from Jack Kerouac on the Beat Generation. Retrieved from https://genius.com/Jack-kerouac-the-san-francisco-scene-annotated.
[ii] PBA Galleries. (2018). Lot 334 of 450: Kerouac Ginsberg Take Care of My Ghost, Ghost. Retrieved from https://www.pbagalleries.com/view-auctions/catalog/id/189/lot/54835/Take-Care-of-My-Ghost-Ghost-From-the-letters-of-Allen-Ginsberg-to-Jack-Kerouac-1945-1959.
[iii] Young, A. (1974). Gay Sunshine Interview. Bolinas: Grey Fox Press. Pp. 3-4. Ginsberg talks about specific sexual encounters he had with Kerouac and Neal Cassady.
[iv] Ginsberg, A. (1974). The Visions of the Great Rememberer. Amherst: Mulch Press. Pg. 1. The title itself is a nod to Kerouac's autobiographical work Visions of Gerard, as well as the posthumously published Visions of Cody, which focuses on Neal Cassady (called Cody in the book). The Visions of the Great Rememberer now publishes as an introduction for Visions of Cody.