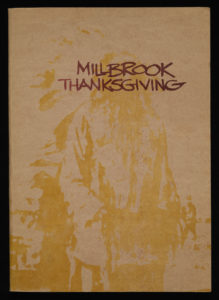 by Rachel Bohlmann, American History Librarian
This Thanksgiving we're highlighting a book of poetry and prose that is part of a group of avant-garde American literary works called the Small Press/Mimeograph Revolution, 1940-1970s collection. Millbrook Thanksgiving, by poet and writer Walter Schneider (1934-2015), is a panegyric to the psychedelic-fueled community Timothy Leary created in upstate Millbrook, New York from 1963 to 1967. A psychologist interested in the effects of synthetic drugs on human consciousness, Leary settled in Millbrook after being fired from Harvard University for using the substances he was studying (LSD was legal in the US at that time). In the wake of local police harassment that led to Leary's repeated arrests for minor drug infractions, he moved to California where he crossed paths with Schneider, a PhD student at Berkeley.
Schneider's spirited defense of Leary's counter culturalism places the book's content in the cultural vanguard of 1971. But so does the book's production. Printed as a small run of just 3,000 copies, its design—from the soft cover, typography, and heavy paper, to its eclectic illustrations—signals the book's origins outside of mainstream American publishing. Mad River Press, the small California-based operation that produced Millbrook Thanksgiving, specialized in experimental poetry and creations like Schneider's. The press released very small runs of poetry chapbooks, which were short (40 pages or less), inexpensively constructed, soft-cover booklets. Some were published anonymously and with no identifying publication information, indicating that publisher and author rejected the authority of copyright law.
Mad River Press and its authors also placed important visual pieces in their publications. Millbrook Thanksgiving used the first photograph in Robert Frank's The Americans (published 1958), an extended photo essay that captured Americans in real life. Beat writer Jack Kerouac, who introduced the 1959 edition, noted that "he [Frank] sucked a sad poem right out of America onto film." His book of photographs remains an important visual text of post-war America. In a chapbook of poetry by Fred Glazer also published in 1971, Mad River Press included an image by the African American painter Louis Delsarte.
The library's Small Press/Mimeograph Revolution, 1940-1970s collection holds more than 350 items. Some, like Millbrook Thanksgiving, were produced by small, experimental presses, while others were created by individuals or small collectives using relatively inexpensive copying technologies like the Ditto machine (remember the smell of those purple ink pages?) or the mimeograph. The collection is searchable in the library's catalog.
---
RBSC will be closed during Notre Dame's Thanksgiving Break (November 22-25, 2018). We wish you and yours a Happy Thanksgiving!
Thanksgiving 2015 RBSC post: Thanksgiving and football
Thanksgiving 2016 RBSC post: Thanksgiving Humor by Mark Twain
Thanksgiving 2017 RBSC post: Playing Indian, Playing White