On some first Sunday of Lent in the early fifteenth century, Robert Rypon, the subprior of Durham Cathedral Priory, took the opportunity of a sermon dedicated to the First Commandment to speak about magic – more specifically, to roundly condemn it as a type of idolatry and blasphemy. It is a remarkable sermon that has caught the attention of a few scholars before for its thorough discussion of magic: more than half of the sermon is dedicated to describing sorcery (sortilegium), a sin which Rypon, displaying the same academic and punctilious mode of thought evidenced in his other surviving sermons, breaks down into no less than ten different types or "species." [1]
Among the types of magic he enumerates is fortune-telling or divination, a sorcery the devil can work through himself or "through living men" (presumably in contradistinction to omens conveyed through spirits or ghosts). Rypon claims with a tone of authority that these diviners or soothsayers are properly called "phitonissae" or "phitones," [2] in modern English "pythonesses." The word stands out on the manuscript page for its peculiarity, and raises the question of where the Durham monk learned it. Its story provides a micro case study of the reception and appropriation of the classical tradition by medieval writers.
Rypon's immediate source seems to be the seventh-century Etymologies of Isidore of Seville, which provides much of the grist and theoretical framework for the rest of his tirade against sorcery. Isidore rightly notes that the term (pythonissae – the spelling is corrupted by Rypon's time) was originally applied to the female priestesses or oracles of Pythian Apollo at Delphi, [3] a cultic site that owed its original name, Pytho, to the legend that Apollo slew a great python there. By late antiquity, however, the title was already being used for diviners in general, often ones who owed their powers to some unidentified spirit that possessed them. In his Vulgate translation, Jerome described the Witch of Endor as "mulier habens pythonem in Aendor" (a woman in Endor having a divining spirit; 1 Sam. 28:7) and a pythoness (pythonissam; 1 Chron. 10:13). Indeed, Jerome uses the word multiple times throughout the Vulgate (e.g., Lev. 20:27; Deut. 18:11; Isa. 8:19; Acts 16:16) to describe diviners and soothsayers, female and male, and no doubt this was another avenue through which Rypon learned it.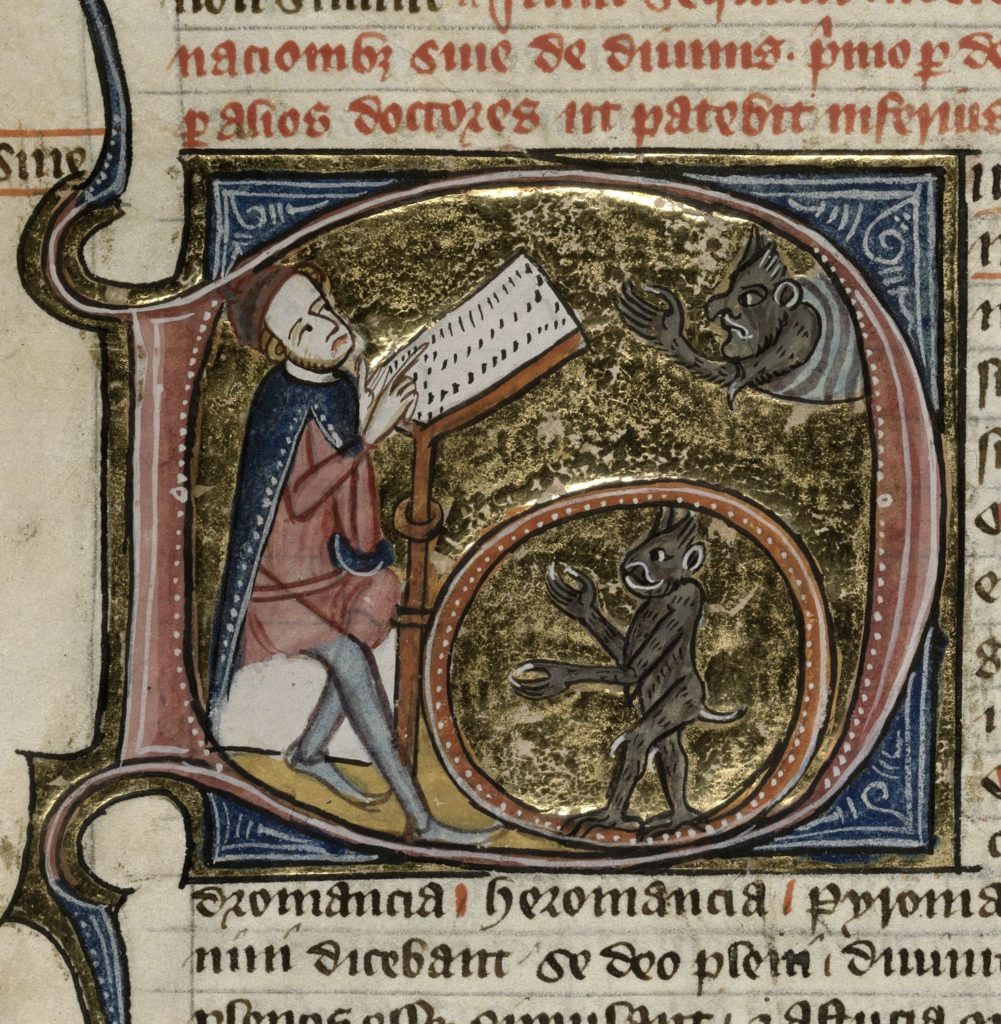 Rypon's original definition of phitonissae makes no mention of ancient Greek oracles, but does closely align with the pythonesses of Jerome and Isidore – people who, by virtue of their possession by spirits or some other (diabolical) magic, can tell the future. However, Rypon then expands the definition of the word, moving well beyond the late antique tradition into the realm of medieval European folklore. Rypon describes (claiming it is well-known) how pythonesses also place threads, ropes, or bridles into the mouths of sleeping people; their victims then believe they have been transformed into horses, and the pythonesses ride them. The same pythonesses are said to be able to travel to Bordeaux in one night (riding the people-horses? it is unclear), and return to England drunk on wine.
In Rypon's description we hear echoes of common medieval stories, tales of night-riding or night-flying women and nocturnal bacchanals. Phitonissa has come much closer to a general synonym for "witch," subsuming magical practitioners and activities that would have been unrecognizable to Jerome and Isidore (at least in the context of a pythoness), certainly to an ancient Greek writer. This broader definition was not invented by Rypon. Chaucer, writing a few years earlier, spoke in The House of Fame of "Phitonesses, charmeresses, / Olde wicches, sorceresses"– none of whom tell the future, but rather use magic to create illusions or make people sick (ll. 1259-1270). Despite knowing the word's original meaning from Isidore, Rypon embraced the expanded definition then current in medieval England without comment, adding detailed and specific local gossip or folklore to an already elastic word.
According to the Oxford English Dictionary, by about the seventeenth century, "pythoness" and "pythonissa" had begun to be reclaimed for classical antiquity. Writers like Byron could speak of a pythoness and actually mean an oracle of Apollo, not a witch. It became an alternative title to the more common "Pythia." But not before taking on a variety of new meanings in the Middle Ages. The word's journey from ancient Greece to medieval England is a salutary reminder about the place of the classical tradition in medieval learning and culture – something to be learned and revered, to be sure, but also something to be recycled, refashioned, and reused.
Sam Rostad
University of Notre Dame
[1] London, British Library, MS Harley 4984, fols. 33r-34v. For some of the scholarship on it see G. R. Owst, "Sortilegium in the English Homiletic Literature of the Fourteenth Century," in Studies Presented to Sir Hilary Jenkinson, ed, J. Conway Davies (London: Oxford University Press, 1957) and Catherine Rider, Magic and Religion in Medieval England (London: Reaktion Books, 2012).
[2] It is not entirely clear whether Rypon here is making a masculine form of a normally female Latin word, the –es being the masculine plural ending, or if he is giving the Middle English term in the singular, i.e. "phitones[s]." But given Jerome's use of a masculine form ("pythones"; Isa. 19:3), I lean toward the former.
[3] Stephen A. Barney, et al., trans., The "Etymologies" of Isidore of Seville (Cambridge: CUP, 2006), 182.