What would you do if you went to the doctor expecting to get back to work, only to be told you might not ever be able to go back to work again?
According to ESPN, on February 4, John Wall visited his doctor regarding an infection in his heel after a previous operation. The doctor checked the infection, but upon further analysis, realized that Wall had suffered a partial Achilles tear. Unlike former teammate Boogie Cousins, he did not suffer the tear on the court, but at home. It was reported that while at home he fell and experienced extra discomfort in his heel. His doctor reported that he will undergo surgery and will likely rehab for the next 11 to 15 months.
Achilles Ache
The Achilles is a tendon (tissue that attaches muscle to bone) connecting the bottom of one's calf to the back of the heel, as shown in Figure 1. It is famously named after the Greek hero whose only weakness was the back of his heel.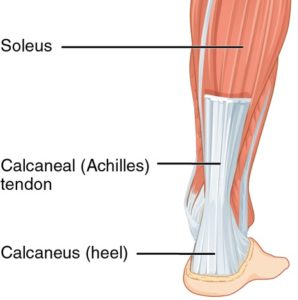 According to "The Achilles tendon: fundamental properties and mechanisms governing healing" by Freedman et al, the Achilles tendon is the strongest and largest tendon in the entire body, and can bear up to 3500N, or almost 800lb, before completely rupturing. This is a result of the materials that the Achilles is made of. The tendon is 90% collagen, which forms a structure full of fibers that are bound together by other molecules. The tendon is 2% elastin, which like the name suggests, adds some elastic, or stretchy, properties. The tendon is sometimes characterized as a viscoelastic material, meaning it has both viscous (slow to deform) and elastic properties. However, the Achilles is mostly elastic, allowing it to bear relatively high impacts and loads.
Healing the Heel
The Achilles, much like other tendons and ligaments, has interesting healing characteristics and procedures. There are two common recoveries for a tear in the Achilles: a surgery that stitches the ends of the tears together followed by rehabilitation, or a period of rest followed by rehabilitation. For a full tear, surgery is very common, as the torn tendon ends are not always spatially close enough for natural healing processes to occur. For a partial tear, a doctor in consultation with the patient will decide which of the two options will be best.
Experimental Excitement
While there is much more to study with regards to Achilles tear recovery, there is a lot of exciting research being performed on animal models. One study shows that stretching and compressing the Achilles at certain angles during recovery may lead to better long term health of the Achilles. Another study shows the efficacy of stem cell therapies. A third study shows the usefulness of incorporating a 3D printed structure to integrate the ends of torn Achilles. Essentially, this would connect each end with a scaffold that allows for the reintegration of the tendon. This is very similar to an experimental ACL reconstruction technique called BEAR. A video about BEAR can be seen below.
Although John Wall's career may be in doubt, the future for effective therapies in treating Achilles related injuries is promising. This is exciting for the future, and hopefully will make for a better patient experience. To read more about the Achilles, click here or here.
Featured image: BruceBlaus, CC BY-SA 4.0 via Wikimedia Commons