Have you ever wondered how a woodpecker is capable of banging its head against a tree so furiously without seriously injuring itself? The impact of a woodpecker's beak with a tree can exceed speeds of up to 6 meters per second and occur over 12,000 times a day.These kinds of numbers are what allow woodpeckers to smash through trees to get to those tasty bugs that live inside.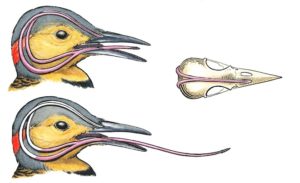 How is this possible you may ask? Scientists have studied the anatomy of a woodpecker and have come across an extraordinary discovery: the tongue of a woodpecker wraps completely around its neck before exiting the mouth, constricting the blood flow to and from the brain. This increases the amount of blood volume in the skull, making it, and its precious cargo, filled to the brim with fluid. This creates an effect known as "slosh mitigation", where an object that is completely enclosed by an incompressible fluid becomes protected from an outside force due to the constant stabilization of pressure within the enclosed system. Thus, the harsh vibrations translated throughout the skull of the woodpecker are mitigated by a cushioning effect induced by the increased volume of blood in the brain. Ever notice how a snow globe always has a little pocket of air sitting on top of the water? Without it, there would be no pressure changes, and the flakes of snow would be restrained from ever creating that magical snowy blizzard we all love.
This incredible discovery is not just a fascinating fact you can pull out to impress your friends. In fact, companies have begun applying the science behind a woodpecker's anatomy to the sports arena. A company by the name of Q30 Innovations has been on a mission to curb the estimated 3.8 million concussion occurrences every year. Their latest product, the Q Collar, features a tightly fitted neck brace that applies a mild compression to the jugular in the neck, thus creating the "slosh mitigation" effect on the brain. The Q-Collar has already been put to the test, showing positive results on football players and hockey players. Their latest test showed the effects of wearing the Q-Collar for a high school girls soccer team, whose total head impacts were collected via an accelerometer throughout the entire season. Half the team was selected to wear the Q-Collar, and at the end of the season, the accelerometers of both groups reported similar levels of head impact, both in quantity and severity. However, it was shown the group wearing the Q-Collar required less brain activity to complete a concussion protocol than those of the control group. This shows that despite any of the girls having a reported concussion, the high impact loads exhibited on the brain during the season were enough to prohibit the brain from performing at its optimal level.
Want to learn more about breakthrough technologies covering the challenges of concussions? Learn more at Q30 Innovations.