We have all seen it before, whether it is in Hollywood depictions, or watching competitors in the Ultimate Fighting Championship, there is always a sense of awe when watching humans strike and break surfaces with astounding force. Whether it is breaking bricks, a baseball bat or their opponents, the physiological phenomena that allows these athletes to perform such feats results from years of dedicated practice and study. By continuously placing their bodies under immense stresses and impacts, the actual composition and density of the athlete's bones adapt to provide increased strength and durability. In practice this is done by repetitively striking a hard surface, such as a wooden planks, or a punching bad, with increasing force for a prolonged period of time. Although the practice of bone hardening has roots as ancient as the martial arts themselves, the scientific study of the phenomena has only occurred in the past few decades. So how do these athletes develop exceptionally strong bones?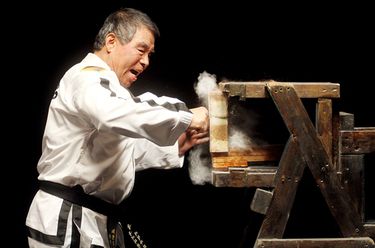 One of the most important aspects of bone hardening is increasing bone mineral density by continuously loading and unloading bones, as well as contracting the surrounding muscles consistently and for a prolonged period of time. It is particularly interesting to study how the typical bone mass gain that occurs during the adolescents is affected by sports that are high-impact and place great stress on one's bones. Studies show that adolescents who participate in combat martial arts had significantly higher bone material density in their hands, arms, and legs than comparable adolescents who did not. Since the development of bone mass and structure is most significant during adolescence, the potential to increase the bone mineral density is greatest during this time.
However, as with most things there is a Ying to every Yang in the world of increasing the bone mineral density. The difficult and complex movements required to "harden" one's bones make the athlete more susceptible to sustain a severe injury in training or competition. As it is typical to experience pain throughout the process of developing bone material density, the development and progression or micro-fractures and injuries can be ignored or mistakenly thought of as typical training pains. This results in there being a fine line between strengthening bone and causing injury to oneself.
There are other benefits to increasing one's bone mineral density outside the realm of combat sports. By engaging in high-impact activities during one's adolescence into adulthood, one can decrease the risk of developing osteoporosis by having increased their bone mineral density. This further supports the reasoning to stay active and healthy to ensure a longer and healthier life.
Whether it is breaking boards to entertain sports, or fighting on the world's premier combat stage, having strong and healthy bones is an essential aspect of being an athlete in high-impact combat sports. This is achieved through generating increased bone mineral density and is the result from years of dedicated practice and time. All in all, the difference it makes is rather striking.