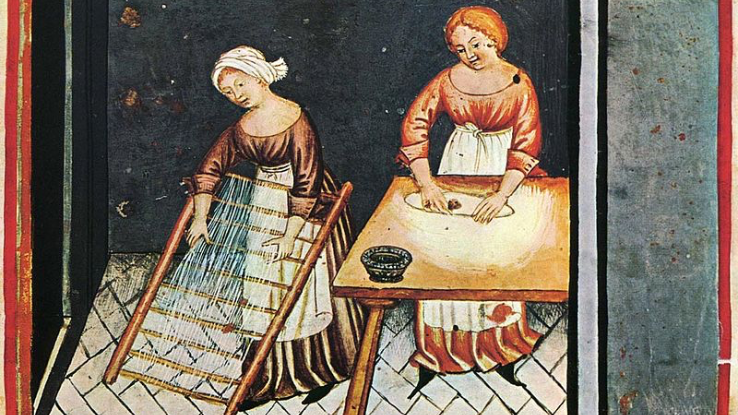 Nobody loves a listsicle like late medieval Christianity. You know the seven deadly sins; now meet the seven gifts of the Holy Spirit, the six sins against the Holy Spirit, the four sins that cry to heaven (but one of which is silent)…and in late medieval didactic literature, enumerated lists are everywhere. Fortunately, twenty-first century versions like "10 Badass Medieval Women" tend to have slightly more cross-cultural appeal. But a funny thing happens when you start reading through those lists: they can be almost as repetitive as their medieval ancestors. They feature a few sentences or a short paragraph about Hildegard of Bingen, Eleanor of Aquitaine, Sitt al-Mulk, maybe Jeanne la Flamme or Catherine of Siena.
And so the Medieval Studies Research Blog is proud to introduce our new, non-listsicle series on Medieval Women You Should Know. It aims to use the stories of women around the medieval world to illuminate life in the Middle Ages more broadly. That might mean an examination of the transmission history of a woman-authored text, a look at the relationship dynamic between two women, or the traditional contextualized-biography approach.
Yes, "badass women" will be represented, like the now-nameless mother of eleventh-century vizier al-Afdal, who went undercover as the mother of a deceased soldier to root out opposition to her son's rule [1]; or Juliana Peutinger, the three-year-old who recited a Latin oration to the Holy Roman Emperor in a premodern version of Toddlers & Tiaras. [2]
But there are also the women known to us only by chance, whose existence is folded into miracle collections or tax registers: women extraordinary only to themselves and their loved ones. Through their eyes and lives we see through the bright lights to the texture of medieval society. As Katherine Anne Wilson points out, we should not look at a photo of a gorgeous tapestry and think only of its master, but also the women who spun the thread, the women who cooked meals for the craftsmen and cared for their children. [3]
To illuminate women great and small also offers the chance to highlight one of my favorite things about medieval studies and our scholars: that is, the ability to draw an entire life story out of a line or two in a court case, a papal petition. Who needs a detailed biography when you can read that nine-year-old Mary de Billingsgate drowned in the Thames, and reconstruct her single mother's efforts to raise a child, manage a household, and try to earn a living on her own? [4]
And finally, as Medieval Studies Research Blog pageview statistics indicate that the blog is taking on a double life as a medieval studies resource blog, I hope to pay forward a debt from the very beginning of my graduate work. When I first fell in love with medieval women mystics, there was an amazing online resource called "Other Women's Voices." It collated biographical data, links to online scholarship, and excerpts from the writing of women from antiquity through the early 1700s. Even more than the Classics of Western Spirituality series and the index of Bynum's Holy Feast and Holy Fast, Other Women's Voices was my entry to what was for me an unknown and wondrous world. While the Medieval Studies Research Blog has no intentions of replicating that site (which lives on through archive.org's Wayback Machine), we hope the posts in this series can provide a similar sort of inspiration: not an end, but a beginning.

Cait Stevenson
PhD in Medieval Studies
University of Notre Dame
—
[1] Della Cortese and Simonetta Calderini, Women and the Fatimids in the World of Islam (Edinburgh University Press, 2006), 37.
[2] Jane Stevenson, Women Latin Poets: Language, Gender, and Authority from Antiquity to the Eighteenth Century (Oxford University Press, 2005), 229-230.
[3] Katherine Anne Wilson, "The Hidden Narratives of Medieval Art," in Whose Middle Ages? Teachable Moments for an Ill-Used Past, ed. Andrew Albin et al. (Fordham University Press, 2019).
[4] Reginald R. Sharpe (ed.), Calendar of Coroners Rolls of the City of London, A.D. 1300-1378 (Richard Clay and Sons, Ltd., 1913), 252-253.