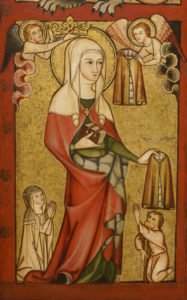 Naturally, reformist Augustinian prior Konrad Kügelin opens his hagiography of Elisabeth Achler (1386-1420) by talking about himself.[i] After that, though, he launches into an ode to the name "Elisabeth" lifted straight from the Legenda aurea's entry on St. Elisabeth of Hungary. In his initial versions of the vernacular vita, Achler's father is a weaver. Later, Kügelin turns him into a dyer—like Catherine of Siena's father.[ii]  In fact, the Lebenof Achler has so many similarities to Raymond of Capua's Legenda of Catherine that one almost has the impresion Kügelin was disappointed when his exemplar turned thirty-four and could no longer die at the same age.
Kügelin chose strategically. Elizabeth was one of the most popular patrons of hospitals and communities run by beguines.[iii] Catherine was the shining exemplar of the Dominican Third Order. And in the vita, Kügelin was not subtle abut his intention of using Achler's sanctity to promote his vision of religious life for Franciscan tertiary women.
To this end, the Augustinian had done his homework. According to the text, our major surviving source, Achler was born in a village that lay within the diocese of Constance (and modern-day Baden-Württemberg) to two upstanding, humble parents. Her father died during her childhood, and her mother entered a convent and lived out a life of piety as any good widow ought. Achler was very beautiful but shunned the attention of boys. When she was fourteen, the Holy Spirit compelled her to seek out the local Augustinian prior, Konrad Kügelin, as her confessor in the sense of the sacrament as well as spiritual direction. He placed her with an independent religious woman for several years to learn the values of poverty and work while he took the time to found his model cloister at Reute.
Achler's adulthood was, if anything, even more stereotypical for a late medieval holy woman.[iv] She received permission from the Holy Spirit and from her confessor to fast extensively, used her daily work to imitate Christ, experienced religious raptures and ecstatic visions, received a mystical Eucharist from Christ himself, met Mary in heaven, saw the fates of souls in purgatory, announced prophecies related to the Great Schism, received stigmata. Her life, as told by Kügelin, is a parade of topoi. So much so, in fact, that scholars have considered it as a lump sum. To some, the vita is a straightforward account of a saint's life (whether in the biographical or hagiographical sense).[v] To others, Kügelin added or glossed a layer of mystical tropes on top of a pious but ordinary life to promote his vision of reform.[vi]
These perspectives come from an alignment with Kügelin's perspective as hagiographer, indeed, almost as creator of Achler and her sanctity. To move beyond his particular role yields several curious aspects of this holy woman's life.
First, Achler's death in 1420 means that the height of her public reputation in life, and the entrenchment of her cult after her death, occurred at a time scholars have identified as increasingly dangerous for charismatic religious women. People were beginning to doubt that the source of visions and prophecies was divine by default.[vii] Even Joan of Arc, a visionary herself, denounced Catherine de la Rochelle as a fraud.[viii] In other cases, theologians explicitly tied women's visions to deception by Satan. That environment, according to Jeffrey Hamburger and Tamar Herzig, was especially dense north of the Alps. German translations of Catherine of Siena's vita—so important to Kügelin as a model—tended to mitigate out the more extreme and somatic examples of her spiritual exercises as mystical or metaphorical.[ix] Hagiographies and chronicle accounts of women connected to fifteenth-century monastic reform movements, too, de-emphasize women's ecstatic spirituality.[x] Against this tide, Achler's vita takes a traditional but threatened path.
But even to place her on the well-trod path is not enough. A simple checklist of representative topoi misses the degree to which the vita slots Achler into them. Lots of saints ate very little and had a devotion to the Eucharist. Achler eats nothing but the Host for three years—and then for twelve years.[xi] She doesn't just receive stigmata as open wounds that don't heal even after a month under gloves, but her stigmata bleed so heavily the sisters have to do laundry every day.[xii] Temptation by the devil is standard fare in hagiography, and of course there is plenty of that in Achler's hagiography. But on top of that, a demon also invades her room and beats her physically so hard that everyone can see her bruises.[xiii] Throughout the vita, therefore, Kügelin does not merely utilize the discourse of sanctity. He pushes it further and further, beyond even the more extreme elements of his own hagiographic models.
And where the topoi of sanctity meet the daily life of Elisabeth Achler, we can almost see the late medieval vision of sainthood snap right back in her face.
To be continued…
[You can find part 2 here].
Cait Stevenson, PhD Candidate
University of Notre Dame
~~
[i]Karl Bihlmeyer, "Die schwäbische Mysterikerin Elsbeth Achler von Reute (d. 1420) und die Überlieferung ihrer Vita," in Hermanea: Ausgewählte Arbeiten aus dem deutschen Seminar zu Halle, ed. Georg Baesecke and Ferdinand Joseph Schneider (Halle: Max Niemeyer Verlag, 1932), 88-109. The hagiography itself is found on 96-109 and will be cited as Leben.
[ii]Werner Williams-Krapp, "Frauenmystik und Ordensform im 15. Jahrhundert," in Literarischen Interessenbildung im Mittelalter, ed. Joachim Heinzle (Stuttgart: Verlag J. B. Metzler, [year]), 309.
[iii]Walter Simons. Cities of Ladies: Beguine Communities in the Medieval Low Countries, 1200-1565(Philadelphia: University of Pennsylvania Press, 2001), 88.
[iv]Williams-Krapp, 308-309.
[v]Siegfried Ringler, "Kügelin, Konrad," in 2VL Bd. 5 (1985), 427-428; Williams-Krapp, 308.
[vi]Leben6.
[vii]See, for example, Dyan Elliott, Proving Woman: Female Spirituality and Inquisitional Culture in the Later Middle Ages (Princeton: Princeton University Press, 2004).
[viii]Daniel Hobbins, ed. and trans., The Trial of Joan of Arc (Cambridge: Harvard University Press, 2005), 83-84.
[ix]Jeffrey Hamburger, The Visual and the Visionary: Art and Spirituality in Late Medieval Germany(New York: Zone Books, 1998), 460-464.
[x]Tamar Herzig, "Female Mysticism, Heterodoxy, and Reform," in A Companion to Observant Reform in the Late Middle Ages (Leiden: Brill, 2015), 261.
[xi]Leben7-9.
[xii]Leben12.
[xiii]Leben17.