When one thinks of modern Christmas, warm images from Christ's nativity to Santa's midnight sleigh ride might come to mind. However, Saint Nicholas is not the only thing that goes bump in the night—Yule monsters represent another syncretized and modernized phenomenon, which corresponds to a medieval tradition that presents winter solstice as an ideal setting for monsters to emerge from the darkness of the long night. In celebration of the holiday season, my latest blog in our series on monsters will consider the tradition of Yuletide monsters and discuss some instances of Christmas haunting in vernacular Middle English and Old Norse-Icelandic sources, thereby catching a brief glimpse at a broader medieval tradition of monsters associated with the winter solstice.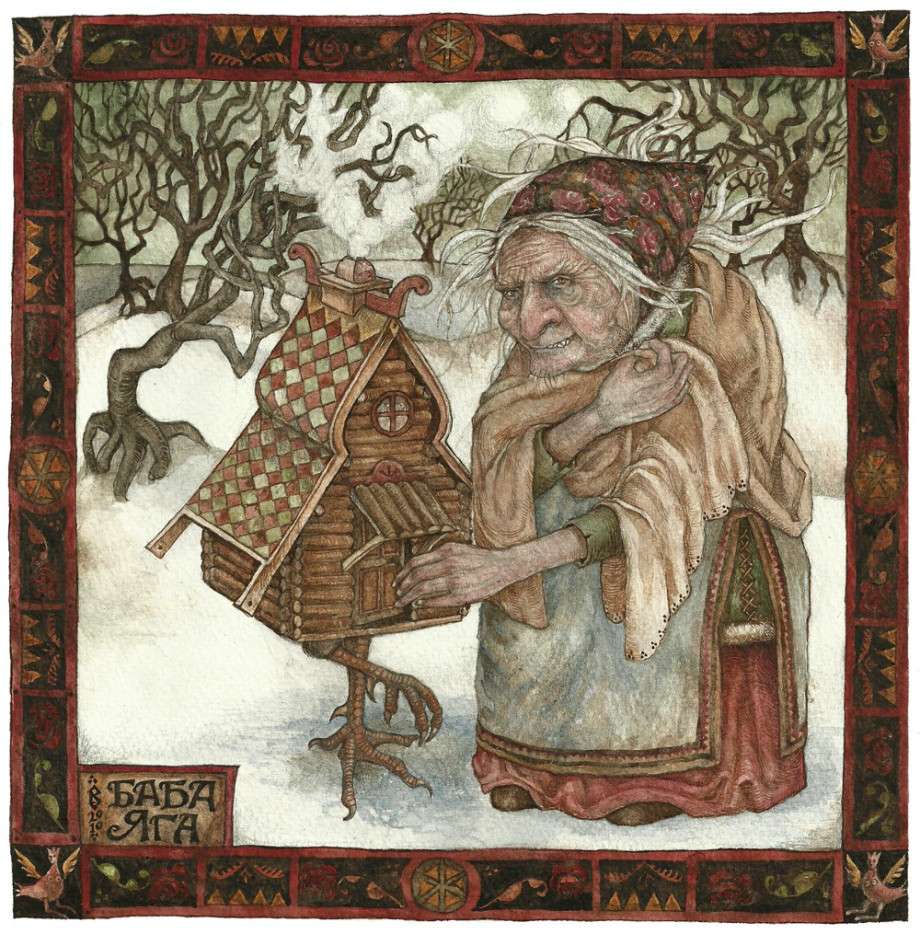 Christmas hauntings have a deep cultural and literary history. One seasonal spook, the Slavic Baba Yaga—a present-stealing witch—is generally remembered today as a holiday monster, though her character has only become associated with Christmas and New Years in modern times. Another, perhaps the most famous Yule monster, is Krampus—the notorious, child-stealing Christmas demon and son of Hel (the Norse goddess of the underworld), who is still popular in modern Germany and increasingly abroad. These modern Christmas hauntings align with a robust medieval tradition of Yuletide monsters that come with the cold and specifically the long night of the winter solstice. Even Grendel in Beowulf, who notoriously terrorizes the hall of Heorot, does so for XII wintra tid "twelve winters' time" (147) specifically. While this phrase surely refers to the monster's yearlong assault on Denmark, it also seems to stress the dark and snowy season as the prime time for Grendel's hauntings.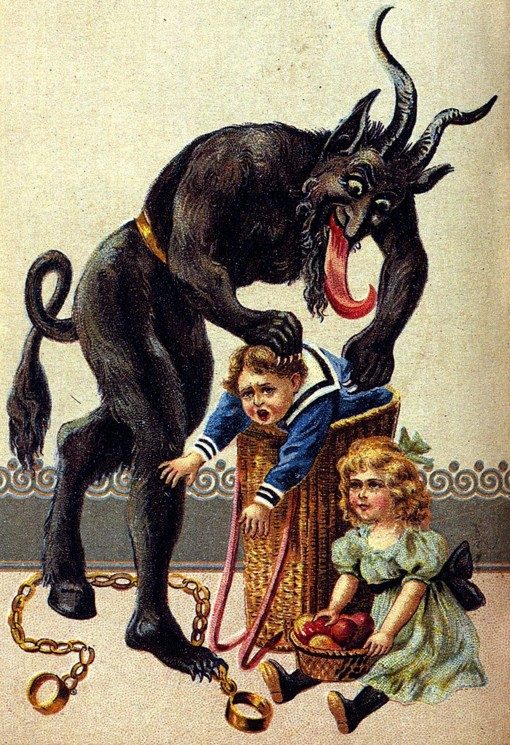 Today, I will mention three popular medieval texts—one poem and two sagas—which feature Christmas hauntings of all types, including by a green man, an undead revenant, a troll woman and a dragon.

Although most of the Christmas monsters discussed in this blog come from popular Old Norse-Icelandic sagas, the Middle English alliterative poem Sir Gawain and the Green Knight begins with a mysterious Green Knight, gome gered in grene "a man geared in green" (179), described as half etayn in erde "half-giant on earth" (140) and aluisch mon "elvish man" (681), who appears at Camelot on Christmas riding a green horse and wielding a green axe. Not only does the Green Knight come at Yule (284), he emerges in court wearing a fur-trimmed robe (152-56) and holding a holyn bobbe "holly bundle" (206) in his hand, as if he were the Ghost of Christmas Present from Charles Dickens' A Christmas Carol.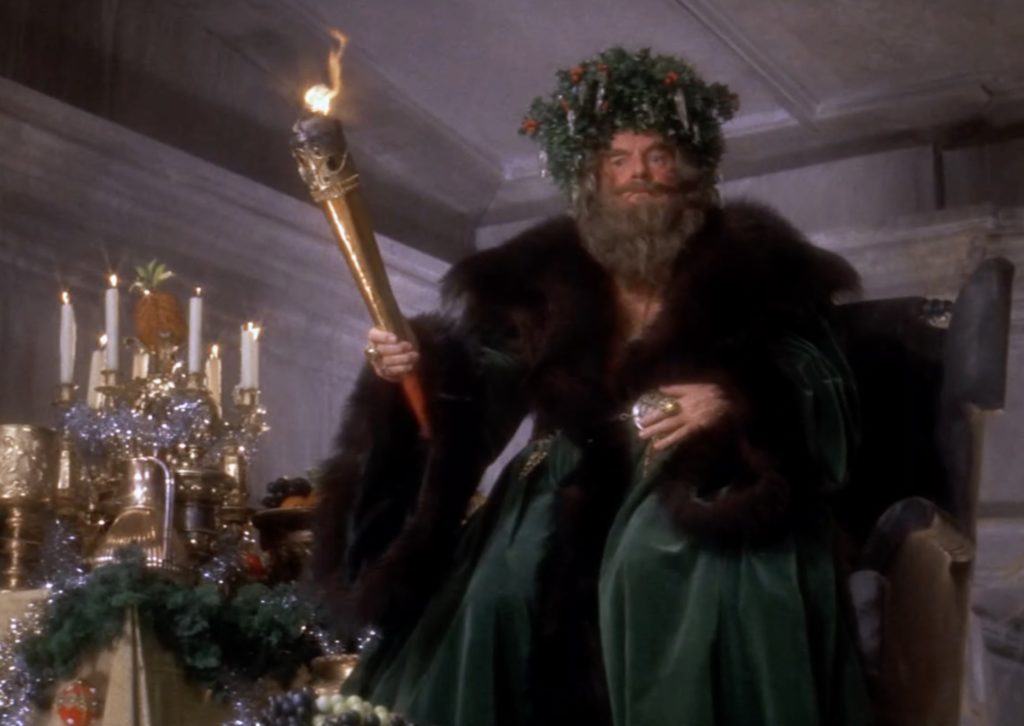 Moreover, he explicitly wishes to play a Crystemas gomen "Christmas game" (283). The passage describing the Green Knight's arrival emphasizes his coming for the Christmas festivities, thereby linking him with the tradition of Yuletide monsters. The Green Knight declares that since there is no warrior who can match him in battle:
I craue in þis court a Crystemas gomen,
For hit is Ȝol and Nwe Ȝer, and here ar ȝep mony:
If any so hardy in þis hous holdez hymseluen,
Be so bolde in his blod, brayn in hys hede,
Þat dar stifly strike a strok for an oþer,
I schal gif hym of my gyft þys giserne ryche,
Þis ax, þat is heué innogh, to hondele as hym lykes,
And I schal bide þe fyrst bur as bare as I sitte (283-290).

"I desire in this court a Christmas game, for it is Yule and New Year, and you here are many. If any in this house holds himself so hardy, be his blood so bold—his brain in his head—that he dare stiffly strike one stroke for another, I shall give him my gift, this rich gisarme—this axe—that is heavy enough to handle as he likes, and I shall abide the first blow, as bare as I sit."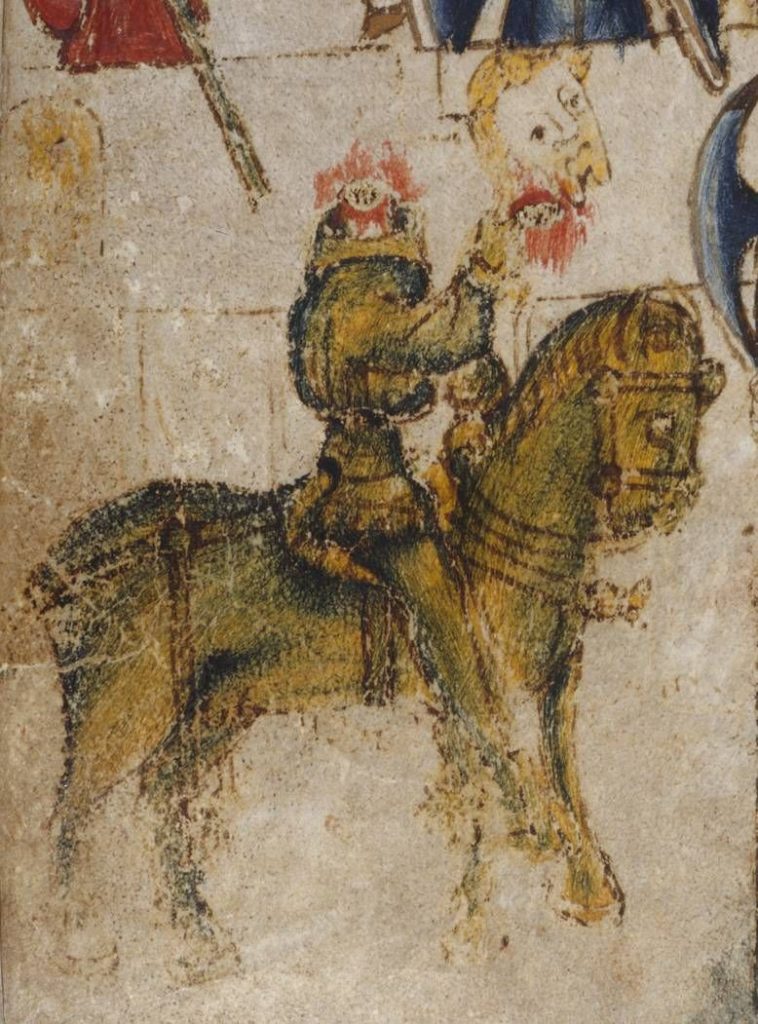 Christmas stays a prominent theme throughout the poem, and it operates as a metric by which to measure time. Gawain spends the following Christmas with Lord and Lady Bertilak in anticipation of the subsequent Christmas game, when the Green Knight will deliver a return blow. Christmas feasting both begins and concludes this Middle English romance, enveloping the narrative with this holiday theme. Indeed, Christmas is mentioned nine times in the poem, demonstrating its role in framing the narrative. Yule is mentioned twice, and the first reference comes from the Green Knight himself as to the reason for his journey to King Arthur's court.
The next text in our discussion is the Old Norse-Icelandic Grettis saga, which contains multiple Christmas haunting episodes, each featuring a very different type of Yule monster. In Grettis saga, the holiday of Yule is likewise a repeated fixture and marker of time, and Yule is referenced thirty-three times in the saga.
The major and most frequently discussed Yuletide haunting in the saga concerns the undead revenant Glámr, a Swedish herdsman who ignores Christmas traditions:
Nú leið svo þar til er kemr aðfangadagr jóla. Þá stóð Glámr snemma upp ok kallaði til matar síns. Húsfreyja svaraði: "Ekki er það háttr kristinna manna at matast þenna dag því at á morgun er jóladagr hinn fyrsti," segir hún, "ok er því fyrst skylt at fasta í dag" (chapter 32).

"Now time past there until when comes the eve of Yule. Then Glámr stood up and called for his food. The lady of the house answered: 'It is not proper that Christian men eat meat on this day, because tomorrow is the first day of Yule," she says, "and thus they shall first fast today.'"
Glámr's response marks him as explicitly unchristian, which may serve to foreshadow his untimely demise:
Hann svarar: "Marga hindurvitni hafið þér þá er ek sé til einskis koma. Veit ek eigi at mönnum fari nú betr at heldr en þá er menn fóru ekki með slíkt. Þótti mér þá betri siðr er menn voru heiðnir kallaðir ok vil ek mat minn en öngvar refjar" (32).
"He answers, 'You have many restrictions, when I see no good come of it. I do not know that men fare better now than when they did not heed such things. It seems to me that the customs of men were better when they were called heathens, and now I want my meat, and no foolishness."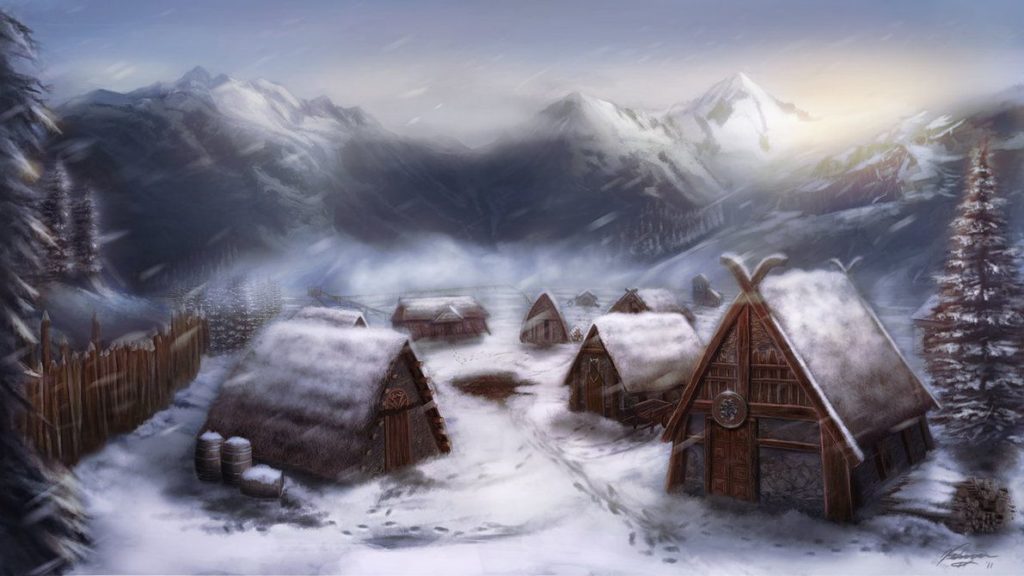 After his praise for heathenism, spurring caution, Glámr ventures into a known haunted region at Yuletide, and he never returns. We are told that kom hann ekki heim jólanóttina "he came not home on Yule-night" and soon we learn that he has died. After days of searching and a number of attempts to bring Glámr's body to the church to be buried, eventually the townsfolk give up and bury Glámr where they find him, and Það drógu menn saman at sú meinvættr er áðr hafði þar verið mundi hafa deytt Glám "men drew from this, that the evil spirit which had been there before will have killed Glámr." However, shortly thereafter, it is the undead Glámr who perpetrates Yuletide hauntings, as the saga reports:
Litlu síðar urðu menn varir við það at Glámr lá eigi kyrr. Varð mönnum at því mikið mein svo at margir féllu í óvit ef sáu hann en sumir héldu eigi vitinu. Þegar eftir jólin þóttust menn sjá hann heima þar á bænum. Urðu menn ákaflega hræddir. Stukku þá margir menn í burt. Því næst tók Glámr at ríða húsum á nætr svo at lá við brotum (32).

"A little time after men were aware that Glámr did not lay quiet. People become so greatly disturbed by this, that many fell into hysteria when they saw him, and some lost their wits. Even after Yule men thought they saw him at home on the farm. People became extremely scared. Many men then fled. Next, Glámr took to riding houses at night, so that he nearly broke them."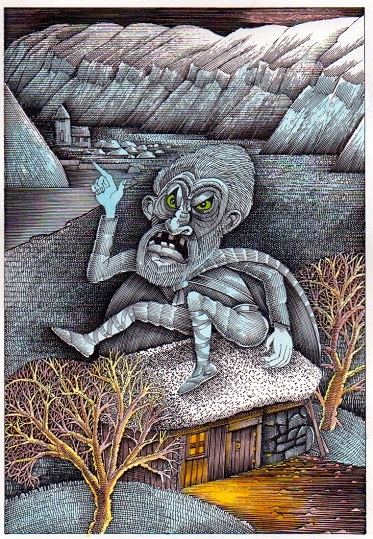 Grettir famously defeats Glámr, who is frequently associated with the Old Norse-Icelandic draugr, but not until the revenant has cursed Grettir with unceasing fear of the dark, as terrible light from Glámr's eyes haunts Grettir until the end of his days and he becomes nyctophobic forevermore.
Another Yuletide monster discussed in the saga takes place when Grettir arrives at Sandhaug to investing a trǫllagangr "troll-haunting" (chapter 64), and he encounters a trǫllkona "troll woman" (65). This monster enters the halls of Sandhaug on aðfangadag jóla "Yule-eve" (64), and she plunders the halls during the long night:
Nú er frá Gretti það at segja at þá er dró at miðri nótt heyrði hann út dynr miklar. Því næst kom inn í stofuna trǫllkona mikil. Hún hafði í hendi trog en annarri skálm heldr mikla. Hún litast um er hún kom inn ok sá hvar Gestur lá ok hljóp at honum en hann upp í móti ok réðust á grimmlega ok sóttust lengi í stofunni (65).
"Now it is said of Grettir that when it drew towards midnight, he heard a great din outside. Then a great troll woman came into the hall. She had a trough in one hand, and a blade, rather great, in the other. She looked around when she came in and saw where 'Guest' [i.e. Grettir] lay and ran towards him, but he jumped up to meet her, and they wrestled fiercely and struggled together for a long time in the hall."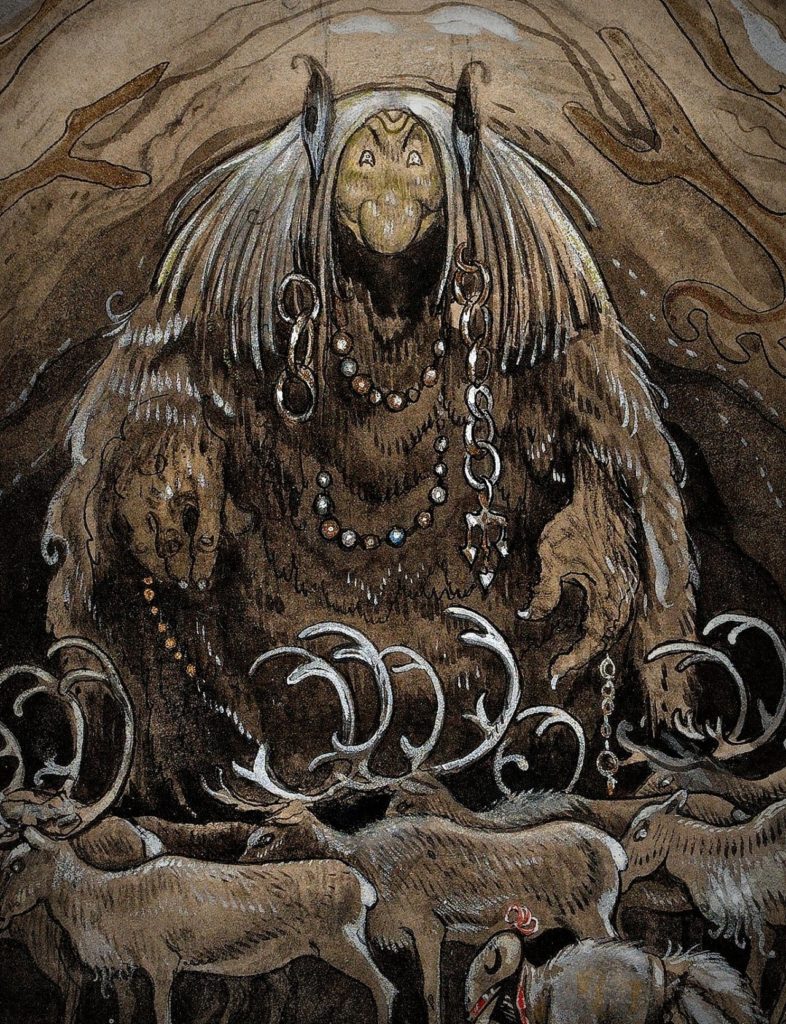 Eventually, she drags Grettir from the hall, carries him off and tries to escape to her lair ofan til árinnar ok allt fram at gljúfrum "up to the river and all the way to the gorges" (65). Grettir is ultimately able to cut her shoulder, slicing off the troll woman's arm, a fatal blow which sends her off a cliff and to her death. After recovering from his encounter with the troll woman, Grettir sneaks into her cave and slays her companion, a jǫtunn "giant" (66).

The final Yuletide haunting discussed in this blog comes from Hrólfs saga kraka, when a massive flying dýr "beast" (probably a dragon of some kind) threatens the hall. The cowardly Hǫttr explains how this night-terror returns during Yule to haunt the hall of king Hrólfr:

Ok sem leið at jólum, gerðust menn ókátir. Bǫðvarr spyrr Hǫtt, hverju þetta sætti. Hann segir honum, at dýr eitt hafi þar komit tvá vetr í samt, mikit ok ógurligt, "ok hefir vængi á bakinu, ok flýgr þat jafnan. Tvau haust hefir þat nú hingat vitjat ok gert mikinn skaða. Á þat bíta ekki vápn, en kappar konungs koma ekki heim, þeir sem at eru einna mestir.
Bǫðvarr mælti: "Ekki er hǫllin svá vel skipuð sem ek ætlaði, ef eitt dýr skal hér eyða ríki ok fé konungsins." Hǫttr sagði: "Þat er ekki dýr, heldr er þat mesta trǫll" (chapter 35).
"And as Yule neared, men became gloomy. Bǫðvarr asked Hǫttr what caused this. He said to him that a beast had come there for two winters in a row, great and monstrous. 'And it has wings on its back and frequently flies. For two autumns now it has visited and caused great harm. No weapon bites it, and the king's champions, those who are the greatest, do not come home.'"

Bǫðvarr spoke: 'the hall is not so well guarded as I thought, if one beast shall here destroy the king's realm and livestock.' Hǫttr said: 'It is not a beast, rather it is the greatest troll.'"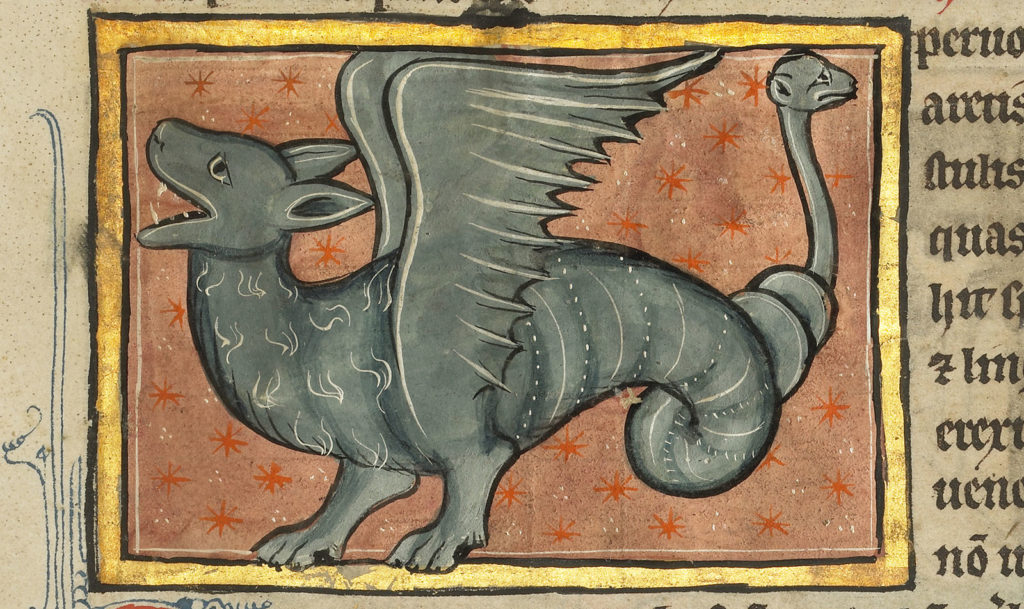 This warning is quickly validated, for when jólaaptann "Yule-eve" arrives, King Hrólfr commands his warriors to stay inside and forbids them from fighting the monster, proclaiming that it is better to lose his livestock than his people. However, Bǫðvarr Bjarki sneaks into the night, dragging Hǫttr behind him, and the hero quickly slays the Yuletide monster terrorizing the kingdom. Then, at Bǫðvarr's behest, Hǫttr consumes the flesh and blood of the beast, which strengthens and emboldens him, transforming him into a hero (in a way that recalls Sigurðr's actions after Fáfnir is slain).
These medieval stories of Yuletide monsters participate in a robust tradition of winter-time (and even Christmas-specific) hauntings, which continued throughout the ages and manifests still today. Dickens' Christmas Carol is perhaps one of the more memorable, with visitations by four ghosts at the home of the miserly Ebenezer Scrooge on Christmas Eve. Dr. Seuss's Grinch renders its Scrooge-like antihero in the form of a green Christmas-hating monster bent on stealing Christmas, and Tim Burton's Nightmare Before Christmas explores the theme of Christmas haunting when the pumpkin king and leader of Halloween Town, Jack Skellington, decides he would rather celebrate Christmas one year instead out of sheer boredom with his own holiday. Jack then proceeds to haunt Christmas transforming cozy festivities into a horror show as if he were a Yule monster of old.
More recently, in George R.R. Martin's Song of Ice and Fire (and HBO's corresponding TV series Game of Thrones), winter monsters known as the White Walkers (seemingly inspired by Old Norse-Icelandic revenants), led by the fearsome Night King, come with the cold in the long night to terrorize Westeros. Even Netflix's edgy reboot of Sabrina the Teen-age Witch, appropriately retitled Chilling Adventures of Sabrina (2018), gives a nod to medieval tales of wintertime monsters when during the solstice the Spellmans place a protective candle in the chimney to prevent Yule demons from entering their home; however, this does not stop Grýla—an Icelandic giantess—from visiting during the night when the witches' protective candle becomes accidentally extinguished.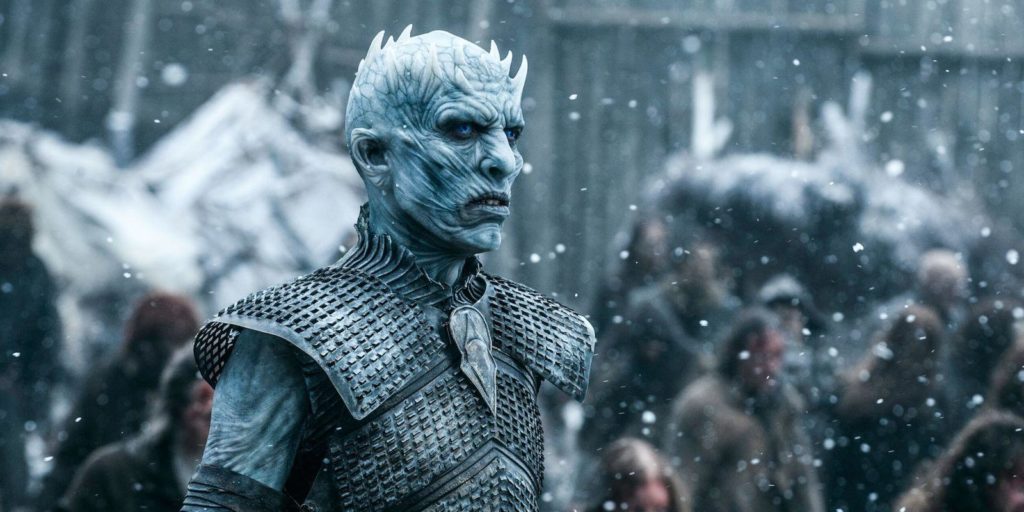 Yuletide continues to provide a haunting wintry setting for monster visits. Although often balanced by saccharine images of Christmas as a source of light and warmth against the cold dark, what lurks beyond the illumination of society during the long night seems to readily elicit horror in the modern—as well as medieval—imagination.

Richard Fahey
PhD in English
University of Notre Dame

Further Reading

Billock, Jennifer. "The Origin of Krampus, Europe's Evil Twist on Santa." Smithsonian Magazine (2015).
Carrière, Jean Louise. "Sir Gawain and the Green Knight as a Christmas Poem." Comitatus: A Journal of Medieval and Renaissance Studies 1.1 (1970): 25-42.
Chadwick, Nora K. "Norse Ghosts (A Study in the Draugr and the Haugúbi)." Folklore 57 (1946): 50–65
—. "Norse Ghosts II (Continued)." Folklore 57 (1946): 106–127
Cereno, Benito. "The Legend of the Baba Yaga Explained." Grunge (2020).
Fahey, Richard. "Medieval Trolls: Monsters From Scandinavian Myth and Legend." Medieval Studies Research Blog (2020).
—. "Dragonomics: Smaug and Climate Change." Medieval Studies Research Blog (2019).

—. "Zombies of the Frozen North: White Walkers and Old Norse Revenants." Medieval Studies Research Blog (2018).

Firth, Matt. "Berserks, Revenants, and Ghost Seals – Surviving a Saga Christmas. The Postgrad Chronicles (2017).
—. "Monsters and the Monstrous in the Sagas – The Saga of Grettir the Strong." The Postgrad Chronicles (2017).
Jakobsson, Ármann and Miriam Mayburd. Paranormal Encounters in Iceland 1150–1400. Kalamazoo, MI: Medieval Institute Publications, 2020.
—. "Vampires and Watchmen: Categorizing the Medieval Undead." Journal of English and Germanic Philology 110 (2011): 281–300
—. "The Fearless Vampire Killers: A Note about the Icelandic Draugr and Demonic Contamination in Grettis Saga." Folklore 120 (2009): 307–316.
Kirk, Elizabeth D. "'Wel Bycommes Such Craft Upon Cristmasse': the Festive and the Hermeneutic in Sir Gawain and the Green Knight." Arthuriana 4.2 (1994): 93-137.
Palmer, Alex. "Why Iceland's Christmas Witch Is Much Cooler (and Scarier) Than Krampus." Smithsonian Magazine (2017).
Phelan, Walter S. The Christmas Hero and Yuletide Tradition in Sir Gawain and the Green Knight. Lewiston, NY: E. Mellen Press, 1992.
Squires, John. "Chilling Adventures of Sabrina" Brought Christmas Demon Grýla to the Screen for the First Time." Bloody Disgusting (2018).
Su, Minjie. "Old Norse White Walkers? Draugr, the Walking Dead in Medieval Icelandic Sagas." Medievalist.net (2017).

Troop, Sarah Elizabeth. "Monsters of Christmas." Atlas Obscura (2013).
Villareal, Daniel. "These 20 Terrifying Christmas Monsters Will Haunt Your Holidays." Hornet (2019).
Zarka, Emily. "Draugr: The Undead Nordic Zombie." Monstrum, Public Broadcasting Station (2019).