While searching for primary sources she could access nearby to develop a seminar paper on the lives of women in the nineteenth century, Jenifer Blouin, a master's candidate in History at Western Michigan University in Kalamazoo, Michigan, ran across the online description of friendship albums and commonplace books at Notre Dame. Intrigued, she made the trek south.
As she read through seven or eight albums, Jenifer realized that they not only gave her, as she states in an email interview with Special Collections, "a really good look into the lives of young women in the 19th century—especially how their friendships played out"—but that they also provided unexpected access to the young women writers themselves. Her close reading of the texts told her "a lot about young women's friendships," but more interestingly, it revealed an interesting preoccupation these women had with "ideas of eternity and things that are everlasting."
Given the dearth of scholarship on friendship albums, Jenifer's project is a welcome addition. Her research, in particular, expands upon a topic that two historians, Anya Jabour and Catherine Kelly, according to Jenifer, only briefly mention, namely the enduring nature of friendship. During her analysis of the albums, Jenifer examined the messages friends left to the album's owner as well as the physical artifacts themselves.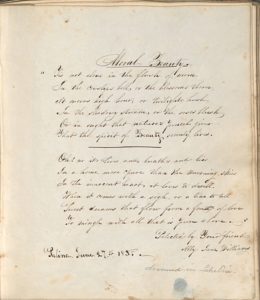 One particularly fruitful investigation centered around the album of Harriet Curry. Jenifer noticed that a note, "drowned in Lake Erie," after an entry by Abby Jane Williams differed in color from the ink used in the entry. This began Jenifer's search to verify if Williams did drown in Lake Erie and to identify who wrote that note. Jenifer recounts:
After some online searching using the search terms "Abby Jane Williams" and "Lake Erie," I found a book titled Lloyd's Steamboat Directory, and Disasters on the Western Waters (published 1856) that detailed the account the burning of the steamer Erie in 1841. Among the listed dead was a Mrs. Giles Williams. I was later able to corroborate that this was the same Williams who had left an entry in Harriet Curry's friendship album by locating her record on ancestry.com and findagrave.com, which confirmed that Abby Jane's husband was indeed named Giles. Giles apparently survived the boat's burning.
Still to be resolved was who wrote the note. After further analysis of the album's contents, Jenifer concluded that "drowned in Lake Erie" was written by Harriet Curry herself. This was in line with similar notes in the diary "denot[ing] when one of her friends had gotten married, moved away, or died." Jenifer further explains, "This, to me, showed that even after years had passed, Harriet still cared about her friends. Her friendship lasted forever, just like many of her friends wrote in her friendship album."
The Curry example was but one among numerous pieces of evidence that Jenifer located in the albums she consulted to argue that these albums contained an "exhortation to . . . trust in everlasting eternal things," rather than "temporal things that would eventually pass away." She identified that there were certain everlasting qualities valued by these women; these were "God, prayer, and friendship itself." Her research brought her to the conclusion that these young women writers:
valued the everlasting over the ephemeral. Transitory things such as youth, beauty, and suffering were dismissed in favor of enduring communion with God and friends. Friendship, of course, was the ultimate enduring joy to these women, and the survival of their friendship albums through to the present day proves the unending nature of their affections.
The argument substantiating these conclusions can be found in Jenifer's article, "Eternal Perspectives in Nineteenth-Century Friendship Albums," published in The Hilltop Review, Western Michigan University's journal of graduate student research.
Jenifer Blouin earned her BA in History from Bethel College in Mishawaka, Indiana in 2015 and expects to earn her MA in Public History from Western Michigan University in December 2017. Her research focuses on the historical significance of cemeteries as sites of memory and cultural resources. More generally, Jenifer is interested in gender and women's history.
Special Collections thanks Jenifer for her time and for sharing the results of her research that brought the friendship albums in our collections to light. We also appreciate the review she wrote of our department for the American Historical Association's Archives Wiki.
---
This work is licensed under a Creative Commons Attribution 4.0 International License.