by Rachel Bohlmann, American History Librarian and Curator
In celebration of Women's History Month, RBSC is highlighting a portion of women in America who receive very little attention and who continue to be among the most marginalized: women in prison.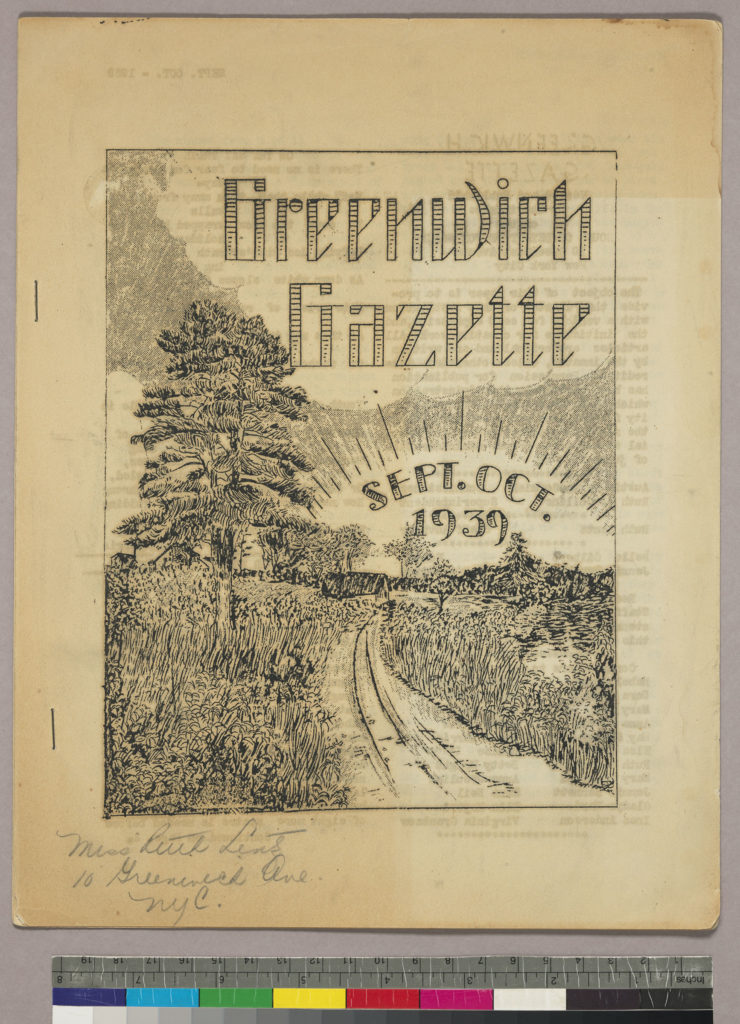 This magazine, Greenwich Gazette, was edited and published in 1939 by inmates of the House of Detention for Women in New York City. This is the only available copy and no other issues have been identified. The publication was a "vehicle for self expression" and for creative work. The prison's address was 10 Greenwich Avenue, which gave the serial its name.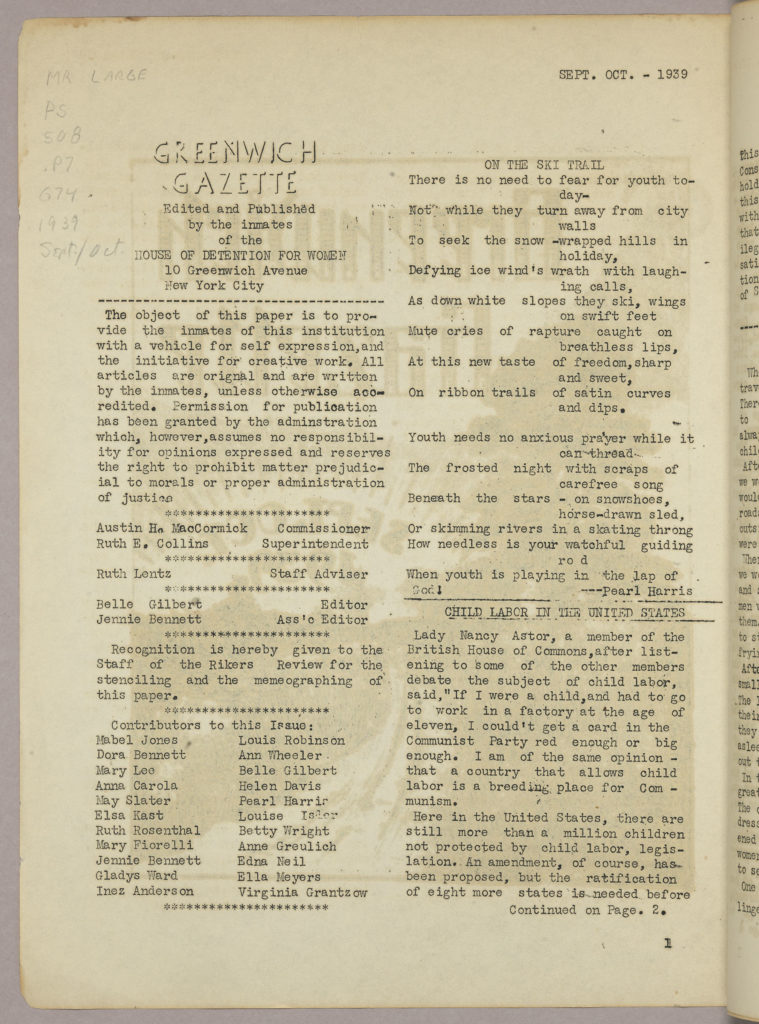 The pages of the Gazette include poetry, commentary on current events and politics (the need for an anti-child labor amendment, opposition to a law that would make it illegal for a husband and wife to both hold teaching positions), personal reminiscences, short fiction, book reviews, as well as the outcome of a debate on whether movies contributed to juvenile delinquency (the "affirmatives" won by audience vote). One lighthearted entry, "A Musical Correspondence," was composed by using contemporary song titles as phrases.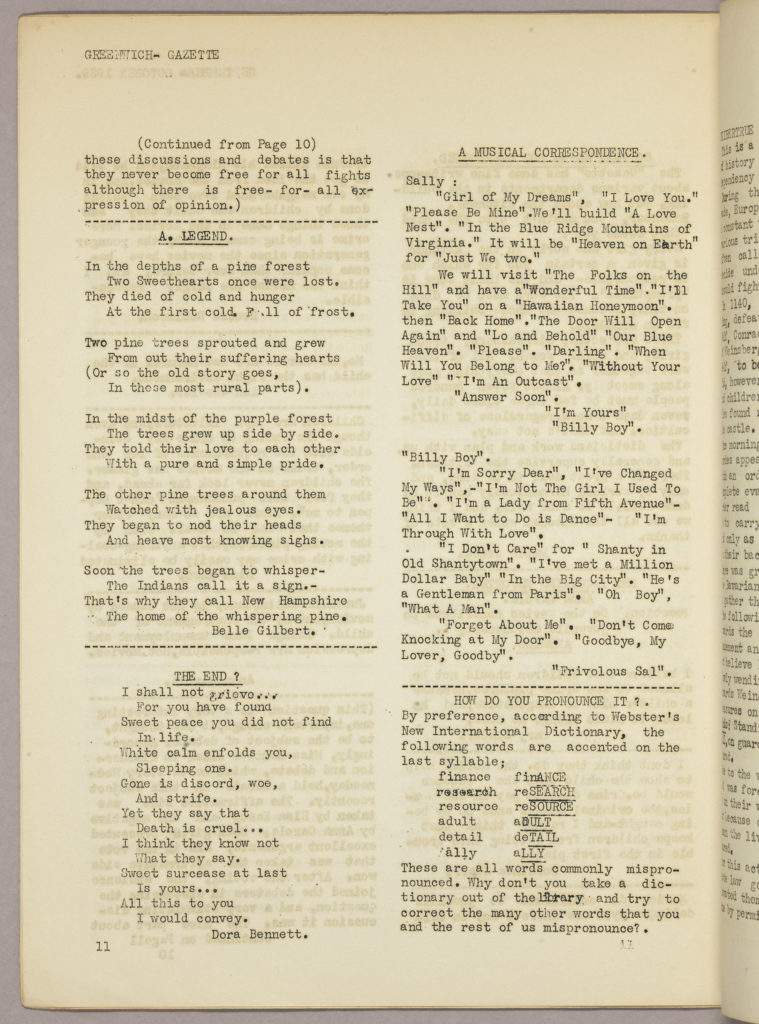 In "Echoes from the Roof," Ann Greulich reported the results of a poll taken of the "girls who attend school on the roof." The prison offered classes every weekday afternoon in English, health and hygiene, current events, and other subjects. Mary Fiorelli wrote of her experience with the school, "The way I feel about it here is that the teacher is like a nurse or doctor who is feeding a weak person with a good tonic." Jennie Bennett noted, "One is likely to get in a rut and stay there, if confined any length of time, and I can say that our classes here have done much for me in preventing that from happening." Another woman, Edna Neal, wrote that "Not only did [school] teach me a lot, but it helped me 'keep my balance all the time.'" Anna Carola observed, "With more education, I think I could accomplish better things in life have more understanding of my fellow man, and be a better citizen."
This copy was owned by Ruth Lentz, who was the magazine's Staff Adviser. At the prison, she was responsible for the school, arts and crafts, and the prison library. The prison was designed, according to its Superintendent, Ruth E. Collins, as a kind of school for citizenship, which would prepare its inmates for jobs and better opportunities post-incarceration. Collins was the prison's first superintendent and was chosen for the position after a career in children's aid, juvenile protection, and other Progressive Era initiatives, including a period of time living and working with Jane Addams at Hull-House in Chicago, a center of Progressive ideas and programs.
When the prison opened in 1931 it was heralded as the most modern, humane, and even comfortable facility. The building was an art deco high rise, situated in Greenwich Village. Prisoners were sorted and first-time inmates were kept apart from repeat offenders. The women had their own rooms (they were not called cells) and there were no bars on the windows. The prison was designed to hold 450. By the mid-1960s, however, the prison had become a watchword of corruption, violence, and inhumane conditions. The prison held as many as 750 women, food was nearly inedible, and the building was infested with rats. A 1967 exposé of the prison's conditions set the stage for its closure. Testimony by Andrea Dworkin about the brutal treatment she received there as a young student arrested for protesting the Vietnam War also pushed the city to close the facility, which it did in 1971.
Over decades, the House of Detention for Women developed into one of the worst prisons in the United States. Nevertheless, at the institution's inception, the Greenwich Gazette represented some of the best ideals of a progressive penal system based not on a punitive model, but one of reform, rehabilitation, and community support.
RBSC holds a few additional materials by and about women in prison and Hesburgh Libraries has a new database, American Prison Newspapers, 1800-2020: Voices from the Inside, for further exploration of this genre.
Related Previous Blog Posts