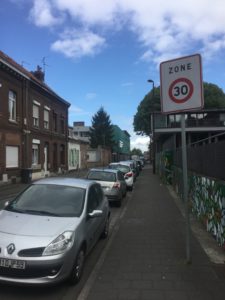 *This post contributes to the ongoing efforts of the medieval graduate students to offer insight and advice regarding the archives in which they have conducted research. For the first post, see Andrea Castonguay's post on the Royal Archive in Morocco: http://sites.nd.edu/manuscript-studies/2017/02/24/research-at-the-bibliotheque-nationale-du-royaume-du-maroc/.
Les Archives Départmentales du Nord
Les Archives Déprtmentales du Nord (ADN) is one of the major state archives of France. The archive is located in Lille, in the northeastern part of France, right next to the Belgian border. ADN houses many of the most important administrative and economic documents of late medieval Burgundy.
Below, I will elaborate on my experience working in the ADN, offering some practical knowledge needed to make an archival visit productive. I will briefly discuss how to get to the Archives du Nord from Paris and Brussels, and then how to get to the archive proper using the metro system in Lille itself. Additionally, I will explain what is needed to access the archive, how to search for material, how to request that material, and how long the material takes to arrive.
How to Get There
There are two ways to get to Lille from the major travel hubs in France and Belgium, Paris and Brussels. In France, there is a direct train from the Paris Nord station to station Lille Europe. A one way ticket costs around 30 euro depending on the time of year in which you choose to travel. In Belgium, there is an indirect train from Brussels Central to Gare de Lille Flandres, with a switch in Tournai. If you are commuting from the Flemish part of Belgium, you will need to switch trains in Kortrijk/Courtrai. There are bus options for both, but if you are commuting daily to Lille from one of these centralized locations, they are prohibitively long in duration to be worth the euros saved.
Once arriving in Lille, your train will take you to either Lille Europe or Gare de Lille Flandres. Both train stations have metro stops on red line below the stations themselves. Lille Flandres also has a stop on the yellow line, which is a slightly faster trip to the archive. If you are going on the red line, go from Lille Europe or Lille Flandres to the stop Porte des Postes or Montebello. At either stop, the archive is less than a ten minute walk from the station. If you take the yellow line from Lille Flandres, get off at the Porte des Postes stop. At any metro stop in Lille, you can purchase a one-way metro card with two charges for 3.60 euro, or an all-day metro card for 5 euro. For your first few trips, I would suggest going with the all-day pass so that you can return to the city center for a nice lunch. The archive resides on the Rue Saint-Bernard.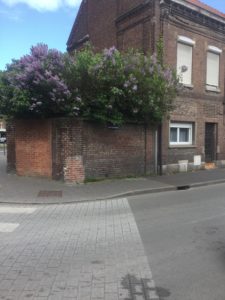 How to access the archive, Requesting Manuscripts
As with many other archives in Europe, you must present your passport at your first visit to the archive so that you can get a Carte de Lecteur.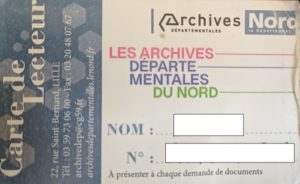 The important part of the archival research card is the Reading Number- it is this number that is required to request manuscripts to view.
You can request manuscripts by emailing the archive at archive@lenord.fr, or going in person. In my experience, Les Archives du Nord are a very prompt archive in bringing requested material. They do not fill manuscript requests once per hour as many archives do in Belgium. It takes around fifteen to twenty minutes for the requested manuscripts to arrive. If you email them beforehand, they will have already pulled all of your manuscripts for the day. In terms of manuscript limits, you may only access twelve manuscripts per day. However, you can put in requests for larger amounts of manuscripts for each day of the week and they will oblige you, as long as your desired documents are not requested by another patron.
To search for manuscripts, you can use the online search engine on the Archives' website, or the printed inventories at the archive. In my experience, the printed inventories are quicker to use, but it is of course dependent upon personal preference or particular material. If you are planning to look at Burgundian economic sources, looking first at the Les sources de l'histoire économique et sociale du Moyen Age. 2 : Les états de la Maison de Bourgogne edited by Robert-Henri Bautier, Janine Sornay, and Francoise Muret is a must. While Les sources includes economic sources from multiple archives, its regional and chronological listings of sources included in the ADN are immensely helpful.
As an important aside, the archive does not have Wi-Fi. The only internet access allowed in the archive is through their computers on the second floor. Furthermore, these computers can only access the archive's online database, so you will be without internet while there unless you have data on your phone.
Quality of Life
Unfortunately, there are not many cafes near the ADN- many of the nicer cafes and restaurants are on the north side of the city, near the train stations of Lille Europe and Lille Flandres. You can get a nice lunch and drink at one of the breweries outside of Lille Flandres, or walk about half a mile to the town square to enjoy some of the nicest views in Lille.
What I have found to be the most effective is to bring a lunch to the archive- they have a coffee machine and a vending machine, but nothing more. If you finish your work early for the day, I recommend going early to catch your train and grabbing a bite to eat around the stations.  
Sean Sapp
University of Notre Dame