In July 2022, metal detectorist James Mather was in a field in south Oxfordshire when he came face-to-face with medieval history. It was a warm summer's day, the sun high in the sky. Mather knew the landowner well; it was not the first time he had detected here. Having recently recovered from a bout of COVID, Mather was enjoying being back out for what, so far, had been a normal day's detecting.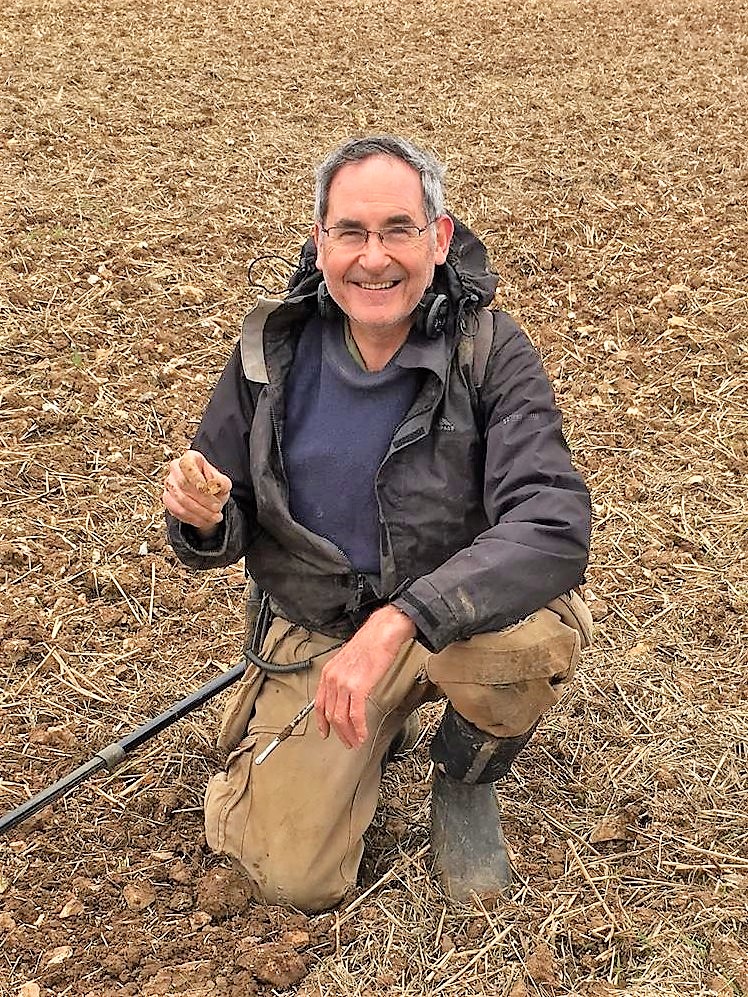 A red kite landed in the stubble field, some distance away. As Mather himself says, 'many detectorists are superstitious.' He took the kite as an omen and began searching the area. He has training in landscape archaeology, and his reading of the site also told him that it was a logical place to look for metal artefacts.
He got a good signal. It was shallow, about four inches deep. He carefully began to dig away the topsoil. Before long, he uncovered the source: it was circular, crooked. It looked like it might be silver, and ancient. Whatever it was, Mather knew to follow protocol. He alerted the Finds Liaison Officer (FLO), Dr. Ed Caswell, and sent over a picture on his phone. Caswell thought it might be early medieval, perhaps a decorative dress pin, but said he would need some time to confirm the object. In the meantime, Mather notified the landowner that he may have found treasure, and set up a grid pattern search extending thirty feet around the find spot to look for more.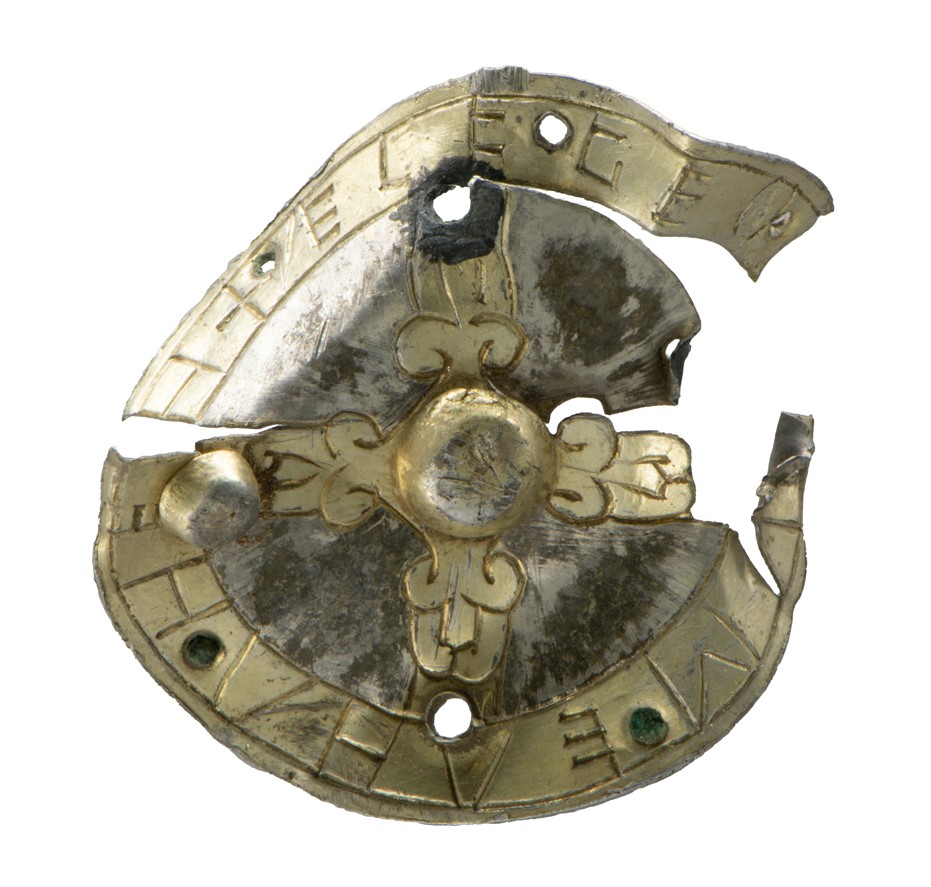 What Mather had found was a unique piece of Anglo-Saxon history. He reached out to Dr. Gabor Thomas at Reading University, who forwarded the photographs to Professor Elizabeth Okasha. The experts agreed that it probably dated to the 9th century, and was most likely a gilded silver brooch. Far from a plain metal disc, the brooch bears an intricate cross pattern with a raised centre, and an inscription around the edge. Sadly, the years have not been kind to the object, and several letters have been lost. However, it seems that the text is announcing the object's owner: 'Ælfgeo… owns me…' Who is this mysterious Ælfgeo? The gendered end of the name is missing, so we may never know this crucial detail about them. Indeed, there is a lot we don't know yet. This may be one of the earliest personally inscribed brooches found in the UK, however far more research is needed on the topic. But one thing is clear: this significant find in a field in sunny southern Oxfordshire is a tantalising contribution to our understanding of this early period.
Metal Detecting
Metal detecting is an increasingly popular hobby in the UK. As of 2021, there were around 20,000 detectorists in the nation, and the number continues to rise. Of the over 1,300 pieces of treasure found in 2019, 96% were discovered through metal detecting. Mather attributes this popularity to a number of things: the popularity of TV shows like The Detectorists (created by and starring Mackenzie Crook, who you might recognise from Pirates of the Carribean), the publicity surrounding major finds, and a general improvement in the public's attitude towards detectorists. As Mather says, 'people didn't fully understand the responsibilities that go with the craft, and thought that detectorists were finding things and not declaring them.' The perceived lack of regulation and stories about 'Night Hawkers' (the name given to those who metal detect illegally, without landowner's permission or announcing their finds) fuelled public distrust.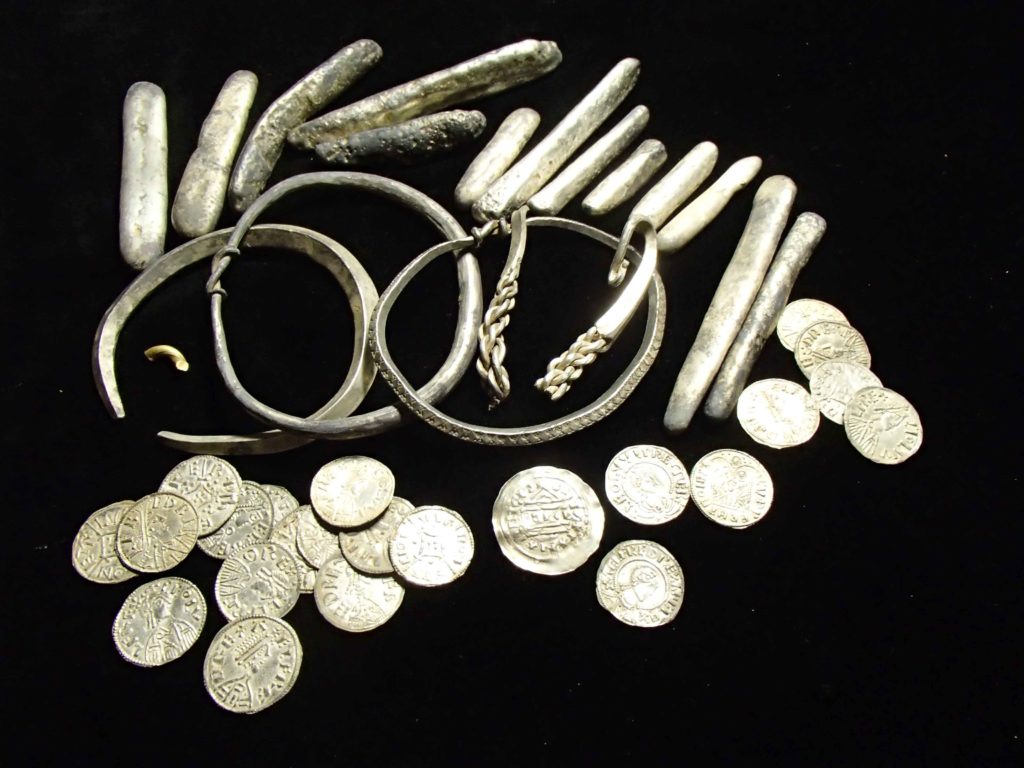 In 2017 an enhanced Code of Practice was devised, which set out clear guidance for metal detectorists. Permission from the landowner must be obtained, and the landowner informed of any significant archaeological finds. Generally, objects found on the land belong to the landowner, so it is advised that detectorists create a formal, written agreement with the landowner deciding on future ownership of finds. Detectorists should report finds to their local FLO, to be added to the Portable Antiquities Scheme database. Guidelines should be given for detecting in different environments, like pasture, ploughed land, or coastlines. This all supplemented the very comprehensive 1996 Treasure Act, which covers the law relating to detecting and defines exactly what counts as 'treasure,' and how to report it.
Thanks to these regulations and the dedication of detectorists across the UK, the last few decades have seen significant contributions to our historical knowledge of medieval Britain. For example, the Marlow Warlord, an Anglo-Saxon warrior, was found by detectorists Sue and Mick Washington in 2018. In 2021 in Cookham, detectorists from Maidenhead Search Society assisted archaeologists from the University of Reading to uncover the lost monastery of Queen Cynethryth of Mercia, of which she became abbess after the death of her husband, King Offa.
Mather himself made a major discovery in 2015, when he uncovered the Watlington Viking Hoard. The hoard of about 200 Anglo-Saxon coins and Viking elements, including seven jewellery items, and fifteen silver ingots was found near Watlington, Oxfordshire. Thirteen of the coins were rare: 'Two Emperors' pennies, representing Kings Alfred of Wessex and Ceolwulf II of Mercia sitting side-by-side beneath a winged figure. This suggests that the two kingdoms were allies and successfully challenged the belief, long held by historians, that Ceowulf was merely a Viking puppet, dismissed in the A version of the Anglo-Saxon Chronicles as a 'foolish King's thegn'. Thanks to the presence of a 'Two-Line' penny, the hoard can be dated to after the Battle of Edington in 878. Such a discovery has seriously shifted our understanding of the politics of Anglo-Saxon kingdoms in the period.
Becoming a Detectorist
What drives detectorists out into the fields in all weathers, scanning the ground and hoping for a signal? For Mather, though it is a very practical process. There is something magical about it: 'to find something interesting and significant that no one has held for thousands of years is pretty remarkable.' The value to the individual is immense. It has plenty of physical and mental benefits: 'green exercise is especially beneficial, you get close to nature, and it's great psychologically.' This may be why several veterans groups have picked up the craft, Mather suggests. You can do it in solitude, or with like-minded buddies. Then there's the value to landowners and to national heritage. 'Some finds really can rewrite history,' like the Watlington Hoard.
Of course, it takes both financial and time commitments. To buy a mid-range detector would set a UK detectorist back £500 (about $600 USD) not to mention the spade and other tools you need. It takes resilience, and you need to be comfortable spending hours on unforgiving terrain. Success is a function of how long you spend doing it. You need a decent site, suitable kit, good technique and a big slice of luck! Plus, you need to be able to at least roughly identify the materials you find. After all, you don't want to throw away scraps of metal that may be significant.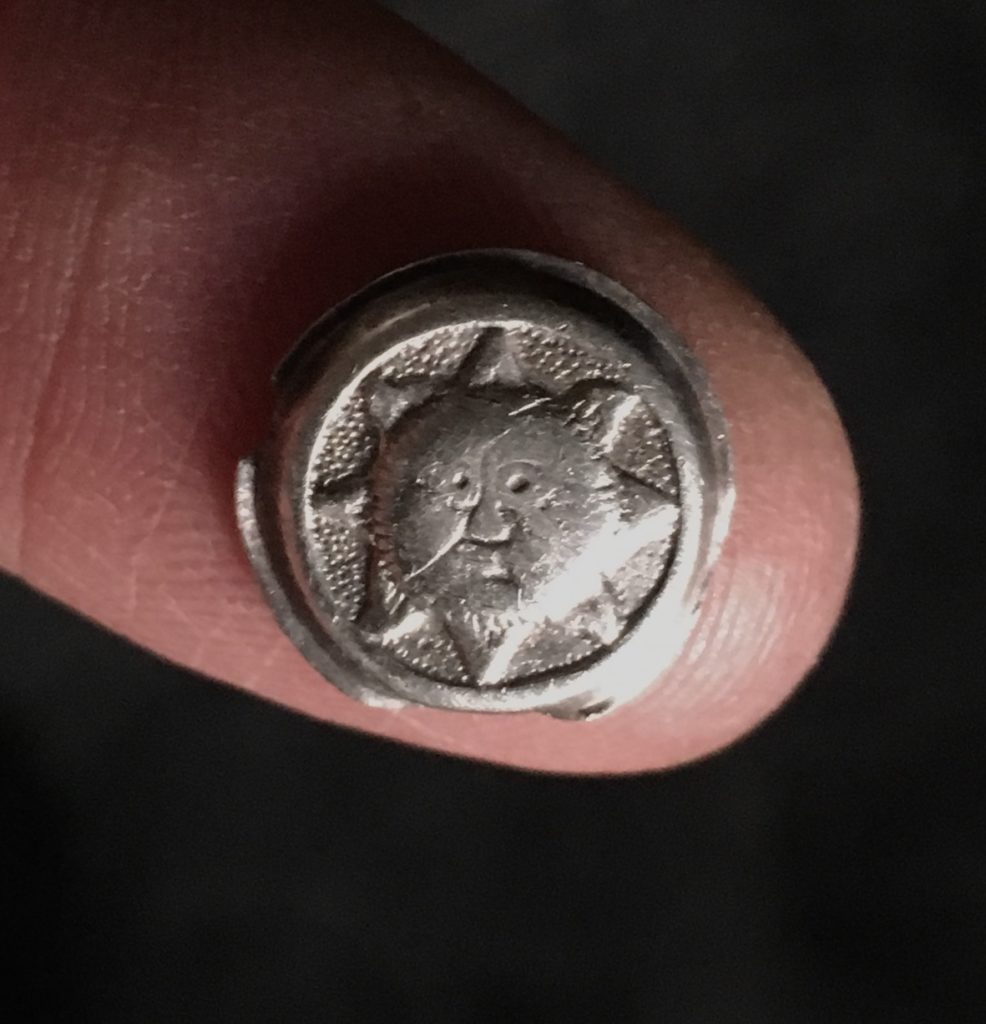 In a place like south-eastern England, with its accreted centuries of history, you can find plenty of archaeological artefacts. Mather has found a curious 18th century button with a sunburst face—'when light strikes it, the eyes follow you around'—a Palaeolithic stone hand axe (found 'eyes only,' without using a detector), several religious pendants, a 13th century seal, and plenty of shotgun shells and bottle caps to boot. For 28 years he searched for an Anglo-Saxon sceatta, a tiny silver coin. He finally found one on the excavation for Queen Cynethryth's monastery. 'I finally did it. You never know when you'll find something.'
For Mather, there are still many more finds on his bucket list. Top of the list is Bronze Age ring money. 'They were worn decoratively and may have been used as a form of currency. But they're very difficult to find.' A complete Bronze Age axe head is another one. By those standards, his last bucket-list item is practically cutting-edge modern. 'A cartwheel tuppence,' he says. 'They were only made in one year, 1797, under George III.' These huge coins can sometimes be found in antique shops, repurposed as small containers. But to find one in the wild would be a significant moment.
Responsible metal detectorists like Mather have contributed significantly to our knowledge of history. Without their expertise, and their dedication, finds like the Watlington Hoard, the Marlow Warlord, and countless others would still be sitting below ground, gradually corroding or sinking beyond reach. History is a living thing, always taking on new shapes as more information about the past is discovered. Mather, and other detectorists like him, remind us that we can help shape that history, and we can all become part of it.
Will Beattie
Ph.D. Candidate in Medieval Studies
Medieval Institute
University of Notre Dame