[This post was written in the spring 2018 semester for Karrie Fuller's course on Chaucer's Canterbury Tales. It responds to the prompt posted here.]
The Wife of Bath, a proto-feminist who argues for feminine power and agency, appears to undermine the patriarchy at every turn, yet the way that this ideology plays out in her tale is incomplete and problematic. In Chaucer's "Wife of Bath's Tale" from The Canterbury Tales, a Knight is sent on a quest to find out what women truly desire above all else. On his long journey, after questioning each woman he meets, he discovers the answer: "Wommen desiren have sovereynetee / As wel over hir husband as hir love / And for to be in maistrie hym above" (Chaucer 165). The Knight is applauded for his thoughtful answer, and every woman in the court agrees with him. Thus, the Knight's life is spared.
But it is often forgotten why the Knight was sent on this life-or-death mission in the first place. He is given this impossible task as a punishment for a crime, and if he fails to come up with the correct answer, he will pay with his life. This crime occurs as follows:
And happed that allone as he was born,
He saugh a mayde walkynge hym biforn,
Of which mayde anon, maugree hir heed,
By verray force birafte hire maydenhed. (Chaucer 163)
He rapes a woman, and yet Queen Guinevere and the ladies of the court beg King Arthur to spare the Knight's life. Why do the women want to spare a man who poses such a threat? Perhaps they would rather pursue rehabilitation than revenge and meaningless violence, but the success of this rehabilitation remains ambiguous.
The Knight asks every woman what they desire the most, and an extremely ugly old hag claims that she has the answer. In return for the correct answer, the disgusted Knight promises to marry her. On his wedding night, the old lady asks the Knight to make a choice: should she remain old and ugly in appearance, but be a faithful wife to him, or should she be young and beautiful, but unfaithful? He responds: "As yow liketh, it suffiseth me" (Chaucer 168). Although the Knight allows his wife to choose, granting her bodily sovereignty, his response does not necessarily spring from his newfound respect for women and knowledge of what they desire.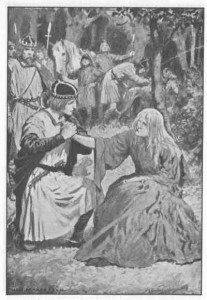 The Knight was so distressed by his wife's "so loothly and so oold" appearance at the time of their engagement that there is little question that if the choice were between his wife being constantly beautiful or constantly ugly, he would not hesitate to decide for her (Chaucer 166). It is possible that he does not give her sovereignty out of respect, but out of despair. Thus, a rapist is rewarded with a beautiful and obedient wife without having paid for his wrongdoing or learning from it, and a tale that seems set out to propound a female-first agenda undermines itself by expounding male entitlement, which raises interesting questions about whether or not this tale was intended to be proto-feminist at all. Many feminists today might blindly applaud this tale for promoting a feminist vision of the world without realizing the male entitlement and endorsement of rape culture latent throughout the story. Megan Valley elaborates on this theme of how the Wife of Bath is pseudo-feminist rather than proto-feminist in her post entitled: "How the Wife of Bath Gone Girl'd Us."
Unlike "The Wife of Bath's Tale," Shakespeare's The Taming of the Shrew appears to be intended as a kind of wife-beating romp which undermines any idea of female sovereignty. Many feminists today would reject this play as blatantly unfeminist, which is understandable if one considers the clip of the "Punch" scene below, which is from Sam Taylor's film adaptation of the play, as a summary of the play as a whole:
If this is how we are to read The Taming of the Shrew, surely this play offers nothing to modern audiences, who often view it "barbarous, offensive, and misogynistic" (Costa). And yet, it continues to draw audiences, who must be either "secret sadists," or else the production must offer a deeper reading of gender relations than readily appears (Costa).
Katherine's final speech usually punctuates the arguments of those who would see Taming as the ultimate how-to guide for misogyny. Katherine, once headstrong and bold, now appears meek and docile, blathering on and on with lines such as:
But now I see our [women's] lances are but straws,
Our strength as weak, our weakness past compare…
Then vail your stomachs, for it is no boot,
And place your hands below your husband's foot:
In token of which duty, if he please,
My hand is ready; may it do him ease. (Shakespeare ln 189-195)
Katherine literally and figuratively places herself below her husband, almost as his servant. Though it may seem that Petruchio has tamed this shrew completely, in many ways, the taming can be subverted.
If we examine the word "shrew" in this context, the Oxford English Dictionary would define it as "a person, esp.(now only) a woman given to railing or scolding or other perverse or malignant behaviour; frequently a scolding or turbulent wife" (OED). At the conclusion of the play, Katherine lectures and scolds the two other wives in a speech over 40 lines long. In this light, it seems like she remains "a woman given to railing or scolding" rather than being tamed (OED). Additionally, the final speech can be given ironically or sarcastically, with the power dynamics shifting, as occurs in Mary Pickford's portrayal of Katherine, whose famous wink indicates that her flowery speech is mere lip-service (Wink at 1:18):
Thus, the play can actively work against its appearance of misogyny, and even when it is portrayed as misogynistic, this appearance is so very repugnant that it undermines its own rhetoric. (For no audience can bear to watch Katherine be utterly battered and abused for 2 hours!) A middle ground is also possible, in which Petruchio does not stomp all over Katherine, but both of them undergo a pedagogical journey which ends somewhere in the middle: not with Katherine worshiping at her husband's foot, but with them taking hands as equals, partners in the next chapter of their life (Speech begins at 23:40; Meeting in the middle begins at 27:00):
In the pedagogical journey in The Taming of the Shrew, either Petruchio or Katherine could be the shrew, because both are undergoing an education, which ultimately brings them closer together. The Wife of Bath's Tale also includes a pedagogical journey, that of the Knight, who is supposed to learn to respect women. Though the education of Petruchio and Katherine unveils surprising lessons for them, subverting the misogynistic expectation laid out by the surface-level structure of the play, the Knight's education reveals that the feminist lessons he was supposed to learn never take root. Thus, the Knight is never tamed, and the "Wife of Bath's Tale" refuses to conform entirely to the proto-feminist message of sovereignty which it appears to promote. Both stories subvert the expectations that feminist readers bring to them, refusing to conform entirely to a misogynistic or proto-feminist message.
Mary Elsa Henrichs
University of Notre Dame
Works Cited
Chaucer, Geoffrey. The Canterbury Tales. Edited by Robert Boenig and Andrew Taylor, 2nd ed., Broadview Press, 2012.
Costa, Maddy. "The Taming of the Shrew: 'This Is Not a Woman Being Crushed'." The Guardian, Guardian News and Media, 17 Jan. 2012, www.theguardian.com/stage/2012/jan/17/taming-of-the-shrew-rsc.
"Kiss Me, Petruchio, Part 2." Youtube, uploaded by Ken Thorton, 30 December 2015, https://www.youtube.com/watch?v=KI9ogFdHWQQ.
Shakespeare, William. The Taming of the Shrew, from Folger Digital Texts. Ed. Barbara Mowat, Paul Werstine, Michael Poston, and Rebecca Niles. Folger Shakespeare Library, 2 April, 2018.
"Punch & Judy Shrew." Youtube, uploaded by GoodmanDull, 2 September 2015, https://www.youtube.com/watch?v=N7vIQB60GjQ.
"The Taming of the Shrew Film Clip." Youtube, uploaded by CSTONEUK, 25 September 2012, https://www.youtube.com/watch?v=jz9MfjuBB70.