Please join us for the following public events and exhibits being hosted in Rare Books and Special Collections:
Thursday, October 5 at 5:00pm | Italian Research Seminar: "The Archival Turn and Network Approach: Examining Evolving Translation Practices and Discourses in the British Publishing Firm Complex, 1950s-1980s" by Daniela La Penna (University of Reading, UK).
Thursday, October 24 at 5:00pm | McBrien Special Collections Lecture Series: "Chief O'Neill in Ten Tunes" by Dr. Seán Doherty (Dublin City University).
Captain Francis O'Neill's collection 1001 Gems: The Dance Music of Ireland (1907) is so important to the world of Irish traditional music that it's sometimes called the Bible or simply, 'The Book'. Starting as a pandemic project, the Irish composer and musicologist Seán Doherty analyzed all 1001 tunes in this influential collection. In this lecture and performance, Seán will discuss the music along with O'Neill's biography and will play tunes linked to key moments in Chief O'Neill's life.
Captain O'Neill donated his personal library to the University of Notre Dame, where it is held at the Hesburgh Library. Dr. Doherty's research visit is supported by the Keough-Naughton Library Research Award in Irish Studies.
---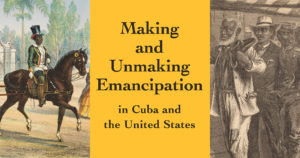 The exhibition Making and Unmaking Emancipation in Cuba and the United States is now open and will run through the fall semester.
Curator-led tours, open to the public, will be held noon–1:00pm on the following upcoming Fridays: October 13 and 27 [tour on 10/27 cancelled], and November 17.
Tours of the exhibit may also be arranged for classes and other groups by contacting Rachel Bohlmann at (574) 631-1575 or Rachel.Bohlmann.2@nd.edu.
---
The October spotlight exhibits are Football and Community at Historically Black Colleges and Universities (August – December 2023) and Path to Sainthood: Brother Columba O'Neill (October – November 2023).
RBSC will be open regular hours (9:30am – 4:30pm) during the University of Notre Dame's Fall Break, October 16 – 20.