We join the Library of Congress, National Archives and Records Administration, National Endowment for the Humanities, National Gallery of Art, National Park Service, Smithsonian Institution, and United States Holocaust Memorial Museum in celebrating National Hispanic Heritage Month.
The Woodcuts of Consuelo Gotay
by Erika Hosselkus, Curator, Latin American Collections
In honor of Hispanic Heritage Month, we feature the work of Puerto Rican printmaker, Consuelo Gotay. Educated in Puerto Rico and at Columbia University in New York, Gotay's woodcuts are striking and reflect her early association with the workshop of iconic Puerto Rican printmaker, Lorenzo Homar. Rare Books and Special Collections holds five artist books that pair Gotay's images with the poetry and prose of major Caribbean writers.
Today, we share three of these collaborations, Selección de textos del cuaderno de un retorno al pais natal (1993), Salmos del cuerpo ardiente (2006), and Las brujas (2014).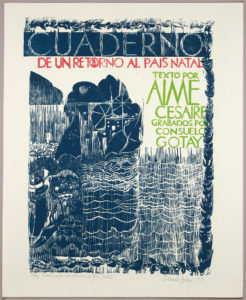 The first and earliest of these is a selection of texts (presented in Spanish and French) from Afro-Caribbean poet, Aime Cesaire's, Cahier d'un retour au pays natal (Journal of a Return to My Native Land), originally published in 1939. If Cesaire's poem is known for its exploration of Caribbean identities, particularly negritude, Gotay's woodcuts illustrating the work are a sort of homage to the region's natural beauty. Pleasing prints of ocean, swaying palm trees, and picturesque villages are interleaved with text.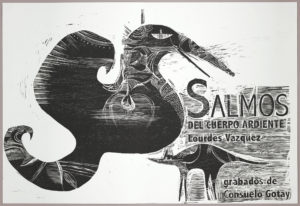 The second, Salmos del cuerpo ardiente, features text by Puerto Rican writer, Lourdes Vázquez, and ten original woodcuts by Gotay. Vázquez's "psalms" point to harsh realities of life in Puerto Rico in the first decade of the twenty-first century, particularly violence and addiction among young people. A fitting and somber complement, one of Gotay's woodcuts here is an elegy to those tortured and killed when violence reaches its pinnacle.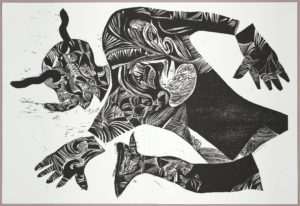 In Vázquez's words,
LA TORTURA
Es como un BOXEADOR COMATOSO,
Un mero asunto familiar,
Un maleficio inexplicable.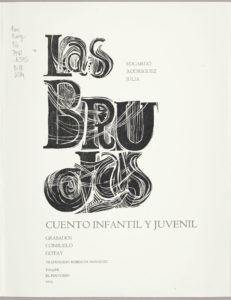 The third and most recent of these works, Las brujas, is both a children's story and a metaphoric lament for the youth of Puerto Rico who become involved in drug violence, by Puerto Rican writer, Edgardo Rodríguez Juliá. Gotay's prints here combine the visual elements and the themes that appear in the earlier works. Palm trees frame the small house of the story's good bruja ("witch"), Nina, in a manner reminiscent of her Cesaire portfolio. Los muchachos, on the other hand, are a reminder of the struggling youth portrayed in Salmos del cuerpo ardiente.
Each of these titles is a limited edition. Together they reflect the engaging and thought-provoking artistic output of a talented Puerto Rican printmaker.
Related Previous Blog Posts: