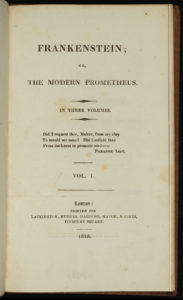 A fine, first edition of one of the most influential works of European literature and the most taught novel in universities—Mary Shelley's Frankenstein—enhances our European literature collection. The stunning volumes now complement our holdings of the first illustrated edition (third overall edition) published in 1831 by Colburn and Bentley and the first American movie tie-in edition printed by Grosset and Dunlap in 1931.
Shelley's novel was first printed anonymously in three volumes in 1818 for the London publishing firm Lackington, Hughes, Harding, Mayor, and Jones in an edition of 500 copies. RBSC'c set is tastefully bound in contemporary style in 20th-century tan, smooth morocco. Spines are gilt-ruled in compartments with black morocco title labels and the sides are bordered with a double gilt rule.
The acquisition of the first edition of Frankenstein was made possible by the Hesburgh Libraries, a Nanovic Institute for European Studies Library Grant, the Department of Political Science (Notre Dame), and Professor Eileen Hunt Botting in memory of her brother, Kevin E. Hunt.
---
Mark Your Calendars – Upcoming Events
Mary Shelley's 1818 Frankenstein will be the centerpiece of a spotlight exhibit, It's Alive! Frankenstein in the Arts and Sciences, in Special Collections in Fall 2018. The exhibit will be part of a series of campus-wide events celebrating the bicentennial of Frankenstein.
Special Collections will also host a multidisciplinary panel discussion on Friday, October 19, 2018 with faculty from both Indiana University School of Medicine at South Bend and the University of Notre Dame exploring Frankenstein's relevance to 21st-century medicine and medical ethics.