by Alan Krieger, Theology and Philosophy Librarian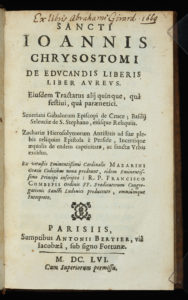 Hesburgh Libraries has recently acquired an interesting and quite rare first edition by the great early Christian preacher and writer St. John Chrysostom (349-407). Usually referred to as his "Golden Book" in English translations, De educandis liberis liber aureus (Paris, 1656) discusses the Christian education of children. Printed in parallel Greek and Latin translation, the latter was added by the book's Dominican editor, Francois Combefis. In the preface, Combefis notes that he had discovered the manuscript of the work in the collection of Cardinal Mazarin, who was responsible for the upbringing of the young Louis XIV, and expresses the hope that it will be useful for his education.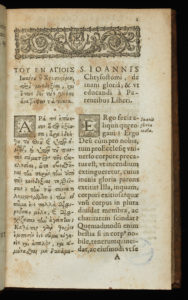 Interestingly, this tract was not included in collected editions of Chrysostom's works because its authenticity was questioned, and it was not until 1914 that a new edition of the Greek text was issued by Franz Schulte (which Hesburgh Libraries holds in its general collection). This seventeenth-century "editio princeps" is held by only two other North American libraries.