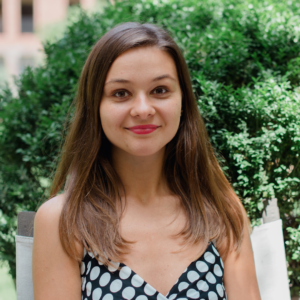 "La vie n'est qu'une longue perte de tout ce qu'on aime."

Victor Hugo
Anna Romandash is an award-winning journalist from Ukraine. She has collaborated with the Open Government Partnership, Freedom House, and the German media company Deutsche Welle. She works as a reporter and a digital policy expert focusing on sustainable media development, human rights, and information access. She has worked on media-related projects in Eastern Europe at Digital Communication Network, and has been a fellow of the Hansen Summer Institute, the Personal Democracy Forum, CNN, and ICANN, an American nonprofit that supports Internet security and stability.
Anna's areas of interest include foreign reporting, conflict resolution, and security developments with a special focus on Eastern Europe. She has spoken and presented her work at global events such as RightsCon, the Global Media Forum, and the Digital Transformation Forum. She was named Media Freedom Ambassador of Ukraine for her human rights and media work, and was among the winners of the European Institute of Mediterranean contest for her reporting. Anna is the recipient of a Kroc Institute Fellowship.
During her summer language learning experience, Anna plans to improve her French so she is capable of working and studying in the language as well as apply it in her career which revolves around international security and peace in Europe.