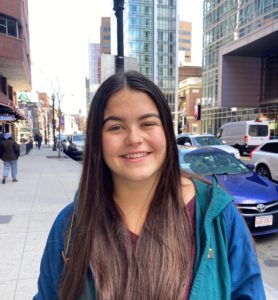 E-mail: rquinla2@nd.edu
Language: Spanish
Location of Study: Cusco, Peru
Program of Study: Maximo Nivel Spanish Immersion
Sponsors: The Center for the Study of Languages and Cultures and the Kellogg Institute for International Studies
Hi, I'm Rose Quinlan. I'm from Buffalo, NY and I'm majoring in Economics and the Program of Liberal Studies (PLS) at Notre Dame. I'm excited to use my SLA grant to study in Cusco, Peru this summer. In Cusco, I'll be able to explore my interests in the language, culture, and history of the indigenous peoples of South America while gaining proficiency in a Latin American dialect of Spanish.
I'm interested in doing service for the Peace Corps somewhere in Latin America after I graduate, so it is important that I develop my language skills through immersion and intensive study. By the end of the summer, I hope to have basic conversational skills in Spanish and to be able to read some Latin American literature without using a translated text.
I'm also hoping to gain a thorough understanding of Peru's Inca roots and the history of conflict and cultural exchange between the Spanish and Inca people since the invasion of Cusco in 1533. The same fascination with cultural history and literature that got me involved with PLS at Notre Dame has brought me to Cusco, and I'm looking forward to sharing what I learn in one of the oldest cities in the Americas!