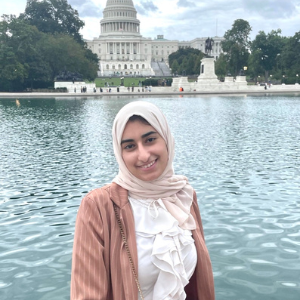 E-mail: achappui@nd.edu
Language: Turkish
Location of Study: Istanbul, Turkey
Program of Study: Bogazici University Turkish Language and Culture Program
Sponsors: The Center for the Study of Languages and Cultures
Hello! My name is Hawraa Al Janabi, and I was born in United Arab Emirates to Iraqi parents. Growing up both in Dubai and California, I have been surrounded with a plethora of cultures, traditions, languages, and ways of life. From a young age, I have been curious about learning other languages, which would allow me to explore a new culture. At the University of Notre Dame, I am double majoring in Neuroscience & Behavior and Spanish, with the hopes of going into the medical field. One of my main motivators for learning languages is to hopefully be able to communicate with my future patients without having a language to be the barrier to better healthcare.
Whether it has been learning Spanish or Turkish, I am very passionate about connecting with people from other cultures by breaking down the language barrier. This summer, I am really ecstatic to attend Boğaziçi University in Istanbul, Turkey. Through the Turkish Summer Language and Culture Program, I hope to improve my conversational and written Turkish skills.
Additionally, I am excited to be immersed in the rich culture of Turkey, and specifically the culture of Istanbul that blends both the east and the west. My passion for learning Turkish started as a spontaneous way to spend time during COVID lockdowns. Now, this passion has grown from me self-learning through TV shows and A1 books, to finally visiting the beautiful country of Turkey!