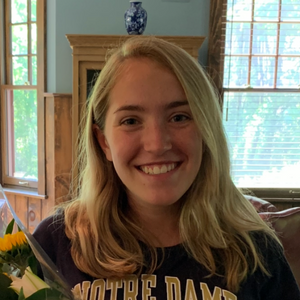 E-mail: schorek@nd.edu
Language: Irish
Location of Study: Carraroe, Ireland
Program of Study: National University of Ireland, Galway
Sponsors: The Center for the Study of Languages and Cultures and the Keough-Naughton Institute for Irish Studies
My name is Sophie Chorek and I am a member of the Class of 2024. I am originally from Fairfield, Connecticut and I am studying anthropology and Irish language and literature here at Notre Dame.
I will be attending an immersive Irish language course this summer for the SLA program. I hope to become much more proficient in the Irish language by attending this program. I chose this program specifically because of the class structure and the fact that I will be placed with an Irish speaking family, meaning that I will be able to speak the Irish language the whole time. This summer fits into my long-term goals because I want to write my senior thesis on something pertaining to Irish archaeology and eventually go to graduate school to continue the study of Irish archaeology. Thus, learning the Irish language has and will continue to help me learn more about the people of Ireland and their culture, making me better prepared to study Irish archaeology.