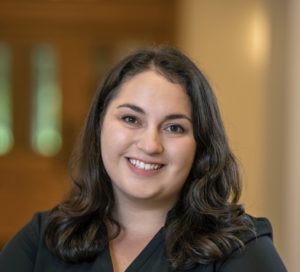 E-mail: ejacks23@nd.edu
Language: French
Location of Study: Tours, France
Program of Study: Intensive French Course, Institute de Touraine
Sponsors:The Center for the Study of Languages and Cultures,
the Kroc Institute for International Peace Studies, and the Keough School of Global Affairs
Emma Jackson is a Master of Global Affairs Student studying International Peace Studies. Prior to joining the Kroc Institute, she served as a consultant with the Fetzer Institute, managing a project to advance a shared sacred story across religious and spiritual traditions. She also has worked in the Secretary General's Office at Religions for Peace, supporting executive leadership with constituency relations, partnerships, and organizational development. In this role, she worked with the world's senior religious leadership, traveling to the Vatican, Germany, and the United Arab Emirates to facilitate dialogue initiatives, conferences, and other events. She collaborated with more than ninety national interreligious councils (including women and youth) and spearheaded the development of the Global Directory of Interreligious Councils. Emma holds a BA in political science and international development with a minor in geography from McGill University. As a student, she served as the president of the Amnesty International student group and interned at nongovernmental organizations focused on human rights, peacebuilding, and development.