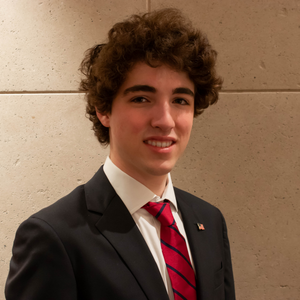 E-mail: lgibson2@nd.edu
Language: Russian
Location of Study: Batumi, Georgia
Program of Study: Batumi: Russian as a Second Language, SRAS
Sponsor: The Center for the Study of Languages and Cultures
I am a freshman from Bethlehem, Pennsylvania majoring in history and global affairs and living in Pangborn Hall. The Magic Treehouse series first exposed me to history. Throughout my childhood and teenage years I began to explore the subject more deeply. I became fascinated with Russian history, which led me to study Russian language at Notre Dame. I have combined these interests by picking up a global affairs supplementary major to study international relations. One day I hope to work in the Bureau of European and Eurasian Affairs in the U.S. Department of State, fostering beneficial relations between the United States and Eastern European nations.
Over the course of the past two semesters, Professor Marullo and Professor Miller inspired me to study Russian in an immersion program this summer. This spring I secured a place in a program in Russia, but the Russian invasion of Ukraine forced me to consider another location. I decided on Batumi, Georgia because of its beautiful beaches, amazing hiking, and great food. I also have two Georgian friends on campus and I knew the trip would allow me to grow closer to them through immersing myself in their culture. Over the course of this summer, I want to greatly improve my Russian language skills and broaden my global perspective. These skills will help me significantly as I pursue a career in international relations.