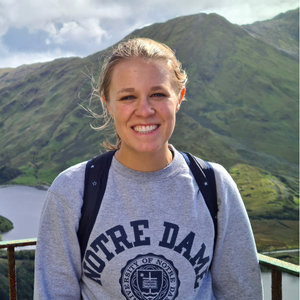 E-mail: acoberly@nd.edu
Language: Irish
Location of Study: Carraroe, Ireland
Program of Study: NUI Galway Irish Language Summer School
Sponsors: The Center for the Study of Languages and the Keough-Naughton Institute for Irish Studies
I was born and raised in the Black Hills in South Dakota and Wyoming. I am a pre-med student with majors in Irish Language & Literature and Pre-Health Studies. During my first year, I had some interest in Irish and took it as an elective but realized that I enjoyed learning the language too much for it to not be a focus of my time at Notre Dame. I am so thankful that I can study both subjects that I enjoy and have such a full, well-rounded education before focusing primarily on medicine in the near future.
This summer, I intend to improve my overall comprehension of spoken Irish and become more comfortable speaking in conversational situations. I do not expect to become fluent, but through the immersive nature of the course in An Cheathrú Rua through NUI Galway, I expect to be more at ease with the flow of the language in daily interactions. Though I am able to have some basic conversations and understand a fair amount of spoken Irish, I will be able to have more dynamic and detailed conversations in Irish after completion of the program over many weeks. Before my final year at Notre Dame, I am excited to develop my Irish language speaking ability and then return to campus and continue growing in all aspects of the language in the classroom.