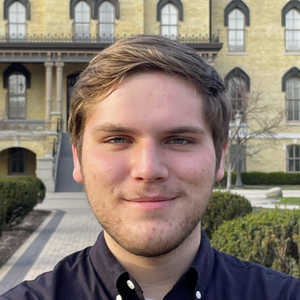 E-mail: ggabet@nd.edu
Language: Spanish
Location of Study: Madrid, Spain
Program of Study: Summer Spanish Language, Humanities and Business Studies in Madrid, Universidad Nebrija
Sponsors: The Nanovic Institute
My name is Grayson Gabet. I am from Fort Wayne, Indiana. I am a Business Analytics and Spanish major. I enjoy studying languages, different cultures, history, and geography. In the future, I would like to work in international business where I can utilize my interest of languages and culture.
I will be studying in Madrid, Spain this summer. I chose this program because it is the geographic, political, and economic heart of Spain. Additionally, this program focuses on business and the humanities. I selected courses that pertain to business, culture, history, and conversation for this program. My goals for this summer are to further my ability to speak Spanish, experience daily life in Spain, and visit cultural heritage sites.
I hope to be able to work with Spanish speaking countries in my career, so I see this opportunity to study in Spain as a perfect chance to prepare for my future.