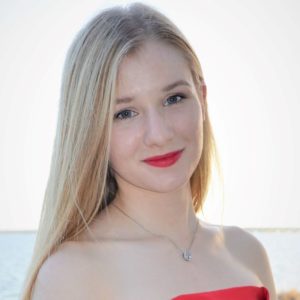 E-mail: egriffit@nd.edu
Language: German
Location of Study: Radolfzell am Bodensee, Germany
Program of Study: Carl Duisberg Centren
Sponsors: The Nanovic Institute for European Studies and the German Program at Notre Dame
Although I primarily grew up in Pensacola, FL, I lived in Stuttgart, Germany between the ages of 9 to 11, and this time abroad deeply influenced me and kick-started my genuine love for different languages and cultures. My academic pursuits at Notre Dame mirror these interests; for instance, along with my Neuroscience and Behavior major, I am pursuing a German supplementary major. Furthermore, I am considering a French minor. In regards to personal interests, I sing and play piano, and I am involved with the Notre Dame Liturgical Choir.
During this summer, I will strive to make the most out of this SLA opportunity. At a Carl Duisberg Center in Radolfzell am See, Germany, I will participate in a 7-week German Intensive course. Ultimately, this SLA experience supports my plans to apply for a Fulbright or DAAD scholarship in Germany after graduation from Notre Dame, which requires a high level of fluency, achieved by immersive exposure and long-term study. I am so grateful for this SLA grant, and I can't wait to embark upon my summer language study!