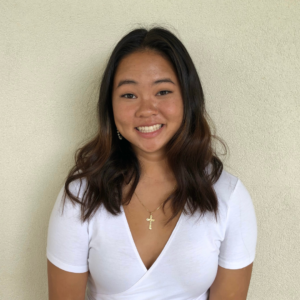 E-mail: sho2@nd.edu
Language: Korean
Location of Study: Seoul, Korea
Program of Study:Yonsei International Summer School
Sponsors: The Center for the Study of Languages and Cultures and the Liu Institute for Asia and Asian Studies
My name is Shari Ho and I will be a sophomore in the 2022 Fall semester. I am a Preprofessional Studies Major in the College of Science along with a Korean minor and I intend to declare an International Development Studies Minor as well. I am from Kaneohe, Hawaii and I live in Pasquerilla West Hall.
This summer, I will be traveling to South Korea to learn the Korean language. This opportunity greatly aligns with my academic interests because my long-term goal is to become fluent in Korean, and this trip to South Korea will be a catalyst for my learning, as I will be constantly surrounded by native Korean speakers during the four weeks I will be living there. I will be able to integrate my Korean into my daily life, which I am not able to do here in the United States.
The program I will be attending also only focuses on teaching the language, so I will spend all of my time there on becoming more proficient. Regarding my personal interests, over the years, the Korean language and culture have allowed me to create the best relationships in my life, which is one of the reasons why this language is so important to me.
I find so much joy in being a part of a community that shares the same interests as me, so by going to South Korea, I hope to create new friendships and relationships with people who share similar goals as me. Also, I am currently very interested in international affairs and issues that go beyond the United States, which is why I want to immerse myself in different cultures and gain global competency that is so important for everyone to achieve, and with this and my interests in the Korean language, traveling to South Korea this summer is perfect. I am so grateful for this opportunity and I am so excited!